We want you to use it
Whether you have Hospital or Extras, or both, there are lots of different ways you can use your cover to help you stay healthy and well.
Keeping an eye on your vision
Vision is an amazing sense worth protecting. Around 90% of all blindness and vision impairment in Australia is preventable or treatable if
detected early
. We should get our eyes tested at least every two years – or more if you have certain health conditions.
See an optometrist without leaving the house
Times are changing and it's not always possible to visit a store. OPSM, a member of our CBHS Choice Network is offering tele-optometry, where you can book a video consultation with an OPSM optometrist from the comfort of your home based on suitability and your eye care needs. While you can't claim for any optometrist consultation costs (as it's claimable from Medicare), you can use your Extras cover for glasses and contact lenses if you need to. See more about OPSM's tele-optometry service.
Optical discounts because you're awesome
Just to say thanks for being a member of CBHS, we've arranged pretty good discounts with some of Australia's leading optical brands including OPSM, Laubman & Pank and Specsavers. Discounts are available for new memberships, frames, contact lenses and much more. That's on top of claiming your benefits. See which optical providers also offer a CBHS member discount.
More choice with our Optical Choice Network
Our Optical Choice Network providers include some of Australia's biggest optometry brands. These providers can offer a selection of quality frames, lenses and contact lenses to CBHS members with Extras cover with little or no out-of-pocket expenses.
8,000
Choice Network providers nationwide
11%
Only 11% of Australian adults have never had an experience with tooth decay.
90%
of all blindness and vision impairment in Australia is preventable or treatable if detected early.
5
Eat a variety from each of the five food groups daily: vegetables, fruit, grains, lean meats and dairy.
A healthy mouth helps your whole body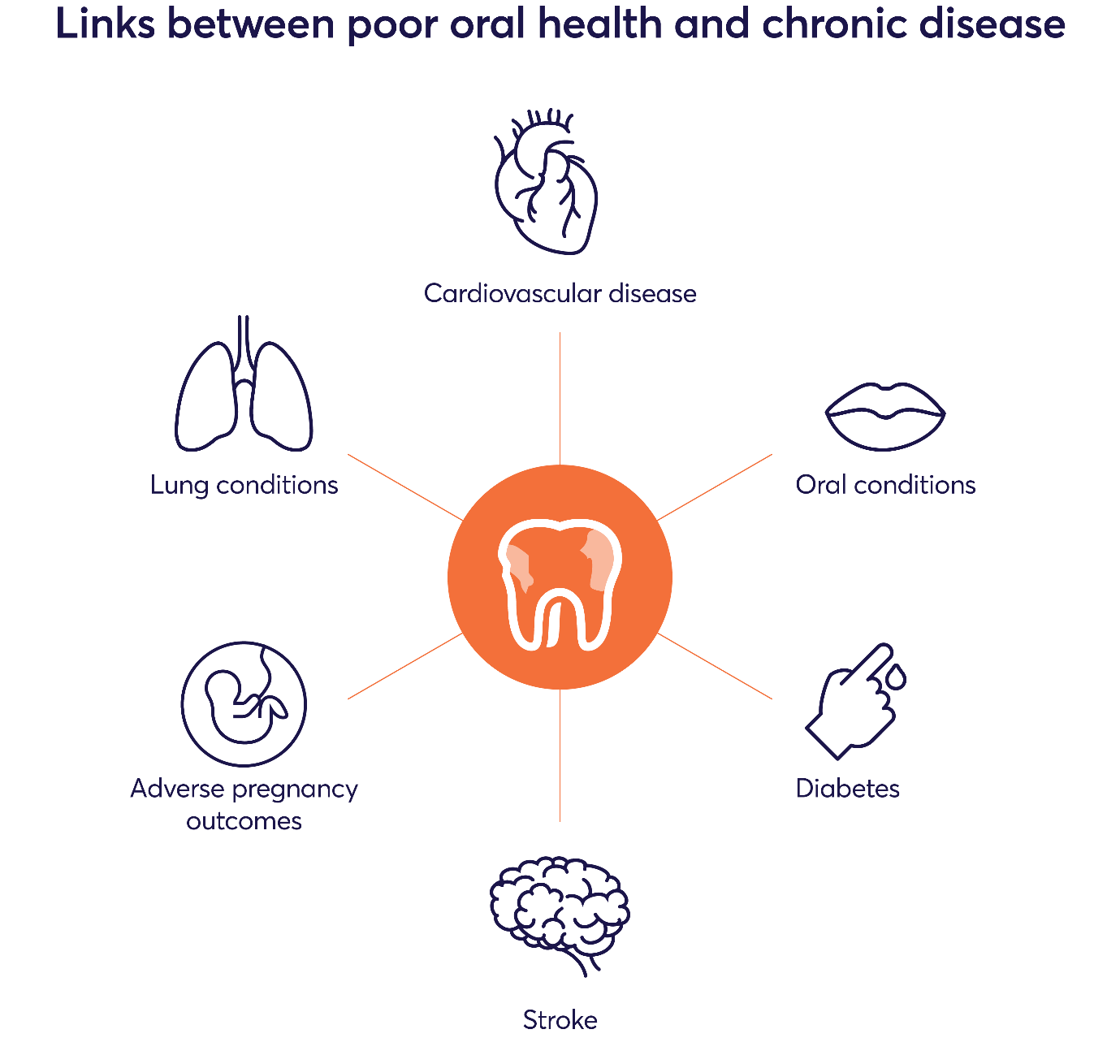 Three in ten people delay or avoid going to the dentist due to how much it costs. But keeping on top of dental health is worth it to keep other areas of the body healthy too. There are proven links between poor oral health and chronic conditions.

Prevention is priceless
It might not surprise you to know that prevention is better than a cure when it comes to dental health. And that starts with regular dental check-ups. Most dentists recommend a routine dental check-up every six to 12 months, but this will vary based on your own health needs.
We've teamed up with thousands of
Dental Choice Network
providers nationwide to make selected preventative dental services available to our members with Extras at no out-of-pocket cost.
Keep up your care with telehealth
Telehealth means in its simplest form, healthcare delivered at a distance. This has become particularly relevant during the COVID-19 global pandemic. The telehealth consultation usually takes place by phone or video link, so there's no need to travel.
These services are available to our members from any provider who is set up for telehealth delivery.
Physiotherapy
Dietitian
Psychology

Speech pathology
Podiatry
Occupational therapy
If you have a usual provider, check with them if they use telehealth.
You don't have to be an existing patient to use telehealth, simply make a new appointment with any recognised provider who is using telehealth or digital delivery.
Treatments by telehealth are covered under selected CBHS Extras cover, up to your usual limits. Call Member Care on 1300 654 123 or email help@cbhs.com.au to find out more.
Claiming for telehealth is easy too. Most telehealth providers will use electronic claiming to claim the benefit on your behalf and you simply pay any gap as normal.
If the provider doesn't offer electronic claiming, they will ask you to pay in full for your consultation. You can then submit your claim via the CBHS app or through the Member Centre online. These claims are often eligible for fast-track claiming.
TOP TIP: While you're not able to claim telehealth GP consults on private health insurance, we recommend our partners Instant Consult. Get access to fully qualified, Australian-registered, experienced GPs through video call, 6am-midnight (AEST) - 7 days a week.
Instant Consult is not bulk-billed, but consults are priced very reasonably compared to alternatives. They also have arrangements in place with chemists all around Australia, so the GP can consult remotely and issue a prescription by email immediately to a chemist in your local area.
If fitness could help you meet your goals
Health professionals might recommend exercise for a number of different reasons. After all, there are both physical and mental benefits to improving your fitness. If exercise is something your GP or healthcare team believes will improve or reduce a specific health or medical condition for you, then you can claim a benefit for gym membership or personal training under CBHS Extras or package cover.
Complete the Health Management Program Authorisation Form together with your healthcare professional and return to us.

A positive lifestyle change can have big impacts
Making a lifestyle edit can give you so much in return when it comes to your quality of life. We can almost guarantee you that once you start, you'll wish you did it years ago. That's why we're giving you something back when it comes to making some all-important efforts towards new and healthy habits.
Your CBHS Extras or package cover will have a Health Management limit, which means that you can use that on appropriate services including
Quit smoking programs
Weight management programs
Stress management courses
To be eligible, your programs will need to have:
Clear objectives
Course outline
Goals
Expected outcomes
A weight management program will also need to be delivered by a Recognised Provider, with the intention to manage or prevent a disease, injury or condition.
Call our Member Care team on 1300 654 123 or email help@cbhs.com.au to check if your chosen program is eligible for benefits before enrolling.
Eat from The Doctor's Kitchen
Eating a healthier diet in the right proportions can help you lose weight. It also lowers your risk of developing a health condition like high cholesterol, high blood pressure or type 2 diabetes. The Doctor's Kitchen offers Australia's only medically backed weight loss meal plans, designed to accelerate your weight loss success and optimise your journey to better health. Partnering with youfoodz, The Doctor's Kitchen offers a life-changing range of nourishing and nutritionally complete doctor-approved meals delivered direct to your door. All meals are calorie and portion-controlled, which takes the guesswork out of eating healthier. Choose a meal-plan or customise your own breakfast, lunch or dinner options.
CBHS members get a discount of 10% off every order from the Doc's Approved weight-loss meal plans. This discount is automatically applied at the checkout.
What can your gut tell you about your health
Get the full picture of your unique gut microbiome with Microba Insight™. A microbiome test kit provides detailed insights into the microorganisms inhabiting your gut and how they function. It is a powerful, evidence-based tool that allows you to learn about your unique microbial community and identifies dietary suggestions that may improve your overall health and wellbeing.
As a member of CBHS, you get 12% off a microbiome test kit which includes a 15-minute phone consultation with a Microba-trained technician to discuss the key findings of your report. Email us to get your promo code to claim your discount on the Microba website.
All information contained in this article is intended for general information purposes only. The information provided should not be relied upon as medical advice and does not supersede or replace a consultation with a suitably qualified healthcare professional.