At CBHS we help you manage your health challenges. We believe in offering you the services, support and tools you need to live your best life.
Our Better Living Programs are available to support eligible members towards a healthier lifestyle. Each Better Living Program is subject to its own eligibility criteria.
Contact us for more information and to confirm your eligibility for a program.
3.6
3.6 million people in Australia suffer from hearing loss
1 in 5
1 in 5 Australians have some form of disability
17%
17% of people with disability use mobility aids
10.7%
10.7% of Australians had
asthma
in 2020-2021
Things to remember before you hire or buy an artificial or healthcare aid
Any healthcare appliance you need, from hearing aids to a walking frame, must be TGA-approved and purchased from an Australian company with a valid ABN.
All benefits for artificial and healthcare aids will depend on your Extras or packaged cover limits. For more details, check your policy or call our Member Care team on 1300 654 123.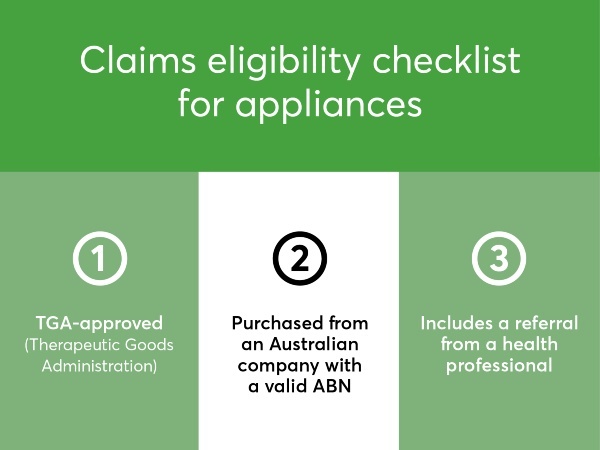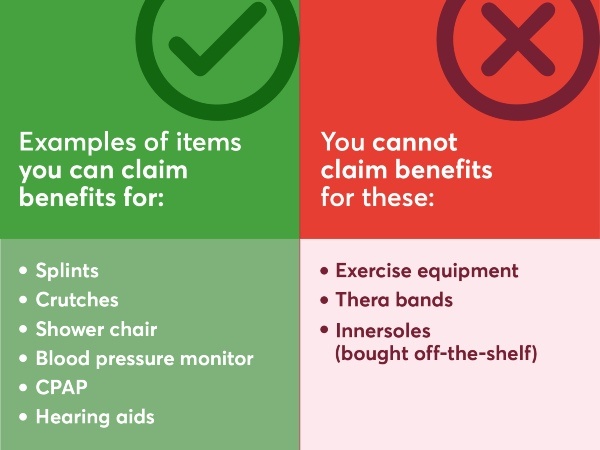 Artificial aids
You may need artificial aids to support your rehab after you've had surgery or to help you manage a chronic health condition like sleep apnoea.
Artificial aids include:
Splint or cast
Shower chair
Crutches
Walking frame or a wheelchair
Heart rate monitor
CPAP machine.
CBHS also pays benefits on compression garments following surgery as well as orthotics that may improve your mobility.
Healthcare appliances
Helping you to manage illness or disease, these appliances can have a positive impact on your quality of life. They can include one of the following:
A nebuliser or vaporiser to help treat asthma
A continuous glucose monitoring system (CGM) for people with diabetes
A blood pressure monitor.
Please note: CBHS does not pay benefits for exercise equipment, Thera bands from physiotherapists or innersole purchases off-the-shelf.