At CBHS we help you manage your health challenges. We believe in offering you the services, support and tools you need to live your best life.
Our Better Living Programs are available to support eligible members towards a healthier lifestyle. Each Better Living Program is subject to its own eligibility criteria.
Contact us for more information and to confirm your eligibility for a program.
5 deliciously simple recipes to try this autumn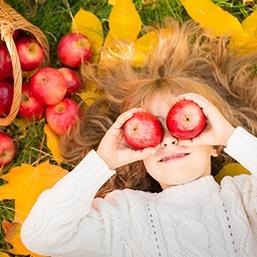 Australia is a country for all seasons. You can do practically anything, play practically anything, and eat practically anything at any time of the year. That said, there is a season that is a firm favourite for many.
March to May is autumn in Australia, when the footpaths are scattered with fallen gold and brown leaves, and the slight nip in the air can be a welcome break from the long hot summer. The farmers, busy with the harvesting season, spend days at a time cutting and preparing crops for market, and families everywhere enjoy the season's produce from watermelons and rockmelons to pumpkin, eggplants, wild mushrooms, olives and cauliflower.
Autumn is, without a doubt, a season to enjoy good food. Figs are cheap enough to turn into jam, the orchard floor is covered in walnuts, almonds, pistachios, pecans and macadamias, and tomatoes take over every home garden. In the kitchen, autumn produce makes cooking fun and exciting, and the rich flavours mean simple dinner recipes are a must.
Some of our favourites include:
Pumpkin, cauliflower and lentil curry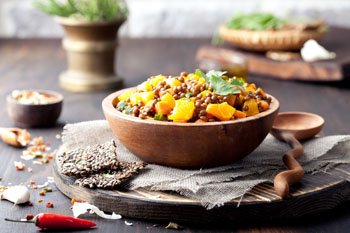 Ingredients

1 tbsp olive oil
1 large red onion, cut into wedges
350 butternut pumpkin, cut into cubes
350g cauliflower florets
450g jar jalfrezi curry simmer sauce
400g can brown lentils, rinsed and drained
½ cup vegetable stock
large handful of baby spinach leaves
Method
In a large saucepan over medium heat, fry off onion in the oil for 3-4 minutes.
Add pumpkin, cauliflower, stock and simmer sauce. Bring to the boil, then reduce heat and simmer for 20 minutes.
Add spinach and lentils for final two minutes.
Serve over steamed rice.
Quick chicken tagine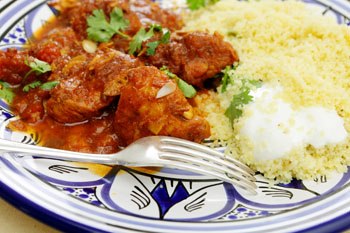 Ingredients
1kg chicken thigh fillets
3 tbsp chermoula spice mix or paste (available from most gourmet delis)
1 cup chicken stock
2 tbsp olive oil
1 onion, thinly sliced
3 garlic cloves, thinly sliced
1 lemon, thinly sliced
100g blanched almonds
140g green olives
½ cup chopped coriander
1 cup couscous
Method
Heat oil in a large pan over high heat. Meanwhile, toss the chicken in half the spice mix.
Fry off onion and garlic for 2-3 minutes. Remove and set aside.
Add chicken to pan and turn after 2-3 minutes. Add lemon, almonds, olives, stock and remaining spice mix and bring to the boil.
Reduce heat, cover, and simmer for 20 minutes.
Meanwhile, add 1½ cups of water to a pan with a dollop of butter and a splash of olive oil. Bring to the boil, turn off heat, then add couscous. Stir once, cover, and set aside.
Serve tagine over couscous and top with coriander.
Chipolatas and mash with an eschalot gravy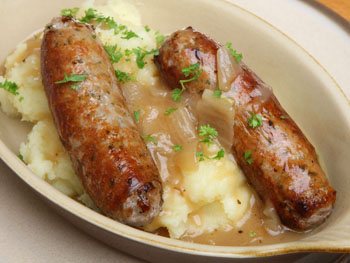 Ingredients
1.5kg peeled potatoes, chopped
60ml thickened cream
2 tbsp Dijon mustard
150g unsalted butter
4 spring onions, thinly sliced
1 tbsp olive oil
1 tbsp plain flour
12 pork chipolata sausages, pricked
8 escalots, thinly sliced
½ cup red wine
1½ cups beef stock
¼ cup flat-leaf parsley
Method
Add potatoes to cold salted water and bring to the boil over high heat for 10 minutes or until tender.
Drain, then return to pan along with ¾ of the butter, cream and half the mustard. Mash until smooth.
Stir in onion, season, and set aside with lid on to keep warm.
Meanwhile, heat in in a large frypan and add chipolatas for 6-8 minutes, turning as you go.
Transfer to a tray and keep warm in a low-heat oven.
Drain most of the oil, keeping just enough to cook the eschalots. Cook for five minutes, then stir in flour, wine and stock.
Bring to a boil, lower heat, and simmer for 10 minutes until gravy has thickened.
Place chipolatas on a generous pile of mash, whisk remaining butter and mustard into the gravy, and then serve over chipolatas.
Garnish with parsley and season to taste.
Lamb, vegetable and barley soup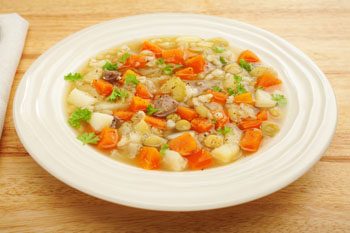 Ingredients
500g lamb shoulder steaks, trimmed and cubed
2 tspn olive oil
1 brown onion, finely chopped
2 garlic cloves, crushed
½ cup pearl barley
1 parsnip, peeled and chopped
1 sweet potato, peeled and chopped
1 zucchini chopped
2 yellow button squash, chopped
1 sprig fresh rosemary1 litre chicken stock
Method
Heat half of oil in a saucepan over high heat. Add lamb and cook for 5-7 minutes. Transfer to a plate.
Reduce heat and add the remaining oil. Add onion and garlic, stirring for 3 minutes until softened.
Add lamb, barley, rosemary, stock and 1½ cups of cold water. Bring to the boil.
Reduce heat, cover, and simmer for one hour or until lamb is tender.
Add veggies and pumpkin to pan, cover, and simmer for a further 20 minutes.
Season with pepper and serve.
Pork and fennel roast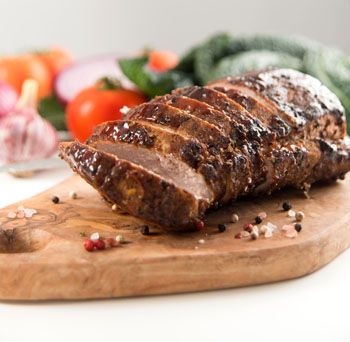 Ingredients
2kg boned and rolled pork shoulder
2 tbsp olive oil
2 tspn sea salt
1 tspn dried fennel seeds
20g butter
2 garlic cloves, crushed
2 fennel bulbs, trimmed and sliced
3 green apples, sliced
355ml dry apple cider
Method
Preheat oven to 160 degrees. Meanwhile score pork skin using a sharp knife at 2cm intervals.
Rub pork with salt, fennel seeds and half the oil.
Heat remaining oil in a flameproof baking dish over high heat. Add pork and cook for 10 minutes, turning occasionally. Transfer to a warm plate.
Reduce heat and add butter, garlic and fennel. Stir for 6-8 minutes before adding the apples and cider. Bring to the boil.
Scrape down sides after one minute and return pork. Cover, and transfer to oven.
Roast for two hours.
Rest pork for 15 minutes before serving with fennel mix and roasted root vegetables.
Source:
All information contained in this article is intended for general information purposes only. The information provided should not be relied upon as medical advice and does not supersede or replace a consultation with a suitably qualified healthcare professional.
Health and wellbeing
programs & support
You Belong to More with CBHS Hospital cover:
Greater choice over your health options including who treats you
Get care at home with Hospital Substitute Treatment program
Free health and wellbeing programs to support your health challenges
Live your healthiest, happiest life with CBHS Extras cover:
Benefits for proactive health checks e.g. bone density tests, eye screenings
Keep up your care with telehealth and digital options
Save on dental and optical with CBHS Choice Network providers