At CBHS we help you manage your health challenges. We believe in offering you the services, support and tools you need to live your best life.
Our Better Living Programs are available to support eligible members towards a healthier lifestyle. Each Better Living Program is subject to its own eligibility criteria.
Contact us for more information and to confirm your eligibility for a program.
5 foreign flavours to introduce to your Christmas table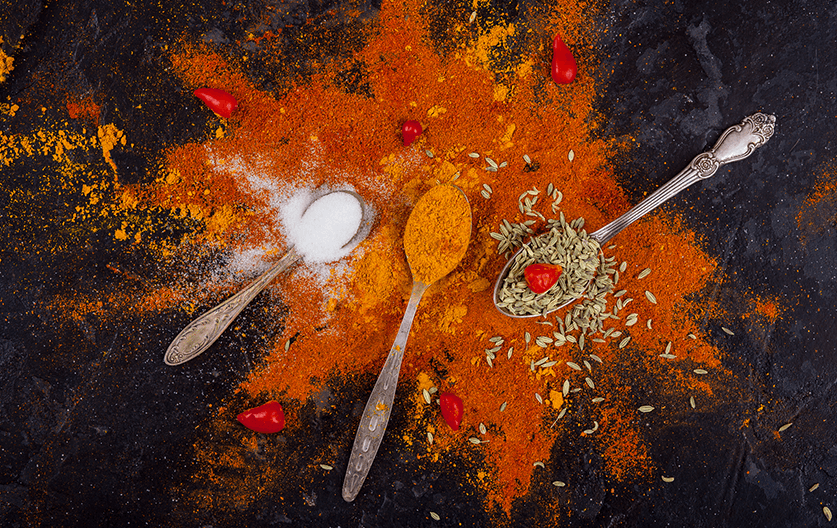 It's the time for fine foods and tantalising tastes, so we've gathered some of the most delicious, innovative Simmer Christmas recipes for you to try!
There was a time when the Aussie barbie was little more than a slice of bread, a simple salad (that was about 85% iceberg lettuce), and some chops, snags, or rissoles that were either underdone, overdone, or burnt on the outside and raw in the middle.
Thankfully Australia's palette has evolved, and the Australian barbecue has become more and more flavoured by foreign influence. Malaysian satay skewers, Moroccan lamb, Portuguese chicken, and Korean pork are only the tip of the international iceberg. With a multitude of multicultural meats now sizzling on the grills of Australia, it's time to get global with our sides.
The next time you are getting together with friends and family for a barbecue, why not celebrate Australia's cultural diversity, and take your taste-buds on a trip around the world with these delicious side dishes.
Indonesian pineapple salad (serves 4-8)
This salad is inspired by the traditional Indonesian dish gado-gado. Gado-gado translates to 'mix-mix' and is traditionally made from a mixture of vegetables such as potatoes, string beans, bean sprouts, spinach, chokos, bitter melon, corn and cabbage, with tofu, tempeh and hard-boiled eggs, all mixed in peanut sauce dressing, sometimes also topped with prawn crackers and sprinkles of fried shallots.
With this version, you could turn it from a side-dish into its own meal, simply by adding some grilled tofu or stir-fried prawns.
Ingredients
For the dressing:
1/4 cup of smooth peanut butter (no added sugar or salt)
2 tablespoons of freshly squeezed lime juice
2 tablespoons of soy sauce
2 teaspoons of packed dark brown sugar
2 teaspoons of fish sauce
1 medium garlic clove, smashed
1 teaspoon of chili-garlic paste
2 tablespoons of vegetable oil
For the salad:
1 kg of baby bok choy
2 1/2 cups of small pineapple pieces
2 medium carrots, peeled, halved lengthwise, then thinly sliced crosswise
1/2 medium telegraph cucumber, quartered lengthwise, then thinly sliced crosswise
1 cup coarsely chopped fresh coriander
1/2 cup roasted, salted peanuts, coarsely chopped
2 medium spring onions, thinly sliced (white and light green parts only)
Method
For the dressing:
Place all of the dressing ingredients (except the oil) in a blender and blend on the highest setting until the mixture is smooth. While the blender's motor is running, slowly and gradually pour the oil in until it is fully combined.
For the salad:
Cut the bok choy in half lengthwise, rinse it, and dry it with some paper towels. Cut the leaves crosswise into 2 cm wide ribbons, cut the stalks crosswise into 1 cm sized pieces, and then put all of the bok choy pieces into a large bowl. Add the pineapple, carrot, cucumber, coriander, peanuts, and spring onions, and drizzle the dressing over the top. Combine the ingredients by gently toss everything together.
Mexican grilled corn (serves 4)
Elote is a classic street food from Mexico that is traditionally served and eaten on a stick. The corn is slathered in a creamy, chili and lime-spiked sauce, sprinkled with crumbled cheese.
To make things healthier, this version of the popular dish will forgo the slathering and serve the sauce on the side. That way everybody can determine exactly how much sauce they want to put on their piece of corn.
Ingredients
4 ears of corn
1/4 cup of reduced fat mayonnaise
1/4 cup of low fat sour cream
1/2 cup of finely crumbled feta cheese
1 teaspoon of minced garlic
1/2 a teaspoon of chili powder
1/4 cup of fresh chopped coriander
2 teaspoons of lime juice, and lime wedges for serving
salt, and black pepper to taste
Method
For the sauce:
Place the mayonnaise, sour cream, feta, chili powder, garlic, crumbled feta, coriander, and one teaspoon of lime juice in a large bowl. Gently stir until all of the ingredients have evenly combined, then pour the mixture into a serving bowl. Lightly dust the sauce with extra chili powder, and sprinkle with some extra coriander for garnish.
For the corn:
If your corn still has its husk on, shuck it before cooking. Pre-heat the barbecue on high, and when sufficiently hot, lightly drizzle some olive oil on the hotplate. Carefully place the corn on the barbecue, periodically rotating the ears so they evenly char on each side. Remove the cooked corn from the heat, and place on a plate or serving tray. Evenly sprinkle the corn with lime juice, salt, and pepper. You can also dust the corn with more chili powder if you'd like. To serve, lightly spoon the sauce over each cob, and add a squeeze of lime juice.


Russian potato salad (serves 4-6)
The inspiration for this dish can trace its roots back to the early 1860s, where it was created one of Moscow's top restaurants by Lucien Olivier. The exact recipe (especially for the dressing) was a jealously guarded secret, but it is known that the 'Salad Olivier' (as it came to be known) contained grouse, veal tongue, caviar, lettuce, crayfish tails, capers, and smoked duck. The original Olivier dressing was a type of mayonnaise, made with French wine vinegar, mustard, and olive oil. The exact recipe, however, still remains unknown.
Today, the salad's various regional interpretations are enjoyed throughout much of Europe, and features prominently during times of celebration for Russian and Slavic people.
There are many variations of this salad, so feel free to add or subtract ingredients to your liking.
Ingredients
For the dressing:
3 medium potatoes, peeled and diced
2 diced carrots
225 grams of diced ham
2 whole pickles/gherkins, diced
1/2 a cup of peas
1/2 of a Granny Smith apple finely chopped
1/2 a cup of low fat mayonnaise
2 hard-boiled eggs
1 tablespoon of chopped green onions
salt and pepper to taste
fresh parsley and dill for garnish
Method
Place the carrots and potatoes into a pot, cover with water and bring to boil. When the water is boiling, keep cooking uncovered for about 10 minutes. Make sure not to over-cook the potato or it will be too mushy. The peas need less time to cook, so add them in at around the 7 or 8 minute mark. Around the same time the peas go on, gently place the eggs in separate pot of boiling water.
Next, rinse the cooked vegetables with cold water and drain. Transfer them onto paper towels to remove any excess water, and then place them all in a large bowl. By now the eggs should be done. Remove them from the boiling water, and rinse them with cold water.
While the eggs cool, add the ham and pickles to the cooked vegetables in the large bowl, then season with salt and pepper. Stir the ingredients well to make sure everything is seasoned evenly.
Peel and dice the hard-boiled eggs before adding them to the bowl. Add the chopped apple and mayonnaise to the salad and stir well. Let the salad cool in the fridge for at least 30 minutes, and then add sprigs of parsley and/or dill before serving.

Toasted Lebanese bread and kale salad (serves 2-4)

This salad is based on the Middle Eastern dish called Fattoush. The word fattoush is derived from the Arabic word fatt, meaning 'crush' – which is what you have to do with the Lebanese bread before adding it to the salad. Middle Eastern culture has many traditional recipes that use stale flatbread as a base, making it a great way to cut down on wasted food. But you don't necessarily have to use stale flatbread. If you'd prefer, you can buy pita crisps (from the biscuits and crackers supermarket aisle) and simply add them in to the salad.
Fattoush derives its slightly sour tang from not only the lemon juice, but also the dark red coloured sumac spice, which is popularly used in Middle Eastern cuisine as a powdered garnish.
If you'd like, you can add other optional ingredients like chopped capsicum, olives, garlic, parsley, and carrots.
Ingredients
For the dressing:
3 tablespoons of pomegranate nectar
2 tablespoons of water
1/2 to 1 tablespoon of sumac spice to top
For the salad:
3 cups of roughly chopped kale
1/2 of a soft avocado
1 tablespoon of lemon juice
1/4 of a cup of chopped mint leaves
1/4 to 1/2 teaspoon of salt
1/2 a cup of cherry tomatoes cut in half
1/4 a cup of thinly sliced radishes
1/4 a cup of thinly sliced cucumber
1 small red onion thinly sliced
1/4 of a kilo of feta cheese cut into 1cm cubes
2 slices of Lebanese bread
1 tablespoon of olive oil for the bread (optional)
Method
For the bread:
Very lightly brush some olive oil on the top side of the Lebanese bread and bake it in a medium oven for about 10 minutes. This will make the bread nice and crisp, giving the salad a crunchy texture. While it bakes, start putting the salad together.
When it is done, use some absorbent sheets of paper towel to dry off any excess oil, and when the bread cools, gently crush it in your hands until it breaks into small, roughly 2 cm square, pieces.
For the salad:
Smash the avocado in a bowl, combining it evenly with the lemon juice, and salt. Then add the kale, and use your hands to massage the ingredients together. In a larger bowl, combine the sliced cucumber, onion, radishes, tomatoes, feta cheese, and mint, with the kale. Take the crushed Lebanese bread and gently mix it into the salad.
For the dressing:
Mix the pomegranate nectar, sumac, and water together, and drizzle it liberally over the top of the salad. Use some extra sumac and generously dust the salad for presentation.
Be sure to let us know on the CBHS Facebook page if you managed to make and enjoy any of these delicious meals!
Health and wellbeing
programs & support
You Belong to More with CBHS Hospital cover:
Greater choice over your health options including who treats you
Get care at home with Hospital Substitute Treatment program
Free health and wellbeing programs to support your health challenges
Live your healthiest, happiest life with CBHS Extras cover:
Benefits for proactive health checks e.g. bone density tests, eye screenings
Keep up your care with telehealth and digital options
Save on dental and optical with CBHS Choice Network providers