At CBHS we help you manage your health challenges. We believe in offering you the services, support and tools you need to live your best life.
Our Better Living Programs are available to support eligible members towards a healthier lifestyle. Each Better Living Program is subject to its own eligibility criteria.
Contact us for more information and to confirm your eligibility for a program.
Top 5 foods and nutrients to strengthen your immunity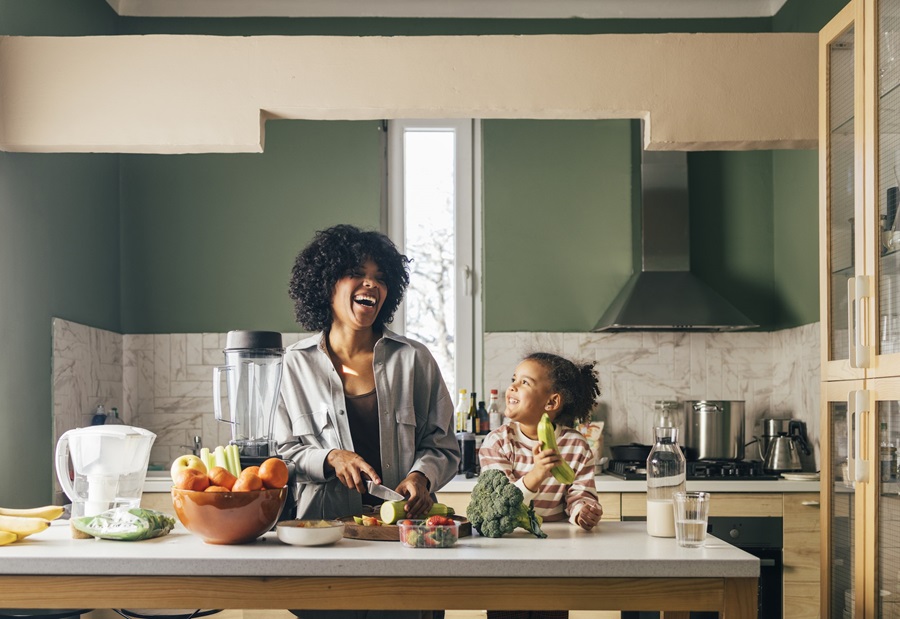 Our immune system is a network of cells, tissues, and organs. Together, they protect our body against harmful bacteria, viruses, and fungi. The immune system is essential for maintaining our health and preventing infection.
Let's dive into the top five nutrients that help your immune system fight those invaders. You'll find these in foods you can easily add to your daily meals. The experts say that if you're eating a varied diet, most people won't need to take supplements. But, if a GP or health professional has recommended you do, then it's advisable.
Vitamin C
Let's start off with vitamin C. This is a water-soluble vitamin, which means it can't be stored by the body and needs to be restored daily! While most people are aware that vitamin C is good for immunity, there're good reasons for it to be at the top of the nourishing list.
Firstly, it's responsible for the development and function of some immune cells, like white blood cells, while it also stimulates collagen production.
White blood cells play a critical role in fighting infections in our body, while collagen is a key protein for the structure of our skin. In fact, our skin is often the first line of defence in preventing pathogens from entering our body, acting as the walls around our castle (aka body)!
Vitamin C is also a powerful antioxidant. When our immune cells 'attack' invaders (non-welcome harmful bacteria, viruses, and fungi) they create free radicals, and these cells can damage perfectly normal and healthy cells. However, if your vitamin C stock is up to date, it will step-up and help stop these free radicals from causing damage.
Vitamin C can also enhance iron absorption from plant-based foods. This is important to produce T cells – a type of white blood cells that send signals to direct other immune cells to fight infection.
The easiest way to make sure you get enough vitamin C is by aiming for 2 serves of fruit and 5 serves of vegetables daily.
The most common vitamin C-rich foods are oranges, but you can also find high levels of vitamin C in grapefruits, blackcurrants, mangoes, kiwifruits, rockmelon, tomatoes, strawberries, and vegetables - especially green vegetables (such as cabbage, capsicum, spinach, brussels sprouts, lettuce and broccoli), cauliflower and potatoes.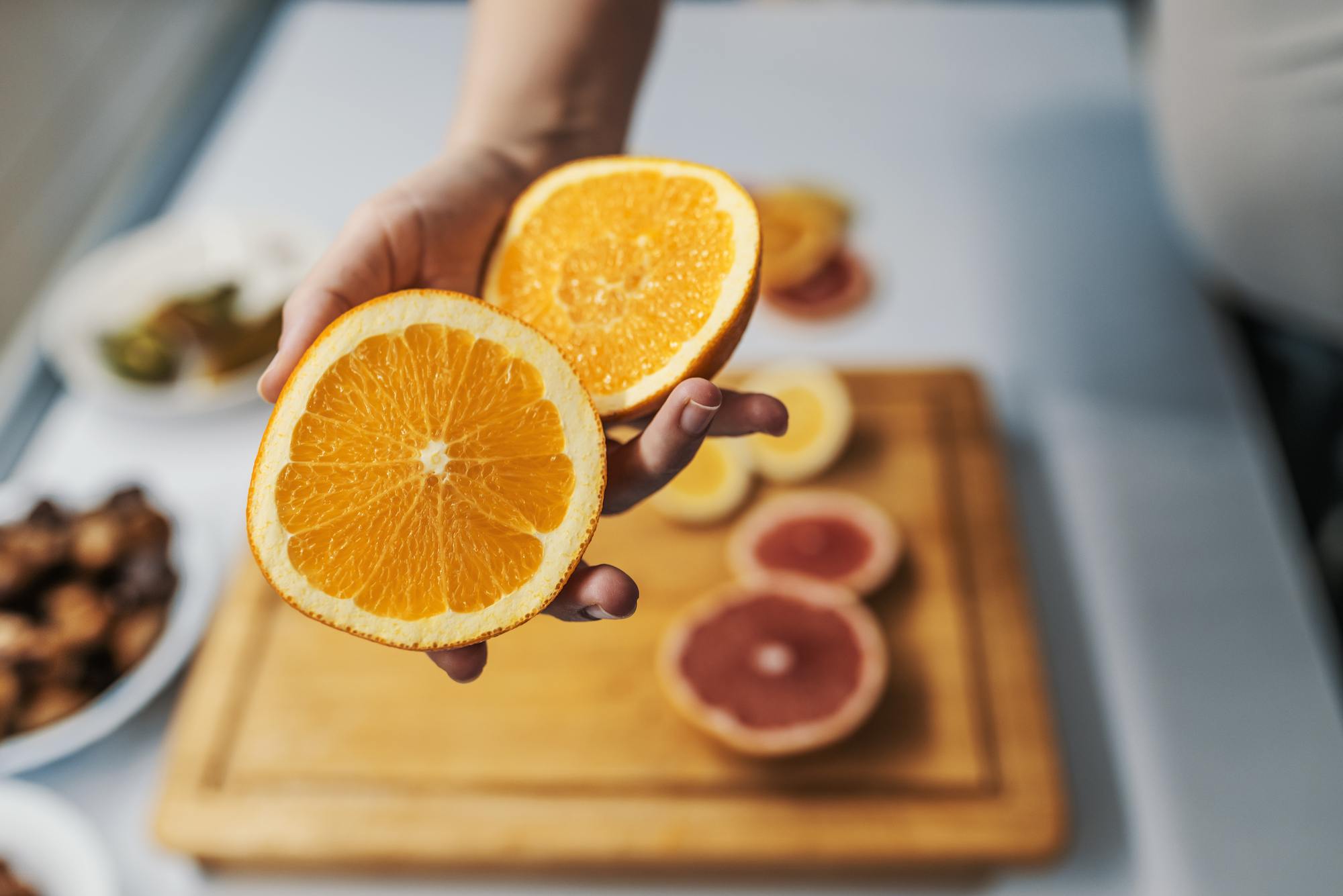 Vitamin D
Once upon a time, vitamin D was only thought of as being important for strong bones. Now, it's recognised as an essential player in our immune health. A not so well-known fact about vitamin D is that it's not really a vitamin, it's a hormone. One that can enhance the activity of our immune cells, help reduce inflammation and promote the production of anti-microbial proteins that fight infection.
Vitamin D promotes the production of cathelicidin, a protein that helps destroy harmful viruses and bacteria. Think of this protein as the first line of defence against invaders. It can also promote wound healing and reduce inflammation.
If our body's immune system is not working properly, cathelicidin production may be affected. This can increase infection risk, which is why vitamin D is so important for immune health.
Our best source of vitamin D is sunlight, so getting outside in the morning (or when UV index is below 3) for 10 minutes will help you maintain healthy vitamin D levels. Most of us get enough sunlight during the day through walking to and from the car or shops, or hanging out the washing. However, be aware of sun exposure in the middle of the day or when UV index is above 3 when UV radiation can be harmful to our skin.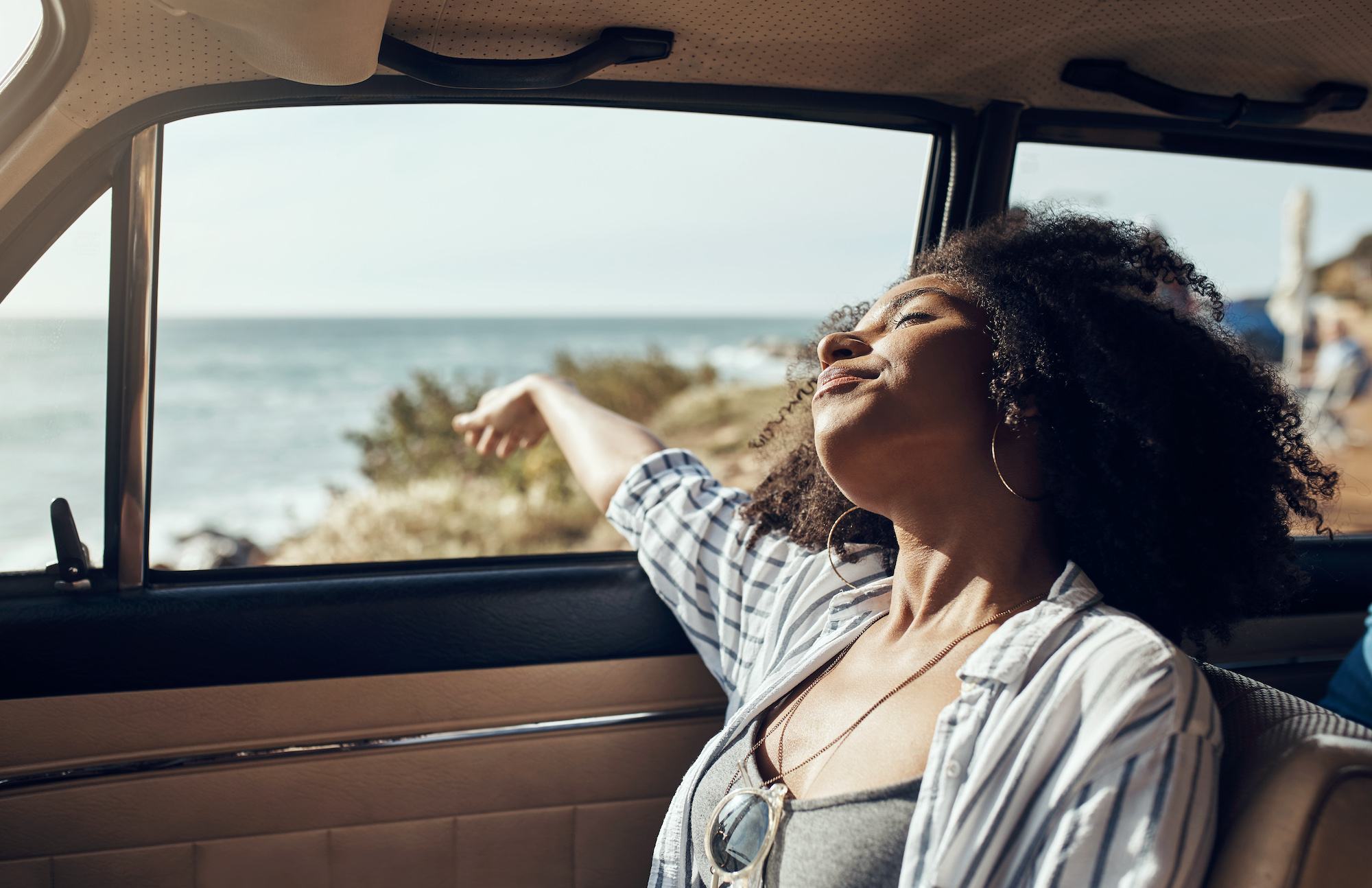 Your GP may suggest taking vitamin D supplements if your levels are low. But it doesn't hurt to include a few vit D food sources to your diet.
The best sources of vitamin D in food are fatty fishes such as trout, salmon, tuna, and mackerel, as well as fish liver oils. We can also get vitamin D in small amounts in beef liver, egg yolks, and cheese. But studies have shown that the animal's diet will affect the amount of vitamin D it contains.
Sunbathing's only good if you're a mushroom! Did you know that sun-exposed mushrooms can produce vitamin D?
If you are looking for a veggie source of vitamin D, look no further! Putting five button mushrooms or one portobello mushroom in the sun, gill-side up for 15 minutes produces 100% of your daily vitamin D needs. And, the boosted effect can last up to eight days in your fridge. Studies showed that consuming sunlight-exposed mushrooms can improve blood vitamin D levels and can be as effective as using vitamin D supplements.
Zinc
Zinc is a key mineral that helps us produce and activate immune cells. Acting as antioxidant and anti-inflammatory, zinc protects cells from damage by regulating signalling pathways in different immune cells.
If we don't get enough zinc in our diet, our immune system may become weaker, and we may be prone to infections and diseases. This can also lead to inflammation and oxidative stress, which can damage our cells and increase the risk of developing certain diseases.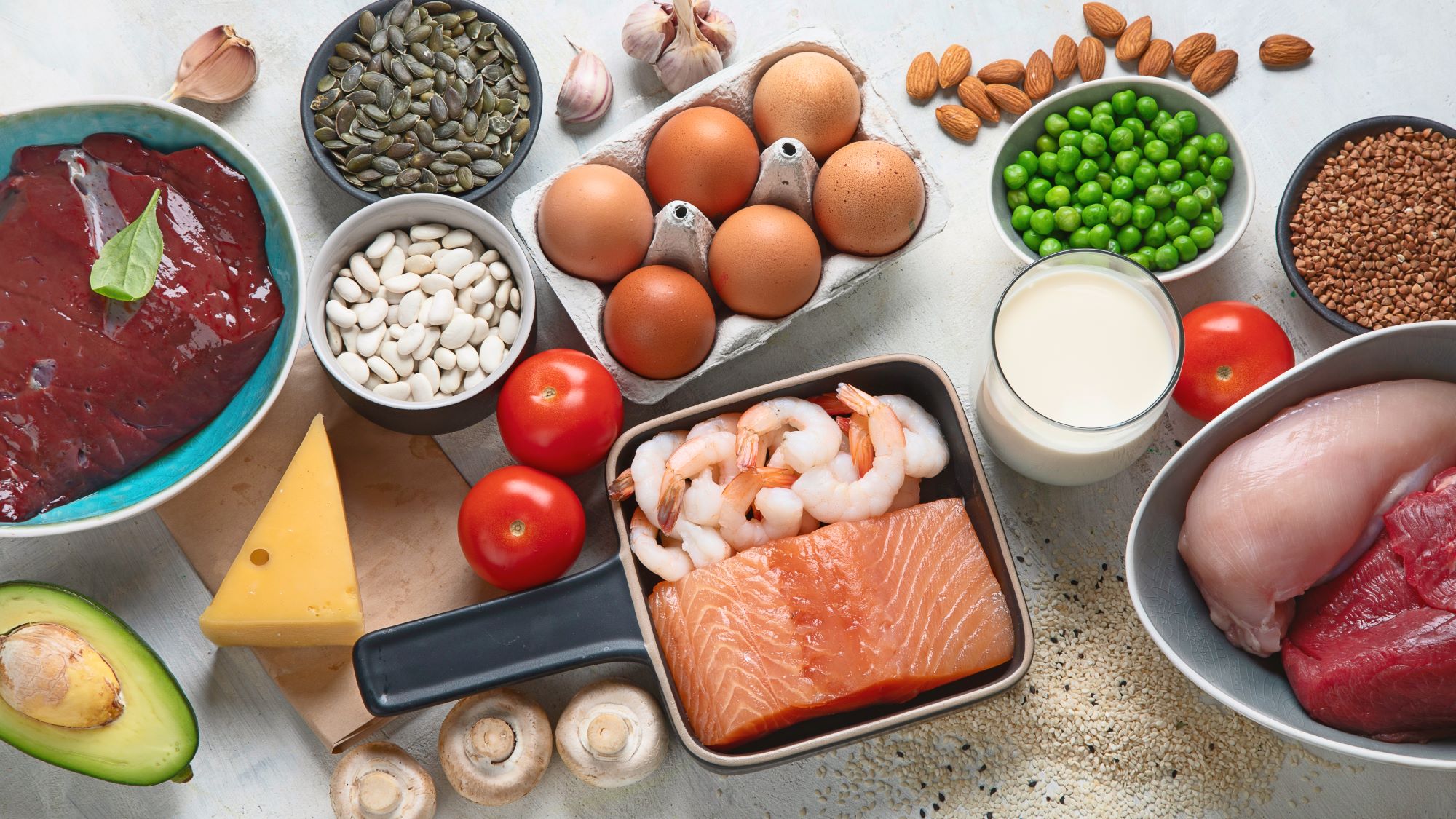 To make sure we get enough zinc, we need to include zinc-rich foods in our diet like meat, seafood, nuts, and legumes. Meat and seafood are the most available sources of zinc in our diet, but you can also find it in pumpkin seeds, lentils, and wholegrains like oats, although it's more difficult to absorb this way. So, if you follow a vegan or vegetarian diet you may need to make an extra effort to get enough plant-based zinc-rich foods in.
Zinc is the second most abundant trace metal in the human body.
Zinc supplements are also available, and research has shown it can reduce cold symptoms by about two days. It's important to talk to a healthcare provider if you want to take zinc supplements, as too much zinc can have a negative effect in our body.
Probiotics
Did you know 70 to 80% of our immune system lives in our gut? A healthy gut with a balanced population of little organisms is crucial for our immune system. With that in mind, let's talk about probiotics. They're the 'good bugs' that live in our gut, and they play a very important role in maintaining a strong immune system. Probiotics are like friendly diplomats, further promoting the growth of good bacteria in our gut. This in turn reduces unwanted invaders and keeps the bad bacteria at bay.
Probiotic bacteria play a role in controlling specific immune functions. These processes not only reduce or eliminate bad bacteria, but they help strengthen the intestinal barrier, reduce inflammation and help immune response.
Let's not forget, our bacteria break down and ferment (digest) the fibre we eat in fruits, vegetables, wholegrains, nuts and seeds – which is essential for the absorption of all those good nutrients we are fuelling our body with.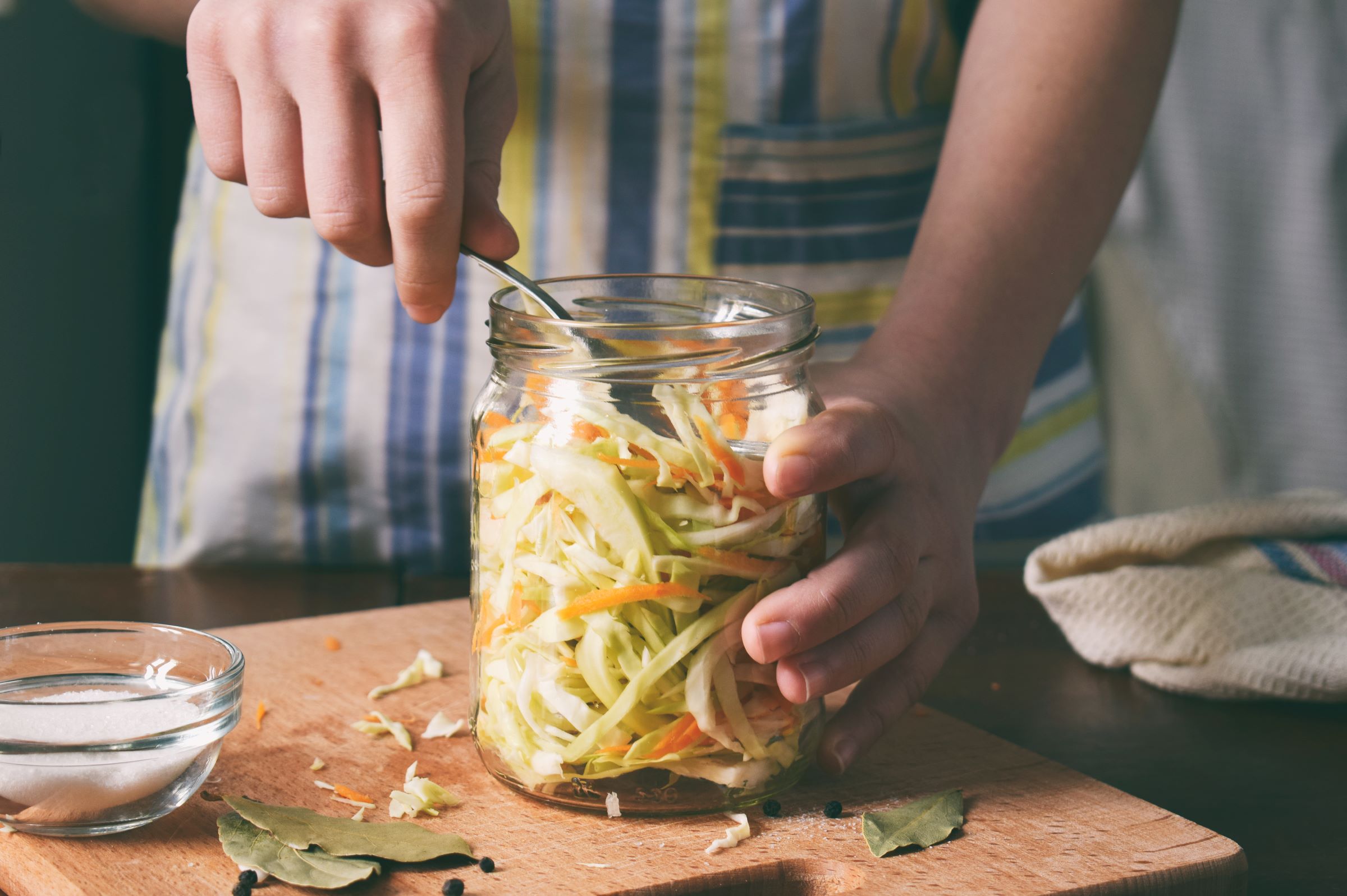 The good news is that we can simply eat or drink more of these live good bacteria. Probiotic-rich foods like yoghurt, kefir, kimchi, sauerkraut, tempeh and miso are highly recommended to be included regularly in our diet for maximum benefit. However, not all fermented foods are made equally. And sometimes, live cultures don't survive the manufacturing process. The RACGP recommends we look for words such as 'live', 'active', 'raw' or 'unpasteurised' when shopping for these foods.
Our gut is home to trillions of microorganisms that play a crucial role in maintaining our body's defences.
Overall, a healthy gut with a balanced population of microorganisms is crucial for maintaining the strength and resilience of the immune system. Probiotics play a key role in making that happen.
Onion and garlic
Last but not least, we've been leaning on these delicious flavour-bombs for centuries, both for culinary and medicinal purposes. This is down to onions and garlic not only making food taste great, but for their antimicrobial, anti-inflammatory and immune-boosting properties.
The active ingredient in garlic is allicin, which works by stimulating the production of white blood cells. These are the 'guards and knights' of your immune army, and they work together to defend our body against harmful invaders. Allicin also has antioxidant properties, which means it can help protect our cells from damage caused by free radicals.
Other members of the onion family − shallot, leek, and chives − also contain allicin. The chemical compounds you can find in these foods have anti-inflammatory effects because they help stop the formation of paths that cause inflammation.
As an extra top tip, supercharge your onions and garlic with some turmeric too. It's a great spice which contains curcuminoids − anti-inflammatory compounds that can help reduce oxidative stress. Another great addition to your immune boosting cooking! Turmeric goes well in curries, stews, Asian and Indian dishes and even chicken soup!
The great thing about onion and garlic is that they're so versatile – it's really easy to add to lots of different recipes!
As they improve the flavour of foods, you can add garlic and onion to Bolognese or Italian pasta sauces, Indian curries like butter chicken or a vegetable korma, or simply throw into a stir fry with some fresh vegetables and serve with rice or noodles. You can easily incorporate these a few times a week for that tasty, immune-strengthening boost.
All information contained in this article is intended for general information purposes only. The information provided should not be relied upon as medical advice and does not supersede or replace a consultation with a suitably qualified healthcare professional.
Sources:
https://link.springer.com/chapter/10.1007/978-3-030-16073-9_5
https://www.sciencedirect.com/science/article/pii/S0924224421000777?via%3Dihub
https://www.betterhealth.vic.gov.au/health/healthyliving/Vitamins-and-minerals#vitamin-c
https://www.cbhs.com.au/mind-and-body/blog/slip-slop-slap-what-s-wrong-with-that
https://www.mdpi.com/2072-6643/5/7/2502
https://www.ncbi.nlm.nih.gov/pmc/articles/PMC7192829/
https://pubmed.ncbi.nlm.nih.gov/16443061/

https://ods.od.nih.gov/factsheets/VitaminD-HealthProfessional/

https://insightplus.mja.com.au/2020/1/tan-your-mushrooms-not-your-skin/

https://www.tandfonline.com/doi/full/10.4161/derm.23321
https://pubmed.ncbi.nlm.nih.gov/29064429/
https://pubmed.ncbi.nlm.nih.gov/32342851/
https://pubmed.ncbi.nlm.nih.gov/23595983/
https://www.ncbi.nlm.nih.gov/pmc/articles/PMC9818925/
https://www.ncbi.nlm.nih.gov/pmc/articles/PMC6886316/
https://www.ncbi.nlm.nih.gov/pmc/articles/PMC8001875/

https://www.theprobioticsinstitute.com/en/health-areas/immune-health/immune-defense

https://pubmed.ncbi.nlm.nih.gov/25961060/
https://www.ncbi.nlm.nih.gov/pmc/articles/PMC7280442/
https://www1.racgp.org.au/newsgp/clinical/what-are-probiotic-supplements-%E2%80%93-and-are-they-nece
Health and wellbeing
programs & support
You Belong to More with CBHS Hospital cover:
Greater choice over your health options including who treats you
Get care at home with Hospital Substitute Treatment program
Free health and wellbeing programs to support your health challenges
Live your healthiest, happiest life with CBHS Extras cover:
Benefits for proactive health checks e.g. bone density tests, eye screenings
Keep up your care with telehealth and digital options
Save on dental and optical with CBHS Choice Network providers