At CBHS we help you manage your health challenges. We believe in offering you the services, support and tools you need to live your best life.
Our Better Living Programs are available to support eligible members towards a healthier lifestyle. Each Better Living Program is subject to its own eligibility criteria.
Contact us for more information and to confirm your eligibility for a program.
5 National Parks you have to visit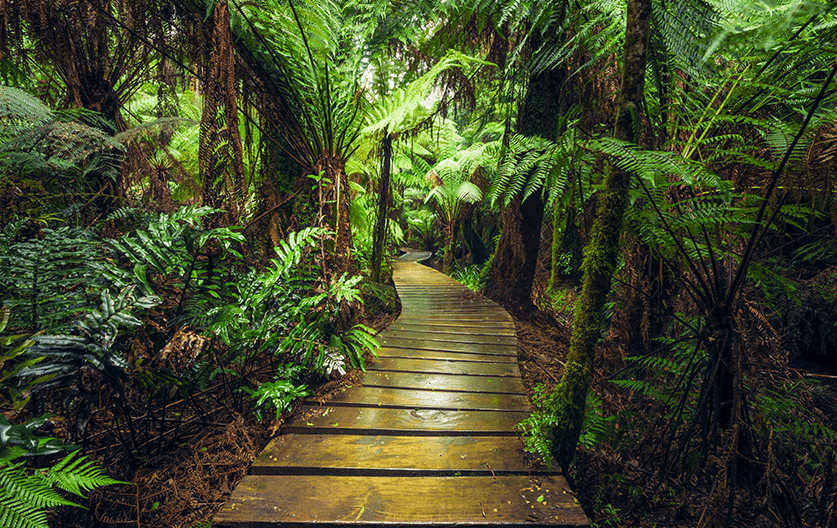 In Australia, we're spoilt for choice when it comes to spectacular and diverse scenery. We have everything from lush rainforests and stunning beaches to ancient rock formations and dramatic alpine landscapes. Australia has thousands of national parks and conservation reserves and many of these are only short drives from capital cities. So, if you're looking to hike, camp, swim or cycle this weekend or simply want to get closer to nature, have a read through our top five national parks for inspiration.
1. Royal National Park, New South Wales
This park has a mix of beautiful beaches, lush rainforests and dramatic coastal scenery. It stretches for 32 kilometres along the coast of Wollongong. It's not too far south of Sydney and offers opportunities for bushwalking, birdwatching, fishing, barbecues and even whale watching.
To find visitor information, see NSW Parks and Wildlife Service.
2. Uluru-Kata Tjutu National Park, Northern Territory
Home of the iconic Ulura, this World Heritage site is a must-see if you're visiting Australia. You'll discover ancient rock formations and diverse plant and animal life. You'll also get to see some incredible rock paintings. There's opportunities bushwalking, birdwatching and viewing some spectacular sunrises and sunsets.
To find visitor information, see Parks Australia.
3. Cradle Mountain – Lake St Clair National Park, Tasmania
This park is home to the stunning 1545 metre Cradle Mountain as well as Lake St Clair which is Australia's deepest lake. This park is a two and a half hours drive from Hobart and you'll find many options for accommodation nearby. This park is part of the Tasmanian World Heritage Area and the end of Tasmania's most iconic walk, the Overland Track. The Overland Track is a six day walk, but there are many other options for shorter walks around the lake. You'll still get to see the beauty of the alpine lakes and mountain peaks.
To find visitor information, see Tasmanian Parks and Wildlife Service.
4. Daintree National Park, Queensland
This park is home to some of the oldest forests in the world. Daintree National Park is comprised of two sections - Mossman Gorge and Cape Tribulation. The clear waters of the Mossman River run over granite boulders in Mossman Gorge while Cape Tribulation is covered in ancient forests that lead down to sandy beaches. This World Heritage Area also joins the Great Barrier Reef making this spot on of the few places in the world where two World Heritages areas meet.
To find visitor information, see Queensland Parks and Forests.
5. Mount Kosciuszko National Park, New South Wales
Mount Kosciuszko is Australia's highest mountain and this park is a favourite for skiers in winter. The ski resorts come alive at this time of year and you'll find plenty of winter sports. There's also kayaking, camping, bushwalks and cycling to be done in summer.
To find visitor information, see NSW National Parks and Wildlife Service.


Bushwalking safety
Plan your walk
You should research your walk before you set out and it's best to walk in groups of three if you can. This way if someone is injured, one person can stay with the person while the other goes for help. It's a good idea to check the difficulty level of the walk before you start to not underestimate your abilities. Always check the weather for the area as well before you start.
Tell somebody
It's always a good idea to tell a family or friend that you plan to do a bushwalk. You should let them know who is with you and when you expect to be back. That way they can contact the police if you don't return on time.
Stay on track
While it may be tempting to go off the track and explore the wilderness, it can be very easy to get lost and not be able to find your way back.
What to wear
It's best to wear sunscreen, and a jacket that will protect you against wet weather. You should wear comfortable shoes that you find it easy to walk in. It's best not to wear thongs as it's easy to trip over.
What to bring
It's very important to make sure you have enough water for each person on the hike. You should also bring healthy snacks and a bag for your rubbish, insect repellent, a first aid kit, a torch, your mobile phone and a battery pack. It's a good idea to also download the Emergency app developed by the Australian Government. This will mean you can easily contact emergency services and they will be able to see where you are and rescue you if needed.
For more information about how to plan for a bushwalk, visit NSW National Parks and Wildlife.
Sources
https://www.nationalparks.nsw.gov.au/visit-a-park/parks/kosciuszko-national-park
https://parks.des.qld.gov.au/parks/daintree/
https://parks.tas.gov.au/explore-our-parks/lake-st-clair
https://parksaustralia.gov.au/uluru/
https://www.nationalparks.nsw.gov.au/visit-a-park/parks/royal-national-park
https://www.nationalparks.nsw.gov.au/safety/bushwalking-safety
https://emergencyapp.triplezero.gov.au/
https://www.nationalparks.nsw.gov.au/conservation-and-heritage/national-parks/australias-national-parks
Health and wellbeing
programs & support
You Belong to More with CBHS Hospital cover:
Greater choice over your health options including who treats you
Get care at home with Hospital Substitute Treatment program
Free health and wellbeing programs to support your health challenges
Live your healthiest, happiest life with CBHS Extras cover:
Benefits for proactive health checks e.g. bone density tests, eye screenings
Keep up your care with telehealth and digital options
Save on dental and optical with CBHS Choice Network providers