At CBHS we help you manage your health challenges. We believe in offering you the services, support and tools you need to live your best life.
Our Better Living Programs are available to support eligible members towards a healthier lifestyle. Each Better Living Program is subject to its own eligibility criteria.
Contact us for more information and to confirm your eligibility for a program.
8 nutritious casseroles to try this winter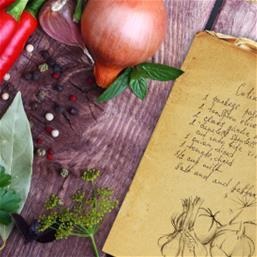 As the weather cools, it's time to dust off your casserole dish or slow cooker and cook yourself up some delicious, hearty and hot dinners. Not only are casseroles simple to make (you've got to love anything that can be made in just one pot!) they can also be super healthy when using the right ingredients.
Here, we take a look at our favourite winter-warming casserole dishes.
Chicken, leek and mushroom casserole
We all know that chicken is a great source of protein, and leeks and mushrooms are hugely beneficial for health. Leeks contain the compound allicin, which is not only anti-bacterial, anti-viral and anti-fungal, but can neutralise dangerous free radicals faster than any other known compound. Mushrooms are packed full of antioxidants, as well as beneficial dietary fibres such as chitin and beta-glucans.
Ingredients
8 chicken thigh pieces
6 sprigs fresh thyme
400g button mushrooms, halved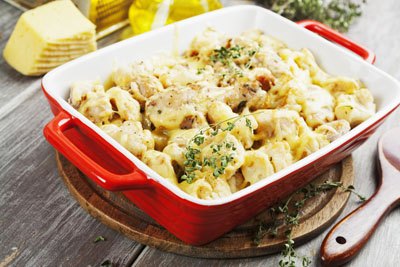 250g bacon, chopped
250ml salt-reduced chicken stock
250ml white wine
2 leeks (pale section only), sliced
2 tbsp plain flour
2 garlic cloves, crushed
125ml thickened cream
1 tbsp olive oil
Method
Preheat oven to 180°.
On the stove top, place your heat-proof casserole dish over medium-high heat, add half the chicken and cook until the outside is golden. Transfer the cooked chicken out and replace with the raw chicken, and repeat the process.
Once all of the chicken is cooked, remove from the casserole dish. Heat oil in the dish, and add bacon, leek, garlic and mushrooms. Stir for five minutes.
Add flour and stir until well combined, then add stock, wine and thyme. Bring to the boil.
Return chicken to dish, cover, and bake in the oven for 1 hour.
Remove chicken, and transfer leek mixture to a medium saucepan. Add cream and bring to the boil until sauce thickens.
Place chicken back in casserole dish and pour sauce over the top.
Season with salt and pepper to serve.
Hearty beef casserole
This hearty casserole comes with the benefits of leek, garlic, celery, carrot, tomato and red wine, all ingredients that are known to be nutritiously rich. Beef casseroles have been the 'go-to' winter meal for hundreds of years, and with good reason!
Ingredients
2 tbsp olive oil
1.5kg diced beef chuck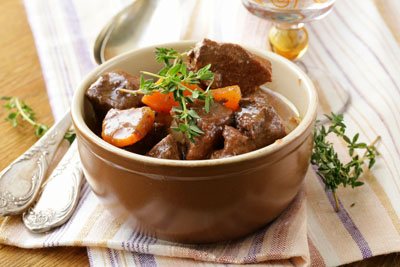 2 large onions, sliced into thin wedges
4 sticks of celery, sliced
2 garlic cloves, crushed
2 carrots, chopped thick
2 leeks (pale part only)
2 cans diced tomato
¼ cup red wine
1 cup beef stock
Method
Heat a large saucepan and one tbsp oil over high heat. Cook beef in batches until the outside has browned.
Remove beef, reduce heat to medium, and add the remaining oil and vegetables. Stir for five minutes.
Return beef to pan with wine, stock, and tomatoes. Bring to the boil, reduce heat and then simmer for 1 hour while covered.
Remove lid and simmer for a further 30 minutes.
Serve with mashed potato for a winning combination.
Sausage, tomato and eggplant casserole
Eggplant is an excellent source of dietary fibre, B vitamins, copper, manganese, niacin, potassium and folate, all of which promote good health. Tomatoes are a rich source of vitamins A and C, as well as a whole host of other nutrients and antioxidants.
Ingredients
1 tbsp olive oil
8 lean beef sausages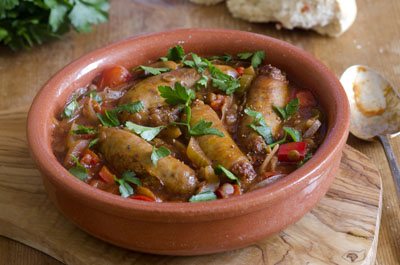 1 large brown onion, chopped
2 eggplants, chopped
1 can diced tomatoes
2 garlic cloves, crushed
¾ tsp chilli flakes
1 cup chicken stock
¼ cup flat-leaf parsley, chopped
Method
In a non-stick pan, heat oil and fry off sausages until evenly browned. Set aside.
Add onion, eggplant and garlic and stir for five minutes.
Stir in chilli and tomatoes, and cook for a further five minutes.
Add stock and bring to the boil, before adding all ingredients to a slow cooker.
Cover and cook on low for 6 hours.
Stir in parsley before serving, season with pepper and serve with a chunk of bread.
Lamb casserole
Containing beta-carotene-rich carrots and vitamin K-rich peas, this tasty lamb casserole also has the added benefit of red wine, whose compound resveratrol is known for its potent antioxidant qualities.
Ingredients
1 tbsp olive oil
6 lamb forequarter chops
2 garlic cloves, crushed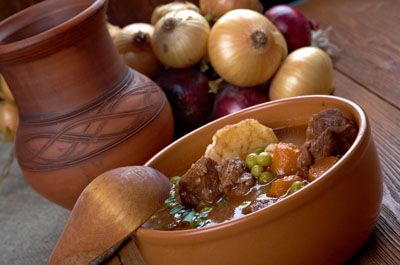 500g floury potatoes, halved
2 carrots, cut thick
160ml red wine
660ml passata
375ml chicken stock
260g tomato chutney
1 cup frozen peas
2 sprigs rosemary
Flat leaf parsley to serve
Method
Preheat oven to 180°C. Season lamb with salt and pepper.
Heat oil in a large casserole dish, and over a medium-high heat add lamb in batches. Cook each side until browned.
Remove lamb and add garlic to the casserole dish, cook until soft. Add potato and carrot and, after 2 minutes, add wine until reduced.
Return lamb, add passata, stock, chutney and rosemary to the dish, and bake covered in the oven for two hours. Alternatively, transfer to a slow cooker and cook on low for 5 hours.
Remove fat from surface, and stir in peas three minutes before serving.
Moroccan vegetable casserole
This healthy dish contains antioxidant rich sweet potato, as well as eggplant, red capsicum and broad beans. Broad beans are brimming with protein, soluble fibre, minerals and vitamins and are free of saturated fat. They help control weight management and promote good heart health.
Ingredients
1 tbs olive oil
2 tsp Moroccan seasoning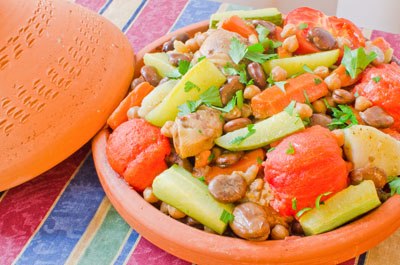 400g sweet potato, chopped
1 eggplant, chopped
400g diced tomatoes
3 cups vegetable stock
500g frozen broad beans
1 red onion
1 red capsicum
1 ½ cups couscous
Coriander to serve
Method
In a large saucepan, bring tomatoes and stock to the boil. Reduce heat to low, cover, and simmer for 20 minutes.
In a separate saucepan, heat oil and add onion and capsicum until soft.
Stir in seasoning, add sweet potato and eggplant, and stir for five minutes.
Add broad beans while you bring stock mix back to the boil. Add the couscous to the stock, cover and turn off heat.
Allow couscous to stand for five minutes while you serve casserole.
Fluff couscous with a fork, serve alongside casserole and finish with coriander.
Fish, zucchini and oregano casserole
White fish improves blood pressure and reduces cholesterol and is a sufficient source of omega-3 fatty acids. Oregano contains vitamins A, C, E and K, as well as fibre, folate, iron, magnesium and calcium. Broccoli is, of course, one of the world's healthiest foods.
Ingredients
OIive oil cooking spray
500g white fish
1 brown onion, sliced
350g sweet potato
2 zucchini, chopped
200g broccoli florets
1 eggplant, chopped
800g diced tomatoes
⅓ cup oregano
⅓ cup cheese
Method
Preheat oven to 180°C.
Heat a heavy-based saucepan over medium heat, and lightly spray with oil. Add onion and cook until soft.
Add sweet potato for three minutes, before adding zucchini, broccoli, eggplant, tomatoes and oregano. Bring to the boil.
Reduce heat, cover, and cook for ten minutes.
Add fish and simmer uncovered for five minutes.
Add mixture to a casserole dish, and sprinkle cheese over the top. Add dish to oven and cook until cheese is melted.
Sprinkle with a little fresh oregano, and serve with a crusty loaf of bread.
Mexican chicken casserole
Warm yourself up with a little Mexican heat and enjoy the benefits of carotenoid-rich corn, fibre-rich beans and green chillies, which are packed full of healthy vitamin A.
Ingredients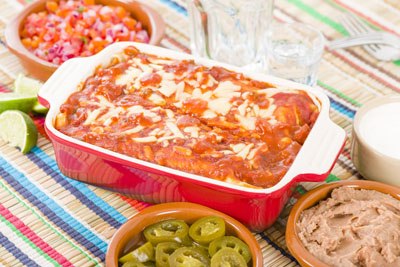 2 enchilada tortillas, cut in strips
1 tbs vegetable oil
600g chicken thigh fillets, chopped
420g Mexican chilli beans
310g corn kernels
300g mild tomato salsa
1 green chilli, deseeded and sliced
Method
Preheat oven to 220°C. Having sliced the tortillas into strips, bake for five minutes until crisp and golden.
Heat oil in a large non-stick pan and fry off chicken until browned.
In a medium-sized casserole dish, place beans at the bottom and layer chicken and corn on top.
Pour over salsa, sprinkle with chilli and bake in the oven for 15 minutes.
Serve with crispy tortilla strips.
Chickpea and pumpkin casserole
Chickpeas are an excellent source of fibre, folate and magnesium and are a natural source of immune-boosting zinc and copper. Combined with fibre-packed pumpkin, this casserole will not only taste great, but will keep you feeling fuller for longer.
Ingredients
1 tbsp olive oil
1 cup chickpeas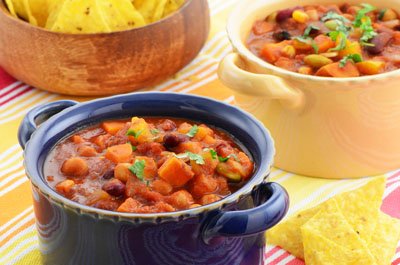 600g butternut pumpkin, chopped
2 red onions, cut into wedges
1 garlic clove, crushed
4 sprigs lemon thyme
200g cherry tomatoes
100g baby spinach
1 ½ cups salt-reduced vegetable stock
1 lemon, for serving
Method
Cover chickpeas in a bowl of cold water (soak overnight if using dried chickpeas). In a medium saucepan, bring chickpeas and clean water to the boil. Drain and set aside - Alternatively, rinse a can of chickpeas well.
Preheat oven to 180°C.
In a heavy-based casserole dish, heat oil and add onion and pumpkin. Cook for 10 minutes until soft.
Add garlic and thyme, and stir to combine.
Add chickpeas, stock and tomatoes, and bring to the boil.
Remove from heat, and place in the oven for 30 minutes.
Stir in spinach before serving, and serve with bread and lemon wedges.
Enjoy!
All information contained in this article is intended for general information purposes only. The information provided should not be relied upon as medical advice and does not supersede or replace a consultation with a suitably qualified healthcare professional.
Health and wellbeing
programs & support
You Belong to More with CBHS Hospital cover:
Greater choice over your health options including who treats you
Get care at home with Hospital Substitute Treatment program
Free health and wellbeing programs to support your health challenges
Live your healthiest, happiest life with CBHS Extras cover:
Benefits for proactive health checks e.g. bone density tests, eye screenings
Keep up your care with telehealth and digital options
Save on dental and optical with CBHS Choice Network providers