At CBHS we help you manage your health challenges. We believe in offering you the services, support and tools you need to live your best life.
Our Better Living Programs are available to support eligible members towards a healthier lifestyle. Each Better Living Program is subject to its own eligibility criteria.
Contact us for more information and to confirm your eligibility for a program.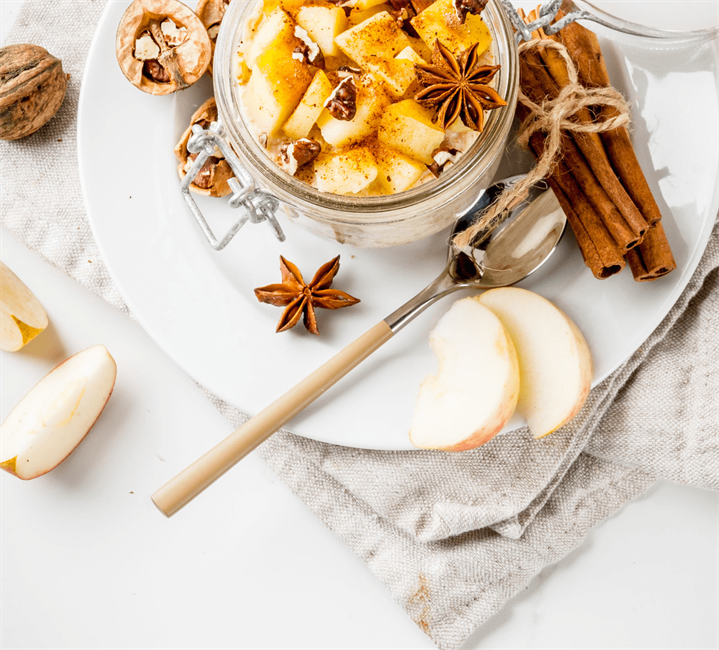 High in fibre| no refined sugar | 1 serve of fruit | approx. 1 serve of calcium | serves 1
Healthy food for breakfast
This delicious breakfast is proof that healthy eating can be as easy as…well, apple pie! Apple pie oats are simple to prepare and they're chock full of nutrients.
The oats are high in soluble fibre, there's protein and calcium in the milk, vitamin C and antioxidants in the apple, and polyunsaturated fats, fibre, protein, calcium, phosphorous and zinc in the chia seeds. No wonder they're often referred to as a superfood!
Supercharge your healthy lifestyle with this delicious start to the day.
Ingredients
½ cup rolled oats
½ cup milk/milk substitute
¼ cup natural high protein/natural yoghurt
1 tsp chia seeds
1 tsp nut butter/5 whole nuts
1 small apple grated/stewed
1 tsp ground cinnamon
¼ tsp ground nutmeg.
Add all ingredients in a jar or container and stir/shake to combine
Add lid and refrigerate overnight
Serve cold or warm the next day.
Why it's good for you?
Apple, oats and chia seeds contain soluble fibre that help keep you fuller for longer
Oats are an excellent source of complex carbohydrates for slow energy release
Cinnamon can have a positive impact on blood glucose regulation and help reduce sugar cravings
This breakfast contains one third of your daily fibre intake
A high protein breakfast that will keep you satisfied and give you a good energy boost to start the day.
Tips
Lasts up to 3 days so multiple breakfasts can be made in one go
Some of the apple/nuts can be saved and added as a garnish.
All information contained in this article is intended for general information purposes only. The information provided should not be relied upon as medical advice and does not supersede or replace a consultation with a suitably qualified healthcare professional
Health and wellbeing
programs & support
You Belong to More with CBHS Hospital cover:
Greater choice over your health options including who treats you
Get care at home with Hospital Substitute Treatment program
Free health and wellbeing programs to support your health challenges
Live your healthiest, happiest life with CBHS Extras cover:
Benefits for proactive health checks e.g. bone density tests, eye screenings
Keep up your care with telehealth and digital options
Save on dental and optical with CBHS Choice Network providers