At CBHS we help you manage your health challenges. We believe in offering you the services, support and tools you need to live your best life.
Our Better Living Programs are available to support eligible members towards a healthier lifestyle. Each Better Living Program is subject to its own eligibility criteria.
Contact us for more information and to confirm your eligibility for a program.
Are you cleaning these places in your home?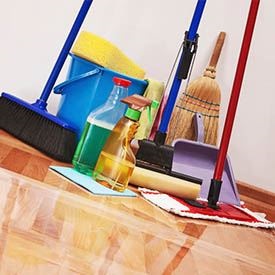 The oven's been cleaned, the toilet bowl scrubbed, the kids toys put away and the floor mopped. Time to relax knowing the house is clean, right?
Germs can quietly build up in unexpected places. The good news is that 99% of germs are relatively harmless. The other 1%, unfortunately, can be nasty and may cause harm to you and your family.
When cleaning your home, you wouldn't be alone if you admitted to skipping areas. Let's take a look at some of the worst affected (but often forgotten) areas of the home.

Kitchen
Most people think of the bathroom as the grimiest room in the house, but the kitchen can be one of the worst offenders. Did you know that the kitchen sink has more than 1,000 times the bacteria than the average toilet? Areas in the kitchen you should be extra careful of include:
Sponges
Bacteria can get easily trapped in the pores of sponges, creating ideal breeding conditions. Try using antibacterial sponges and detergents to limit bacteria, and disinfect sponges once a week by soaking in a bleach solution for five minutes. Alternatively, if you don't like using chemicals, microwave your sponge for 2 minutes on high power. Remember to replace your sponges with new ones at least every two weeks or so.
The tap
The metal aeration screen at the end of the kitchen tap is a germ magnet. Running water keeps the dark screen moist, an ideal condition for bacteria growth. Once a week, remove the screen and soak it in a diluted bleach solution. Replace the screen and run the water for a few minutes before using.
Garbage disposal
Although the metal part of the disposal unit produces ions that can help kill germs, they still love to grow on the crevices in and around the rubber stopper. These germs can end up on your dishes, utensils and hands. At least once a week, clean the rubber stopper with a diluted bleach solution.
Buttons, knobs and handles
A lot goes into cooking a meal, and you're constantly grabbing things. You need spices from the pantry, butter from the fridge, a quick zap in the microwave and utensils from the cupboard! You're touching a lot of surfaces and, if you're handling raw meats, this can get dangerous. Before and after a meal, use a disinfectant or antibacterial wipe on frequently used kitchen surfaces.
Chopping boards
Colour coding plastic boards is a great way to keep from chopping veggies on the same board as you chop raw chicken, but once they become heavily scored it's hard to clean the microscopic grooves. Keep them clean by running through the dishwasher, or washing in boiling water, and replace heavily nicked boards regularly.
Coffee machine
Even though coffee has some antimicrobial properties, coffee machines still need to be cleaned. The wet, dark environment of the water reservoir and the internal piping is ideal for breeding bacteria. Try running a 50/50 mix of water and white vinegar through the machine once a month to limit bacteria growth.

Bathroom
The bathroom is an obvious place to tackle with the sponge, but there are many places in there that might be overlooked. These include:
Bath mat
Bath mats get soaked with shower water and are pressed up against the floor, providing a dark, damp environment, ideal for the growth of mould and bacteria. Launder mats once a week on the highest water heat with bleach. You might try using a wooden bath mat.
Laundry basket
As your sweaty workout clothes, dirty socks and underwear sit waiting to be washed, they're soiling the actual hamper that houses them. Try lining the hamper with a bag and wash the bag with the clothes, or clean plastic hampers with a hard surface disinfectant.
Toothbrush
Flushing the toilet with the lid up can spray all sorts of bacteria into the air, and where is it most likely to end up? Your toothbrush! Toothbrushes should be replaced regularly, washed and dried thoroughly after use, and kept as far away from the toilet as possible.
Makeup
Makeup brushes are breeding zones for bacteria, and nearly half of all mascara tubes have some creepy crawlies growing in them. Replace makeup regularly, and wash brushes in a gentle shampoo often.
Towels
Drying off after the shower leaves a towel wet and riddled with dead skin cells. If not dried completely, damp towels are breeding zones for bacteria. Hang towels so they can dry properly and wash them at least once a week.
Bedroom
The bedroom should be your safe haven - a place you can truly relax in. Making sure there's no hidden nasties in this room might help you sleep better at night!
Pillows
Pillows can be home to several types of allergy-inflaming fungi, due to sweat, shed skin, drool and dust mites. Anti-allergen covers can help to protect pillows from germs, and a regular wash on a high heat should limit germ growth.
Bed sheets
Lurking beneath the sheets are millions of tiny organisms that could be making you ill. Did you know that up to 10 million dust mites can be found in just one bed? Be sure to change and wash bed linen regularly, and add a laundry disinfectant such as Dettol to the wash. Regularly vacuum soft furnishings in the bedroom, and decrease humidity and temperature by opening the windows.
Lamp
s
High contact areas such as the bedside lamp can be rife with germs, and studies have shown that lamps are some of the dirtiest items in a frequently cleaned hotel room. Try wiping over with an antibacterial wipe once a week.

Living room
The living room is where you spend much of your time, and as such, can be more likely to house germs.
TV remote
Everyone handles it, it gets stuffed down sofa cushions and dropped on the floor. The TV remote can be covered with germs. Wipe down remotes regularly using an antibacterial wipe or hard surface disinfectant.
Soft furnishings
Soft furnishings can collect dust and dust mites, germs, pet hair, and mould. You can help to limit these by choosing hard materials like leather or vinyl, and look for machine washable covers.
Floors
Living rooms are busy places and the floors see heavy foot traffic. Vacuum regularly and clean hardwood floors using antibacterial floor wipes or a steam mop.

Home office
According to one study, the average office desk has 400 times more bacteria than the toilet does. The worst office offenders are:
Keyboard
The main cause of bug-infested keyboarmivds is eating lunch at your desk, but poor personal hygiene will also contribute. Wash hands regularly and go outside to eat lunch when you can. Wet a soft-bristled toothbrush with a little alcohol, and clean keys regularly.
Phone
Be it your house phone or your mobile phone, you are constantly dialling and texting, as well as holding your phone close to your mouth when you are making a call. Germs can quickly build up. Take a microfibre cloth, dampened with a 60% water/40% alcohol mix, and wipe regularly.
Health and wellbeing
programs & support
You Belong to More with CBHS Hospital cover:
Greater choice over your health options including who treats you
Get care at home with Hospital Substitute Treatment program
Free health and wellbeing programs to support your health challenges
Live your healthiest, happiest life with CBHS Extras cover:
Benefits for proactive health checks e.g. bone density tests, eye screenings
Keep up your care with telehealth and digital options
Save on dental and optical with CBHS Choice Network providers