At CBHS we help you manage your health challenges. We believe in offering you the services, support and tools you need to live your best life.
Our Better Living Programs are available to support eligible members towards a healthier lifestyle. Each Better Living Program is subject to its own eligibility criteria.
Contact us for more information and to confirm your eligibility for a program.
Are you drinking too much coffee?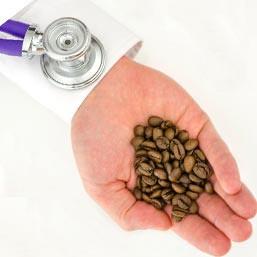 While it's easy to grab a coffee on the way to work, between meetings or after lunch, drinking too much caffeine each day can cause harm to your body.
What is caffeine?
Caffeine is a stimulant that is found in coffee, most teas, cocoa, chocolate, cola, guarana and energy drinks. It's also found in some lollies, baked goods and sports supplements.
How much caffeine is safe to consume?
According to the Australian and New Zealand Food Standards, the following are safe levels of caffeine to consume.
Children (under 18 years old)
Should consume no more than 3mg of caffeine per kilo in a single serving with health professional associations like the Australian Medical Association advocating for a complete ban of drinks containing caffeine or related ingredients due to the potential health risks. For example, a child that weighs 40kg should consume no more than 120mg of caffeine.
Adults (over 18 years old)
Should consume no more than 400 mg of caffeine per day from all sources. The maximum should not exceed 200mg in a single serving (double shot espresso).
Women who are pregnant or breastfeeding
Should avoid exceeding 200 mg of caffeine each day from all sources.
How much caffeine is in common products?
According to the Australian and New Zealand Food Standards, the below are the caffeine levels in common products:
Espresso
145 mg of caffeine per 50 ml cup. In Australia, a café purchased regular sized coffee usually contains a double shot, equivalent to 200+mg caffeine.
Formulated caffeinated beverages or energy drinks
80mg of caffeine per 250ml can
Instant coffee
80 mg per 250ml cup where one teaspoon of instant coffee is used
Black tea
50mg of caffeine per 250ml brewed cup
Cola drinks
36.4mg of caffeine per 375ml can
Milk chocolate
10mg of caffeine per 50g bar. The darker the chocolate, the greater the caffeine content
How does caffeine affect the body?
Caffeine stimulates the central nervous system, your muscles, heart, lungs and kidneys. The way caffeine affects your body depends on your level of tolerance, and your weight and height.
Positive effects of caffeine
It can make you feel more alert and energetic, so many people drink coffee when they're tired or finding it hard to concentrate at work or study.
People who regularly drink coffee seem to have a lower risk than average of developing the following conditions:
Type 2 diabetes
Depression
Parkinson's disease
Bowel cancer
Alzheimer's disease
While we don't know exactly how caffeine affects your body, we do know that it is addictive. While this won't be news to most of us, if you regularly drink coffee, you're likely to find it very hard to give up.
Negative effects of caffeine
If you drink too much caffeine, you might feel some of the following symptoms:
anxiety
agitation
restlessness
excitability
dizziness
If you consume too much, it can also increase your breathing rate and heart rate and make it very difficult for you to get to sleep. You might also notice that you need to urinate more frequently and that you're dehydrated.
It's also possible to overdose on caffeine. If you experience any of the following symptoms, you should call an ambulance immediately on triple zero (000):
tremors
nausea and vomiting
very fast and irregular heart beats
confusion
panic attacks
seizures
Caffeine-free ways to maintain your energy levels
Eating well
One of the best ways to maintain your energy levels throughout the day is to eat a healthy diet. Eating well can also boost your mood and help you think clearly and have more resilience against stress. It's best to eat a diet high in fresh vegetables, fruits, nuts and wholegrains. It's also a good idea to reduce the amounts of high sugar foods and saturated fat in your diet. To find out more about what to eat, read the Australian Guide to Healthy Eating.
If you find your energy levels are dipping through the day, instead of eating a large meal, you could try eating regular meals and healthy snacks every three to four hours.
Exercising regularly
Regular exercise can boost your energy levels and the benefits increase the more frequently you exercise. Taking a brisk 15-minute walk outside can help to clear your head and leave you feeling refreshed. According to the Australian Physical Activity and Sedentary Behaviour Guidelines for adults, you should aim to be active on most if not all days of the week and try to accumulate 150 to 300 minutes of moderate intensity physical activity or 75 to 150 minutes of vigorous intensity physical activity each week.
Drinking enough water
It's important to make sure you're drinking enough water as dehydration can cause tiredness and irritability as well as many other symptoms. As a general rule, adult men will need 10 cups of fluids every day and women need about eight cups. You can find out about drinking water and your health at Healthdirect Australia.
Getting enough sleep
Getting enough good quality sleep will help you stay alert throughout the day. You can read our article on tips for getting a good night's sleep for help.
Sources
https://www.healthdirect.gov.au/caffeine
https://www.foodstandards.gov.au/consumer/generalissues/Pages/Caffeine.aspx
https://adf.org.au/drug-facts/caffeine/
http://www.roymorgan.com/findings/8054-australian-tea-market-march-2019-201907120723
https://www.eatforhealth.gov.au/guidelines/australian-guide-healthy-eating
All information contained in this article is intended for general information purposes only. The information provided should not be relied upon as medical advice and does not supersede or replace a consultation with a suitably qualified healthcare professional.
Health and wellbeing
programs & support
You Belong to More with CBHS Hospital cover:
Greater choice over your health options including who treats you
Get care at home with Hospital Substitute Treatment program
Free health and wellbeing programs to support your health challenges
Live your healthiest, happiest life with CBHS Extras cover:
Benefits for proactive health checks e.g. bone density tests, eye screenings
Keep up your care with telehealth and digital options
Save on dental and optical with CBHS Choice Network providers