At CBHS we help you manage your health challenges. We believe in offering you the services, support and tools you need to live your best life.
Our Better Living Programs are available to support eligible members towards a healthier lifestyle. Each Better Living Program is subject to its own eligibility criteria.
Contact us for more information and to confirm your eligibility for a program.
Bipin's free-spirited approach to staying healthy, wealthy and wise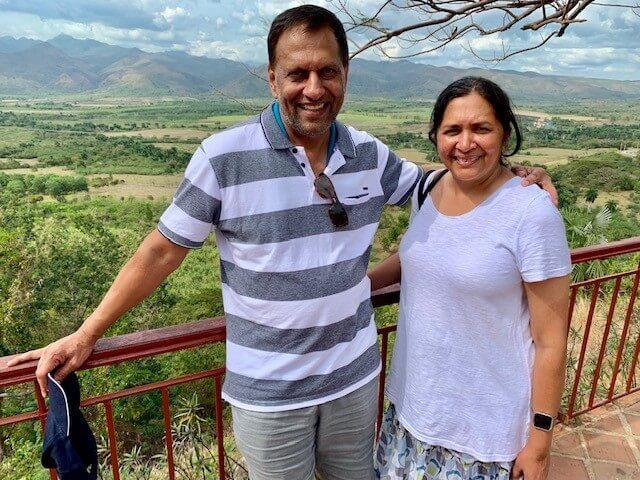 CBHS member, Bipin S is a softly-spoken sixty-year old whose free-spirited philosophy underpins a more considered approach to health, wealth and family life.
"If you've got the fundamentals in place you dont need to stress about the rest."
Bipin's no-stress approach to life might seem at odds with a long-standing career in finance, but it was this philosophy – and the strength of his relationship with his wife – that helped Bipin overcome some of life's greatest challenges. Those challenges included losing his job at the height of the global financial crisis, when he was 50 years old.
The youngest of nine
The youngest of nine children, Bipin migrated to Australia from Fiji with his parents at the age of 17. He threw himself into sport, playing badminton, hocky, basketball, soccer and running most nights. Bipin eventually ended up representing Queensland in badminton. Sport was more than just a way to keep fit and have fun though.
'Sport was the best way to make friends, integrate and settle down,' he explains.
Bipin's decision to work in a bank was partly driven by his experience in Fiji.
'When you live in a third world tropical country, a bank looks like a great place to work because it's always airconditioned and the staff wear smart clothes,' he says, only half-joking. The fact that his father was chief accountant for the Fijian government also sparked his interest in finance.
CBHS member at the age of 20
On the day he joined the Commonwealth Bank, Bipin signed up for health insurance with CBHS, at the age of 20.
'It just seemed like a sensible thing to do,' he says. 'I always looked after my health, I was raised to believe health was important, so I chose top cover and that made it one less thing to worry about. Put the fundamentals in place, then you can reduce your stress.'
Bipin married at the age of 23, and he and his wife Susan had the first of three children a year later. During the years of raising their family, they both worked hard and made sure there was plenty of time for fun.
Building a career
When money was tight, they'd tell each other not to stress over anything under $50. "This was the amount we had left for discretionary spending after we'd paid all the essential expenses each fortnight," Bipin explains. As times improved, that limit increased in line with their disposable income.
By his forties, Bipin had built a strong banking career and, to broaden his experience, he spent time in management roles at three of the big four banks. He'd also kept his top-level cover with CBHS. Bipin's wife, Susan, daughter Anya and sons Damien and Ryan had all been signed up as members too. Life was pretty good.
Global financial crisis
Then the global financial crisis hit. In 2010, without warning, Bipin lost his job and the generous salary and benefits that went with it. In spite of the challenge he faced, Bipin never thought of cancelling his CBHS health fund membership.
'I'd always received good service, and I was focused on value, not price, so why would I cancel it?'
True to his philosophy of not getting stressed about life, Bipin took the opportunity to do something completely different. He attended a series of full-time lectures at TAFE in aged care nursing and community services and, at the age of fifty, he underwent a complete career change.
Embracing the change
Bipin embraced the change, knowing his financially stability wasn't exclusively tied to his previous salary package.
'I've always used spreadsheets to chart my progression towards retirement,' Bipin explains. 'I credit my father-in-law with teaching me to walk a mid-line between the tough times and the good times, never too much, never too little.'
'Like i said, if you've got the fundamentals in place you dont need to stress about the rest. I think seeing me cope with the change gave the kids the strength to know they could face any challenge themselves.'
Cancer diagnosis
That strength was called on in October 2019 when Bipin's son, Damien, was diagnosed with Stage 4 bowel and liver cancer.
Damien's partner Vanessa (a qualified nurse) had urged him to investigate when Damien found blood in his stools. A subsequent colonoscopy delivered the shock diagnosis.
'Damien was so fit and healthy. We have no family history of bowel cancer and Damien was only 31 when he was diagnosed, so it was a shock to all of us.
Well looked after by CBHS
'That was when having health insurance made all the difference,' Bipin adds. 'Within a week of being diagnosed, Damien was booked in and already under the care of a group of top medical specialists including liver and bowl surgeons and an oncologist, working in collaboration with a top private hospital in Brisbane.'
While COVID-19 was just beginning to emerge, Damien was undergoing major surgery and chemotherapy to treat the cancer. It was a tough time for the whole family.
The medical specialists strongly recommended Damien's siblings and his parents have a colonoscopy as a preventative measure. Thankfully, they all tested negative and Damien is now in remission.
'Words can't describe how grateful we are for how well Damien has been looked after by CBHS,' says Bipin.
That's the point of health insurance
'Some of our friends and family have a negative view of private health insurance. All those years I hardly ever used my policy, they would say why don't you put the money aside, offset it against your mortgage, save it for when need it instead of wasting it on insurance premiums. But that's the point of insurance, you hope you won't need it, but you've got it if you do. CBHS has already spent around $200,000 on Damien's treatment so far.'
Bipin eventually returned to work in the finance sector. 'I'd always loved working in finance, so I took the opportunity to rejoin the Commonwealth Bank in 2013.'
Staying healthy in retirement
Now retired, Bipin makes sure he stays active, enjoys life and eats a healthy diet. His regime seems to be paying off because he's never spent a single night in hospital, and he takes no regular medications.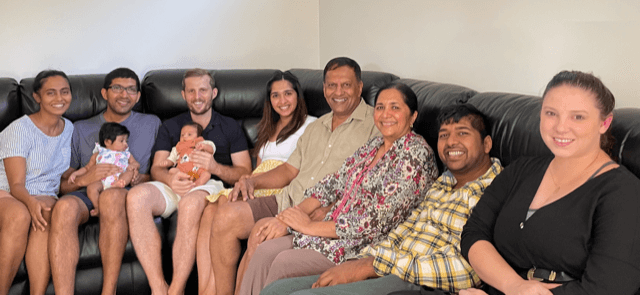 Bipin, Susan and their growing family
So, what does retirement look like for Bipin?
'Susan and I both love to travel. When international borders open, we're going to continue travelling and cruising. Work hard and play hard has always been the mantra in our household.'
Having said that, he acknowledges that his children might have other ideas.
'I've only been retired six months and we've had our first and second grandchildren in the last five months. We love seeing them and they often come over for sleepovers, so it doesn't feel like I've retired at all. I think my children had it all planned out for me!'
It sounds like Bipin's children might have learnt a thing or two from their dad about how to enjoy life.
All information contained in this article is intended for general information purposes only. The information provided should not be relied upon as medical advice and does not supersede or replace a consultation with a suitably qualified healthcare professional.
Health and wellbeing
programs & support
You Belong to More with CBHS Hospital cover:
Greater choice over your health options including who treats you
Get care at home with Hospital Substitute Treatment program
Free health and wellbeing programs to support your health challenges
Live your healthiest, happiest life with CBHS Extras cover:
Benefits for proactive health checks e.g. bone density tests, eye screenings
Keep up your care with telehealth and digital options
Save on dental and optical with CBHS Choice Network providers