At CBHS we help you manage your health challenges. We believe in offering you the services, support and tools you need to live your best life.
Our Better Living Programs are available to support eligible members towards a healthier lifestyle. Each Better Living Program is subject to its own eligibility criteria.
Contact us for more information and to confirm your eligibility for a program.
Calories, kilojoules and weight loss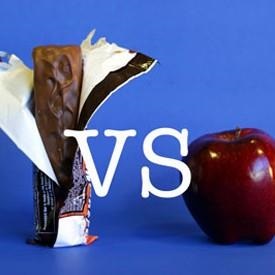 Understanding calories and kilojoules
Calories and kilojoules both measure the amount of energy in a food or drink. Up until 1988 in Australia, we were using calories to measure the amount of energy in food or drink. Since 1988, we've been using kilojoules. The short version of kilojoules is kJ. One calorie is equal to 4.2 kilojoules. If you want to do a quick conversion when you're looking at a food label with amounts in kilojoules, you can divide the kilojoule amount by four to get the amount in calories.
How your body uses energy
Most food that you eat contains different proportions of proteins, carbohydrates and or fats. These are known as macronutrients and are the main sources of energy for your body. The amount of energy or kilojoules in each of these nutrients is different. Fat has more than twice as much energy per gram as carbohydrates and protein. They also supply the body with energy at different rates, based on how they are digested. Carbohydrates are the quickest, and fats are the slowest to be digested.
Your body uses this energy for:
metabolic processes
physical functions
muscular activity
heat production
growth of new tissues
Understanding the basal metabolic rate
The amount of energy your body needs for the above processes in a given period of time is known as the Basal Metabolic Rate (BMR). The BMR accounts for between 45 to 70% of daily energy needs. Your body also needs energy to process foods into nutrients.
How many kilojoules (energy) do we need each day?
An average adult needs an average of 8700 kilojoules each day to maintain a healthy weight. But the amount each individual needs depends on a number of factors. For example if you exercise a lot, or have a lot of muscle, you're likely to need more. Your age and sex also influence how many kilojoules you need. Generally, if you eat more kilojoules than your body needs, your body will store the excess energy as fat.
To work out how many kilojoules you need, you can use the Energy Needs Calculator from the Better Health Channel.
For more detail, read about dietary energy requirements for different ages at the National Health and Medical Research Council.
How to find out how many kilojoules (energy) are in a food or drink
Packaged products
You'll need to read the nutritional information panel on the back of a food or drink product to know how many kilojoules are in it. These panels also provide information on the amount of protein, fat, saturated fat, carbohydrates, sugars and sodium in the product.
A food product must list how many kilojoules are in 100g of the food or 100ml of the drink as well as per serve. This can be useful if you want to compare similar products, but keep in mind, you're likely to consume more than 100g or 100ml of a product. The 'per serve' measure could be more useful for working out how many kilojoules you're likely to consume.
To find out more, use this interactive label reading tool on the Food Standards Australia New Zealand website.
If this is all too much and you need someone to interpret the information for you, try using the Health Star Rating. The higher the star rating, the healthier the packaged food or drink is compared to other like products in the same category.
Losing weight
If you want to lose weight, you'll need to consume less energy than you use.
To help you, try using the Energy Needs Calculator from the Better Health Channel. When you enter your age, sex, physical activity level and desired weight, you can work out roughly how many kilojoules you'll need to achieve your desired weight.
Making changes to your diet and follow the Australian Dietary Guidelines
Choosing foods from the Australian Dietary Guidelines will help you choose foods that provide the most nutrients with the least extra kilojoules. They will fill you up, keep you feeling satisfied and stop those hunger pains.
You should aim to fill your meal and snack choices with foods from the five food groups each day:
vegetables and legumes (beans)
fruit
grains and cereals
lean meat, poultry, fish, eggs, tofu, nuts seeds
milk, cheese, yoghurt or alternatives
Avoiding fad diets
It's generally best to avoid fad diets, especially those that promote very fast weight loss or cut out entire food groups. Fad diets can lead to a reduction in your body's BMR. Your metabolic rate is how quickly your body burns kilojoules. This could mean you might end up putting on weight quickly in the long run. It could also mean that you might experience other symptoms such as fatigue, headaches or even insomnia.
Healthy weight loss diets
You can also try the DASH Diet combined with the Mediterranean diet. It's high in healthy whole foods like vegetables, fruits and legumes, and low in sweets, red and processed meats, and processed foods generally. As well as helping you to manage your weight, this diet can also reduce your risk of developing heart disease, type 2 diabetes, fatty liver disease, and some cancers.
You can also read our article on tips for losing weight.
Where to get more help
If you're concerned about your weight, it's best to see your GP or an accredited practicing dietitian or registered nutritionist. There are also many free services to get you started like the Healthy Weight Guide at the Department of Health.
Sources
https://www.eatforhealth.gov.au/eating-well/how-understand-food-labels
https://www.foodstandards.gov.au/science/monitoringnutrients/afcd/Pages/default.aspx
https://www.healthdirect.gov.au/kilojoules
https://www.health.qld.gov.au/news-events/news/calorie-kilojoule-difference-convert
https://www.qld.gov.au/health/staying-healthy/diet-nutrition/diet
https://www.health.qld.gov.au/__data/assets/pdf_file/0032/946049/cardiac-meddiet.pdf
https://www.nrv.gov.au/dietary-energy
https://www.nhs.uk/live-well/healthy-weight/start-the-nhs-weight-loss-plan/
https://www.healthdirect.gov.au/weight-loss-and-dieting
https://www.msdmanuals.com/en-au/home/disorders-of-nutrition/overview-of-nutrition/carbohydrates-proteins-and-fats
https://www.betterhealth.vic.gov.au/tools/energy-needs-kilojoules-calculator
https://www.msdmanuals.com/en-au/home/disorders-of-nutrition/overview-of-nutrition
All information contained in this article is intended for general information purposes only. The information provided should not be relied upon as medical advice and does not supersede or replace a consultation with a suitably qualified healthcare professional.
Health and wellbeing
programs & support
You Belong to More with CBHS Hospital cover:
Greater choice over your health options including who treats you
Get care at home with Hospital Substitute Treatment program
Free health and wellbeing programs to support your health challenges
Live your healthiest, happiest life with CBHS Extras cover:
Benefits for proactive health checks e.g. bone density tests, eye screenings
Keep up your care with telehealth and digital options
Save on dental and optical with CBHS Choice Network providers