At CBHS we help you manage your health challenges. We believe in offering you the services, support and tools you need to live your best life.
Our Better Living Programs are available to support eligible members towards a healthier lifestyle. Each Better Living Program is subject to its own eligibility criteria.
Contact us for more information and to confirm your eligibility for a program.
Comfort food with a healthy twist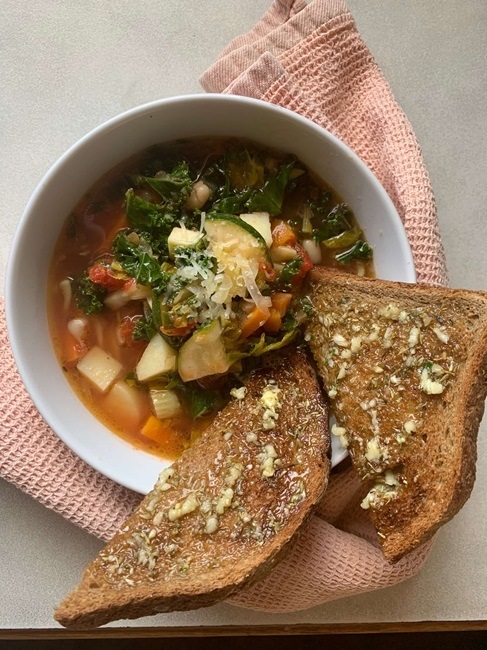 Cooking something new is a creative way to help your physical and mental health, especially when you choose something as comforting, delicious and nutritious as this minestrone soup served with home-made garlic bread.
"Over 90% of your happiness hormone is created in your gut, that's why it's often called your second brain," says CBHS dietitian, nutritionist, and self-confessed food enthusiast Selin Ramadan.
"The more stressed we are, the less diverse our gut bacteria are likely to be, and that means a greater predisposition to disease."
The answer is to eat plenty of plant-based foods that contain antioxidants and prebiotics to feed the good bacteria in your gut. Selin's hearty minestrone soup hits the spot, with its colourful array of veggies, beans, and pasta.
"Over 90% of your happiness hormone is created in your gut"
The high fibre content of the soup can slow down your digestion and help you feel fuller for longer, and all those vegetables contain up to 95% water, which helps keep your body hydrated.
"It's important to stay hydrated because a 5% drop in your body's water content can lead to a 25 to 30% increase in fatigue," says Selin. "Vegetables are a great source of water and antioxidants."
Watch Selin prepare the soup and garlic bread in our short webinar, or dive right into the ingredients list below and get cooking!
Recipe tips
Add salt or stock towards the end of the cooking process. Cooking iodises salt, so it loses its sharp taste and you're more likely to add more than you need
Prevent unused tomato paste from going mouldy by storing it in a jar in the fridge, covered with a layer of olive oil to stop oxidisation
Always rinse canned beans before use. The canned water can increase flatulence!

Minestrone soup
Energy: 1741 kJ | protein: 16.2g | carbs: 47.9g | sugars: 11.4g | total fat: 14.5g | serves: 6 | 30 mins
Ingredients
1 can cannellini beans
¼ cup extra virgin olive oil
1 white onion, chopped
2 x medium carrots, chopped
¼ cup tomato paste
1 cup baby spinach or chopped kale
1 can chopped tomatoes
2 x large potatoes, chopped
2 x medium celery stalks, chopped
4 x garlic cloves, crushed
1 tsp oregano
½ tsp thyme
2 x cups pasta, macaroni
2 tbsp chicken stock
1 litre water
Grana Padano cheese (optional)
chilli (optional).

Method
Warm olive oil on medium heat and add chopped onion, carrot, celery and tomato paste
Stir often for up to 5 minutes until vegetables have softened
Add in garlic, diced potatoes, oregano, chilli (optional) and thyme and allow flavours to infuse into the vegetables
Add parmesan rind (optional) and pour in the canned diced tomatoes including juices. Rinse leftover tomato from can into the soup, add water and allow to simmer on low for 10 minutes
Add pasta, rinsed beans and kale and cook until pasta is to your liking then add stock to taste
Serve with grated parmesan.

Garlic bread
This home-made garlic bread combines taste with nutritional comfort. The small amount of butter adds flavour, and the extra virgin olive oil - known as liquid gold in the Mediterranean - is abundant in polyphenols and antioxidants. Use sourdough bread and you'll increase your intake of antioxidants even further.

Energy: 1113 kJ | protein: 4.95g | carbs: 27.7g | sugars: 1.4g | total fat: 15g | serves: 2 | 10 mins
Ingredients
1 regular Turkish bread roll
1 tbsp extra virgin olive oil
10g butter
pinch of oregano
pinch of thyme
2 x garlic cloves.

Method
Melt butter in pan or microwave and mix in olive oil
Crush garlic and add to butter and olive oil base.
Mix in remaining spices and add a pinch of salt to taste
Spread onto halved bread and toast or grill.
All information contained in this article is intended for general information purposes only. The information provided should not be relied upon as medical advice and does not supersede or replace a consultation with a suitably qualified healthcare professional.
Health and wellbeing
programs & support
You Belong to More with CBHS Hospital cover:
Greater choice over your health options including who treats you
Get care at home with Hospital Substitute Treatment program
Free health and wellbeing programs to support your health challenges
Live your healthiest, happiest life with CBHS Extras cover:
Benefits for proactive health checks e.g. bone density tests, eye screenings
Keep up your care with telehealth and digital options
Save on dental and optical with CBHS Choice Network providers