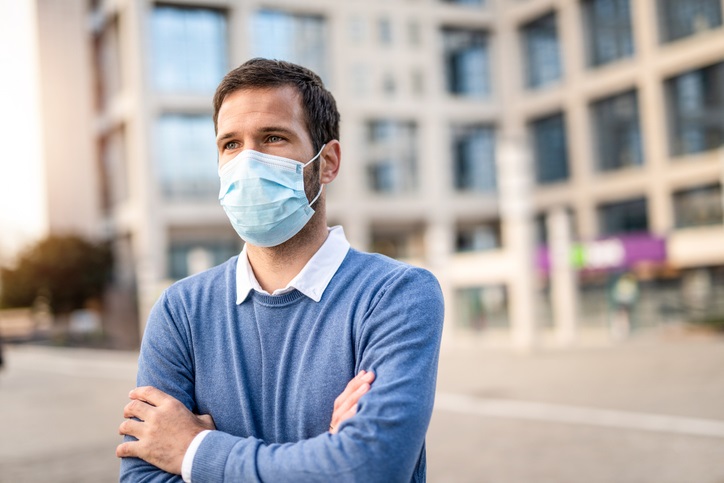 COVID-19 is a new coronavirus which originated in late 2019. This strain is thought to be particularly contagious and can spread rapidly from person to person. Coronaviruses include the common cold and more serious illnesses such as SARS.
Most people who contract the COVID-19 virus will make a full recovery, however a small percentage will experience severe symptoms that can prove fatal. The symptoms of COVID-19 can be managed and alleviated, but there is currently no vaccine or cure.
One study in the US found the death rate from people infected with COVID-19 was 1.3%, compared to 0.1% for seasonal flu.
This infographic provides a quick overview of the current situation in Australia.
You can also call the National Coronavirus helpline on 1800 020 080.
How is the disease spread?
COVID-19 can spread quickly from person to person through:
Close contact with an infected person (even someone not showing signs of infection)
Close contact with someone up to 48 hours before they show signs of infection
Contact with infected droplets from someone sneezing or coughing
Touching infected droplets on a surface or object then touching your mouth, face or eyes

Symptoms
People with COVID-19 experience cold and flu-like symptoms, including fever, night sweats, cough, sore throat and shortness of breath. Additional symptoms can include loss of smell and taste, headache, diarrhoea, nausea, aches and pains, runny nose, fatigue and loss of appetite.
It's important to get tested if you experience any symptoms. Use this symptom checker to find out if you need to get tested for COVID-19.
Some people with COVID-19 are asymptomatic, which means they don't show any symptoms. However, they can still carry the virus and transmit it to others, which is why it's important to self-isolate if you are diagnosed with COVID-19, or if you've been in close contact with someone who has been diagnosed.

Testing
Dedicated COVID-19 testing centres have been set up around Australia. The simple test involves taking a swab of your nose and throat. Results are generally back within 24-72 hours.
If you've been tested for COVID-19, you must self-isolate at home until you receive the results of your test. If the test result is positive, you must continue to self-isolate and follow the advice of your doctor or health professional.
Find your closest COVID-19 testing centre.
Self-isolation
You will likely be told to self-isolate if you have tested positive for COVID-19 or if you've been in contact with someone who tested positive. You may also have to self-isolate if you're waiting for the results of a test or if you've recently returned from overseas.
You should follow these guidelines:
Don't leave home (or your hotel room) unless it's for a medical emergency.
Separate yourself from others in your home.
Use a separate bathroom if you can.
Wear a mask if you have to go into shared areas and avoid touching things.
Cough or sneeze into a tissue then dispose of it and wash or sanitise your hands.
Frequently wash your hands with soap and water for 20 seconds or sanitise them.
Use separate utensils and crockery and avoid sharing household items.
You can walk in your own garden or on your balcony if you have one.
Clean and disinfect any surfaces you touch.
If you're in self-isolation and you live alone you can access support with food delivery and meals. You can also access telehealth consultations with your GP
Treatment
There is currently no cure for COVID-19. All that medical professionals can do is treat the symptoms of the virus. Antibiotics don't work on a virus and there is currently no approved vaccine.
In most cases, symptoms are mild and patients can be treated at home. Most people with COVID-19 don't require hospitalisation and they make a full recovery.
However, if your symptoms are serious you should seek medical attention immediately. If possible, call ahead to let your doctor know you are experiencing symptoms of COVID-19.
In an emergency, call 000.
The most serious cases may require hospitalisation and time in intensive care on a ventilator.
A anti-inflammatory steroid called dexamethasone can improve survival rates in patients with severe cases of COVID-19 and this has been approved for use in Australia. Reports that hydroxychloroquine (an anti-malaria drug) can treat COVID-19 have not been substantiated. The World Health Organisation has suspended trials of the drug.
DO NOT, under any circumstances, consume disinfectant or bleach.
People with mild symptoms should self-isolate and get plenty of rest. Drink lots of fluids (avoiding alcohol) eat nutritious food and stay connected with loved ones in a way that doesn't compromise your self-isolation.
If your symptoms deteriorate, or if you have trouble breathing, seek medical attention immediately.

Prevention
The best way to prevent contracting the disease is to reduce your exposure.
Stay 1.5 metres away from others where possible.
Avoid handshakes, hugs and physical greetings.
Avoid crowds.
Wash your hands frequently with soap and water for 20 seconds.
Use alcohol-based sanitisers if you don't have soap and water.
Wear a mask when in public or where social distancing is more difficult.
Clean and disinfect surfaces and objects, including mobile phones and keys.
Avoid using cash.
Increase the flow of fresh air by opening windows.
This Government website has more information on ways to prevent COVID-19 spreading.
If you haven't already downloaded the COVIDsafe app, please download it here. The more people who use the app, the more likely we are to be able to control spikes of the illness through contract tracing measures.
Should you wear a mask?
Your State Government or the Australian Government will advise you if mask wearing is mandatory in your State or Territory. A mask can help prevent spreading the virus to others, but only if it's worn and handled correctly. If you do wear a mask, change it regularly, don't touch the front of it, and keep washing your hands often. Never re-use a single-use mask and don't wear a mask when you're exercising – sweat can make it soggy which promotes the growth of microorganisms and makes breathing more difficult.
The WHO has some guidelines on how to wear and remove different types of masks safely.
Protect your immune system
If your immune system is compromised or weakened, you're more likely to catch a virus – any virus. There are ways you may be able to strengthen your immune system:
Get enough sleep
Don't smoke
Minimise stress
Follow a healthy diet
Get enough exercise
Avoid excess alcohol
All of these things can contribute to general good health, which in turn leads to a healthier immune system.

Who's more at risk?
Some people are more at risk of experiencing severe symptoms if they contract COVID-19. These include:
People over the age of 70
People over 65 with chronic health conditions
Aboriginal and Torres Strait Islander people with a chronic health condition, or those over the age of 50
People with compromised immune systems
Those undergoing treatment for cancer
If you fall into an at-risk category, follow government guidelines on how to protect yourself and others.

Mental health impacts
It's normal to feel distressed, anxious and upset during a crisis, especially if you, or people you love, are affected by or diagnosed with COVID-19. The fear and uncertainty generated by the global pandemic, and the knock-on effects of lockdowns and job losses, are also normal reactions.
Try to maintain a healthy lifestyle, with good nutrition, daily exercise and a set routine.
Stay in touch with friends and family.
Stay informed so you can limit your exposure to COVID-19 and know what to do if you suspect you might have it
Avoid constantly checking social media for updates and stick to trusted sources of information.
Try and stay positive. The vast majority of people who get COVID-19 will make a full recovery.
If you feel overwhelmed, talk to someone you trust, or seek help from mental health professionals at organisations such as MindSpot (1800 61 4434) Kids Helpline (1800 55 1800) or Beyond Blue (1300 22 4636).
Remember, you can also use telehealth and claim Medicare rebates for mental health consultations, just as you would if you were seeing a doctor in person.

Pregnancy and birth
There is no evidence to suggest that pregnant women are at an increased risk of developing serious symptoms or complications if they contract COVID-19.
However, respiratory illnesses such as flu can cause serious problems if you're pregnant, so you should practice good hygiene, maintain social distancing and make sure you get a flu vaccination. The antibodies in the flu vaccine can also be passed on to your baby, offering protection in the first few months after birth.

All information contained in this article is intended for general information purposes only. The information provided should not be relied upon as medical advice and does not supersede or replace a consultation with a suitably qualified healthcare professional.
Health and wellbeing
programs & support
You Belong to More with CBHS Hospital cover:
Greater choice over your health options including who treats you
Get care at home with Hospital Substitute Treatment program
Free health and wellbeing programs to support your health challenges
Live your healthiest, happiest life with CBHS Extras:
Benefits for proactive health checks e.g. bone density tests, eye screenings
Keep up your care with telehealth and digital options
Save on dental and optical with CBHS Choice Network providers