At CBHS we help you manage your health challenges. We believe in offering you the services, support and tools you need to live your best life.
Our Better Living Programs are available to support eligible members towards a healthier lifestyle. Each Better Living Program is subject to its own eligibility criteria.
Contact us for more information and to confirm your eligibility for a program.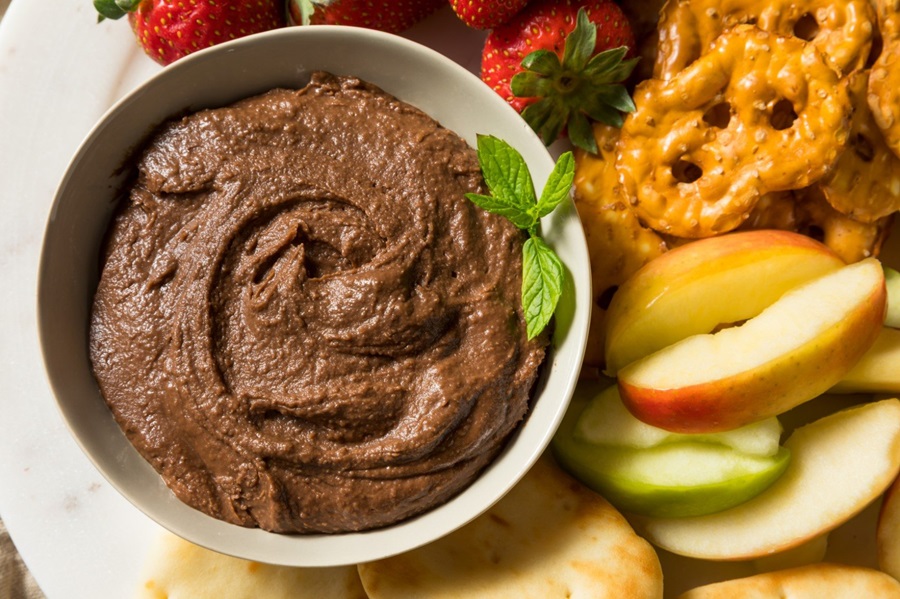 Nutrition content per serve (1 tbsp): *
97 cal | protein: 3g | total fat: 5g| sat fat: 1g | carbs: 10g | sugar: 5g | fibre: 3g
*Approximate values from Xyris Food Works

Ingredients
1 tin chickpeas drained
¼ cup cacao powder
¼ cup dark chocolate chips (optional)
2 tbsp maple syrup
¼ cup peanut butter/nut butter/tahini (or a mix)
½ tsp salt
1 tsp vanilla extract
½ tsp cinnamon
1/3 cup regular milk
(makes approx. 12 tablespoons)
Method
Blend all together in a food processor, except for the milk.
Once ingredients are combined and smooth, add in milk slowly until desired consistency is reached. Serve this as a dip with cut up pieces of fruit and enjoy!
Why it's good for you
Dark chocolate is an excellent source of polyphenols (think antioxidants!) and has been shown to act as a prebiotic to help keep our microbiome balanced and support overall health. Nut butter is loaded with monounsaturated fats to help keep your heart healthy, and chickpeas are a great source of soluble fibre to keep you full and your digestive system happy. This dessert hummus will curb that chocolate craving while you stay on top of your health goals!

All information contained in this article is intended for general information purposes only. The information provided should not be relied upon as medical advice and does not supersede or replace a consultation with a suitably qualified healthcare professional.

Health and wellbeing
programs & support
You Belong to More with CBHS Hospital cover:
Greater choice over your health options including who treats you
Get care at home with Hospital Substitute Treatment program
Free health and wellbeing programs to support your health challenges
Live your healthiest, happiest life with CBHS Extras cover:
Benefits for proactive health checks e.g. bone density tests, eye screenings
Keep up your care with telehealth and digital options
Save on dental and optical with CBHS Choice Network providers