At CBHS we help you manage your health challenges. We believe in offering you the services, support and tools you need to live your best life.
Our Better Living Programs are available to support eligible members towards a healthier lifestyle. Each Better Living Program is subject to its own eligibility criteria.
Contact us for more information and to confirm your eligibility for a program.
Diet can influence prostate cancer survival rates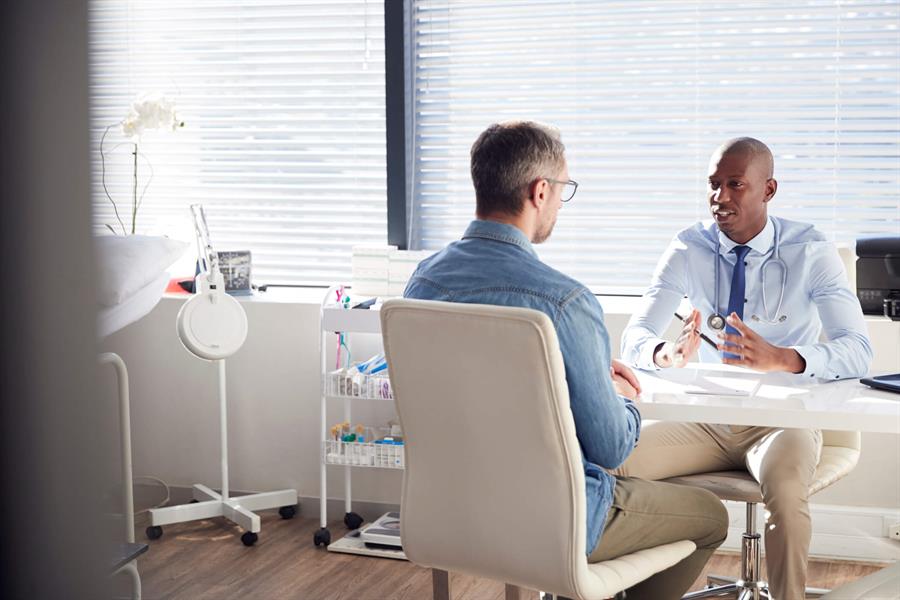 Prostate cancer is the second most common cancer in Australian men. Over 19,000 men in Australia were diagnosed with prostate cancer in 2019.
Survival rates for men with prostate cancer have never been better. The five-year survival rate for men with prostate cancer is 95%, and research shows your diet may influence how long you live with prostate cancer. There are more details on that later in this article.
We take a closer look at what a diagnosis of prostate cancer can mean, explore treatment options and look at what additional help is available if you, your partner or someone you know has been diagnosed with prostate cancer and is struggling.
Let's start with the basics. Where's your prostate and what does it do?
Your prostate is a small gland, usually no bigger than a walnut, that sits below your bladder and in front of your rectum. It's responsible for producing most of the fluid in semen, and it wraps around the slim tube (urethra) that carries semen and urine out of your body.
If you have an enlarged prostate does that mean you have cancer?
It's common for older men to have an enlarged prostate, which can cause problems with urinating and ejaculation. This is not automatically a sign of prostate cancer. You might instead have benign prostate hyperplasia or BPH.
What is BPH?
Benign prostate hyperplasia (BPH) is the most common prostate disease and is not life threatening. However, an enlarged prostate can put pressure on your bladder and interfere with the passage of urine.
What is prostate cancer?
Like all cancers, prostate cancer involves the development of abnormal cells. These cells can multiply to form a lump, or tumour inside the prostate. If the cells are cancerous, the lump is called malignant. When cancer isn't involved the lump or tumour is called benign.
Unlike many other cancers, prostate cancer is generally slow-spreading. Most men with prostate cancer can live for a considerable time without any painful symptoms, or without the cancer spreading.
However, it is possible for prostate cancer to spread outside the prostate into other parts of the body.
What are some common prostate cancer symptoms?
The symptoms outlined below may not be the result of cancer, they may be caused by other prostate-related diseases that are benign. However, if you experience any of the following symptoms, see your doctor for further investigation:
A sudden or frequent need to urinate
Difficulty urinating, or poor flow
Pain or discomfort when urinating
Blood in your urine
Pain in some bones (which may indicate the cancer has spread).
It's common in older men for the prostate to become enlarged and squeeze the urethra that carries urine. This can cause similar symptoms such as difficulty urinating, which does not automatically mean you have prostate cancer, or that you are likely to develop it.
You can find more information on other prostate-related diseases at the Prostate Cancer Foundation of Australia.
If you experience any of the symptoms outlined above, see your doctor for further investigation.
Who's more at risk of developing prostate cancer?
You can't catch prostate cancer. It's a disease that develops in some people, and not in others. These are some of the risk factors that increase your chance of developing prostate cancer:
Prostate cancer is more likely to develop in men over 60, and rarely develops in men under 40. The old adage that says, you're more likely to die with prostate cancer than die of it, is borne out by the statistics. One in six men risk developing prostate cancer by the age of 85, but only one in 35 men risk dying from prostate cancer by the same age.
If your father or brother developed prostate cancer, you're more likely to develop it yourself than a man with no such family history. The risk increases if more than one close male relative had prostate cancer, and if they were diagnosed when young.
Eating a lot of highly processed meat or high-fat food may increase the risk of developing prostate cancer.
According to the Prostate Cancer Foundation of Australia, both environment and lifestyle can affect your risk of developing prostate cancer. The Foundation quotes a study that shows men who migrate from an Asian country (where rates of prostate cancer are low) to a Western country increase their risk of developing prostate cancer. This suggests that external factors, such as lifestyle and the environment, have a role to play.
Can you check your risk?
Cancer Council Australia has a useful tool to help you check your risk of developing cancer, based on your lifestyle and dietary habits. This tool is not specific to prostate cancer, but it may help you make lifestyle changes that can reduce your overall cancer risk.
How can you reduce your risk?
There's no evidence to suggest you can directly influence your risk of developing prostate cancer, however, there is plenty of evidence to suggest that improvements to your overall health can reduce your risk of contracting all cancers.
One of the best ways to stay healthy is to follow guidelines on healthy eating, which may also help to protect against certain cancers. This means eating at least two serves of fruit a day, at least five serves of vegetables, limiting alcohol intake, reducing red meat and saturated fat in your diet and increasing the amount of wholegrain and high fibre foods you eat.
Regular physical activity can improve your overall health. This can help you to achieve and maintain a healthy weight, which may also help protect against cancer. Being overweight or obese can increase your risk of developing cancer. There is some evidence to show that regular physical activity and exercise can be protective factors for prostate cancer.
At the very least, sit less and move more. Ideally, you should be aiming for at least 30 minutes of moderate-intensity activity every day. Find out more here.
How is prostate cancer diagnosed?
Your doctor can undertake a physical examination and perform a blood test to check the amount of PSA (prostate specific antigen) found in your blood. Elevated levels of PSA may need further investigation as they can be an indication of cancer or other prostate-related diseases. An MRI scan can also help identify signs of cancer.
It's worth noting that experts don't fully agree on what is a normal or abnormal level of PSA, and most men with a slightly raised PSA won't have cancer.
The only definitive way of diagnosing prostate cancer is with a biopsy, which your doctor may recommend following any physical examination and blood test.
In a biopsy a doctor takes a small sample of tissue from your prostate, which can then be sent to a pathologist for testing. The doctor inserts a thin needle, guided by an ultrasound, through your rectum or your perineum (the area between the anus and the scrotum) to take the sample. A biopsy is normally undertaken as an outpatient procedure.
It's important to note that ejaculation or stimulation of the prostate before a test can elevate levels of PSA in your blood. Avoid these activities for 48 hours before any test.
Prostate cancer treatment options
When prostate cancer is diagnosed it's generally given a score on a scale of 1-5, where four and five are considered high risk.
Most prostate cancers carry a low risk and they're also slow growing, which means they're unlikely to cause any harm if they're not treated.
Your treatment options will depend on your age, your general health, and the level of risk associated with your particular cancer.
The Australian Government's Healthdirect website points out that testing and treating low risk, slow growing cancers may cause more harm than good.
Watch and wait – regular testing, with no other treatment, is an option for men over 75.
Active surveillance – repeat PSA testing and/or biopsies and MRIs may be sufficient for slow-growing, low-risk cancers, because only a small number of men with low-risk prostate cancer will develop a more aggressive form of the disease.
Prostatectomy – surgery to remove the prostate and surrounding tissue if necessary. This can be performed as traditional or keyhole surgery.
Radiotherapy – regular doses can be delivered using beams of radiation therapy or using an internal implant.
Medication – this may be used if the cancer has spread to other parts of the body. ADT (androgen deprivation therapy) can block the production of testosterone and make most prostate cancers shrink or stop growing. It's sometimes used in conjunction with radiotherapy. However, it may become less effective over time.
What are the possible side effects of treatment?
The side effects of treatment for prostate cancer can be considerable, which is why you should weigh up the options carefully before embarking on any course of treatment.
Erectile dysfunction is common after surgery, radiation therapy and ADT. Over three in four men will experience problems getting or keeping an erection following treatment.
Impaired bladder control is not uncommon. Radiotherapy can damage the area around the prostate, making you want to urinate more often, and up to 10% of men will experience urinary incontinence (leakage) a year after surgery.
Hormone-related issues may include hot flushes, tiredness, osteoporosis, loss of body hair and reduced muscle strength.
Reduced sex drive may also be a side-effect of prostate cancer treatment.
Can you improve your chance of living longer with prostate cancer?
The answer seems to be yes. According to one study that followed men with prostate cancer over ten years, those who followed a diet high in processed food, red meat and high fat foods were two and a half times more likely to die from prostate cancer than men who ate more vegetables, fruit, fish and legumes. The men who made more prudent food choices had a 36% lower risk of dying from any cause.
Are you worried or anxious about a prostate cancer diagnosis?
It's natural to feel anxious if you're received a diagnosis of prostate cancer. Remember, this cancer has a very high survival rate, and many cases of prostate cancer are low-risk and slow growing.
Unfortunately, according to the Prostate Cancer Foundation of Australia, one in five men with prostate cancer experience long-term anxiety and depression. Even more worryingly, they have a 70% increased risk of suicide, compared to the general population.
Make sure you understand your options for treatment and talk about any concerns you might have with your doctor, your partner, or family and friends.
Learning more about your options, and the possible side effects, can help you make the best decision for your circumstances.
Reach out for help and support
Reaching out for help can reduce the stress associated with a diagnosis of prostate cancer.
There's a specialist telenursing service, which is free of charge, for anyone whose life has been impacted by prostate cancer. Call 1800 22 00 99 to speak to someone or request a call back, fill out the online form or email telenurse@pcfa.org.au.
Visit the Prostate Cancer Foundation of Australia website which has a large section devoted to support services, including local groups, phone support, nursing specialists and a volunteer program in WA called MatesCONNECT.
Healthy Male has a wealth of resources to support men's health issues, including prostate cancer.
The Cancer Council has a guide to coping with a cancer diagnosis.
Depending on your level of cover, you may be able to access a range of mental health programs through CBHS. Find out more about the programs available by checking our website or call 1300 654 123.
If you need immediate help
If you're struggling to cope with a diagnosis of prostate cancer and you feel you need urgent help, go straight to your GP or hospital emergency department. You can also contact one of these crisis support centres.
All information contained in this article is intended for general information purposes only. The information provided should not be relied upon as medical advice and does not supersede or replace a consultation with a suitably qualified healthcare professional.
Sources
Prostate Cancer Foundation of Australia | PCFA
Cancer Australia :: Check Your Cancer Risk online tool
Prostate cancer | healthdirect
Men's health - Better Health Channel
Prostate cancer | Causes, Symptoms & Treatments | Cancer Council
Prostate cancer | Healthy Male
Dietary Patterns after Prostate Cancer Diagnosis in Relation to Disease-Specific and Total Mortality | Cancer Prevention Research (aacrjournals.org)
Health and wellbeing
programs & support
You Belong to More with CBHS Hospital cover:
Greater choice over your health options including who treats you
Get care at home with Hospital Substitute Treatment program
Free health and wellbeing programs to support your health challenges
Live your healthiest, happiest life with CBHS Extras cover:
Benefits for proactive health checks e.g. bone density tests, eye screenings
Keep up your care with telehealth and digital options
Save on dental and optical with CBHS Choice Network providers