Dosa-licious: A South Indian veggie delight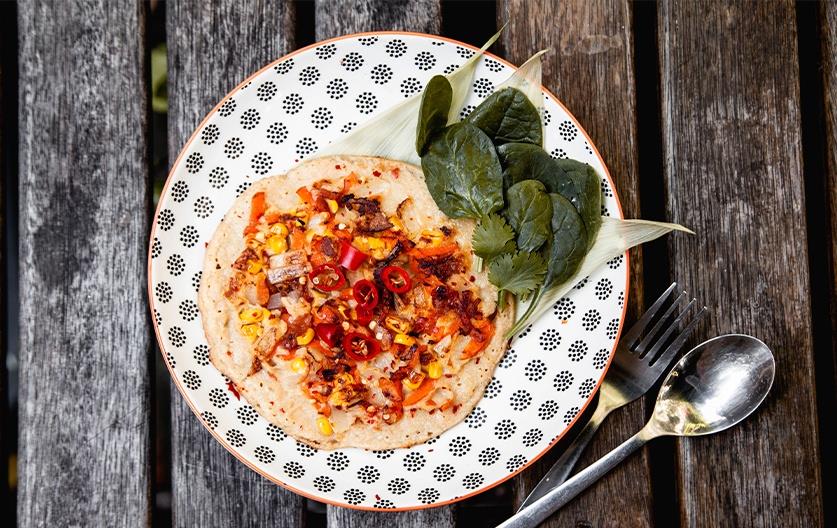 Start your day (or finish it) with a South Indian protein hit! Feel free to mix it up by adding different vegetables or spices of your choosing.
241 calories | 10g vegetarian protein | 2 serves of vegies | 8.5g fibre (per serve) | Prep time: 4 hours or overnight | Cooked in under 15 minutes | Serves 8
Batter:
1 cup quinoa
¾ cup red lentils
¼ cup yellow split peas
2 cups water
1 tsp salt
Cooking oil/ghee as needed
Filling:
2 carrots
1 cup corn
1 onion
2 tomatoes
1 capsicum
1 cup spinach
1 chili
Coriander leaves to garnish
Why is it good for you?
A serve of this tasty pancake will help you to reach your five serves of veggies a day. This high fibre, high protein, low calorie recipe makes a great breakfast, lunch, dinner or snack. Fibre and protein both help to keep you full and satisfied, making this a perfect meal for weight loss and weight management.
Method:
1. Wash and soak quinoa, lentils, split peas together for four hours or overnight.
2. Rinse and put soaked ingredients into a blender. Add salt and water.
3. Pour ½ cup of batter into a medium-sized, lightly-greased fry pan
4. Cook on one side, turn over and sprinkle on vegetable mix. Cook until brown.
5. Garnish with coriander
All information contained in this article is intended for general information purposes only. The information provided should not be relied upon as medical advice and does not supersede or replace a consultation with a suitably qualified healthcare professional
Health and wellbeing
Programs & Support
Our health and wellbeing programs can help you live your healthiest, happiest life.
Supporting your health challenges
Guiding you to treatment and care
Helping you stay healthy and well