At CBHS we help you manage your health challenges. We believe in offering you the services, support and tools you need to live your best life.
Our Better Living Programs are available to support eligible members towards a healthier lifestyle. Each Better Living Program is subject to its own eligibility criteria.
Contact us for more information and to confirm your eligibility for a program.
Festive Mediterranean grain salad with Greek yoghurt drizzle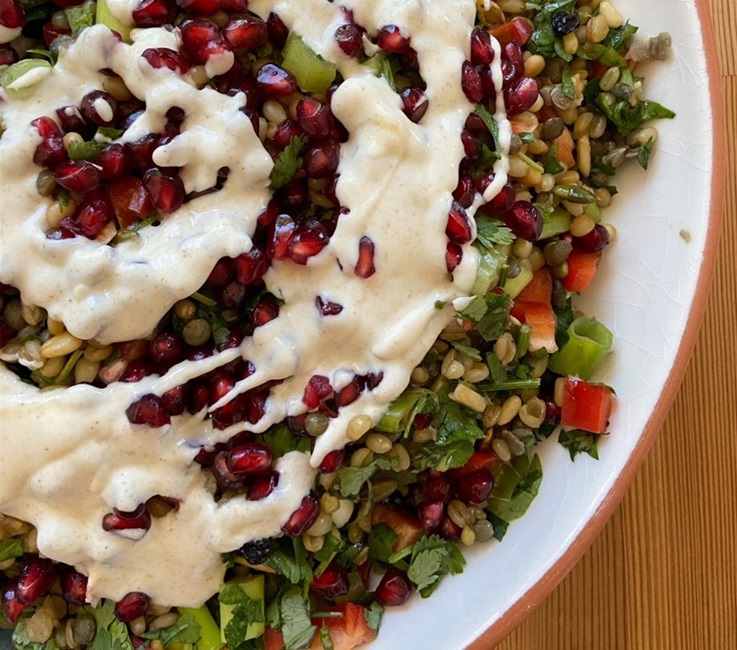 Nutrition content per serve
447 calories | Protein: 14g | Carb: 45g | Sugar: 18g | Total fat: 21g | Sat fat: 3g | Fibre: 12g |
Serves 6
Ingredients
1 bunch coriander, chopped
1/2 bunch parsley, chopped
8 spring onions, diced
1 red capsicum, diced
2 sticks celery, diced
1 cup freekeh
1/2 cup Puy (French green) lentils
2 tbsp pumpkin seeds (or black cumin seeds)
2 tbsp toasted slivered almonds
3 tbsp toasted pine nuts
2 tbsp capers
1/3 cup currants
Juice of 1 lemon
3 tbsp extra virgin olive
Sea salt to taste
1 pomegranate, deseeded, to serve
Yoghurt dressing
½ cup thick Greek yoghurt
1 tsp ground cumin
1 tsp honey

Method:
Cook freekeh and lentils separately in boiling water for approximately 20 minutes. Drain well and allow to cool.
Meanwhile mix the yoghurt, ground cumin and honey until combined then set aside.
Toast the nuts in a small pan until golden.
In a medium bowl, add coriander, parsley, onion, capsicum, celery, freekeh, lentils, toasted nuts, capers, currants, lemon juice and olive oil. Mix well and season to taste.
Place into serving dish and drizzle with cumin yoghurt and pomegranate seeds.
NB: You can substitute freekeh with any cracked wheat or quinoa.
Why it's good for you:
This is a delicious festive salad using freekeh, a nutritious grain made from roasted green wheat grains. Freekeh contains resistant starch which feeds the good bacteria in our large intestine and is high in protein and fibre which keeps us satisfied for longer.
You'll be getting a variety of plant-based fibres from the lentils, freekeh, nuts, seeds and fresh herbs, meaning you'll be keeping both your tummy and gut happy this festive season!

All information contained in this article is intended for general information purposes only. The information provided should not be relied upon as medical advice and does not supersede or replace a consultation with a suitably qualified healthcare professional.

Health and wellbeing
programs & support
You Belong to More with CBHS Hospital cover:
Greater choice over your health options including who treats you
Get care at home with Hospital Substitute Treatment program
Free health and wellbeing programs to support your health challenges
Live your healthiest, happiest life with CBHS Extras cover:
Benefits for proactive health checks e.g. bone density tests, eye screenings
Keep up your care with telehealth and digital options
Save on dental and optical with CBHS Choice Network providers