At CBHS we help you manage your health challenges. We believe in offering you the services, support and tools you need to live your best life.
Our Better Living Programs are available to support eligible members towards a healthier lifestyle. Each Better Living Program is subject to its own eligibility criteria.
Contact us for more information and to confirm your eligibility for a program.
Festive pudding bliss balls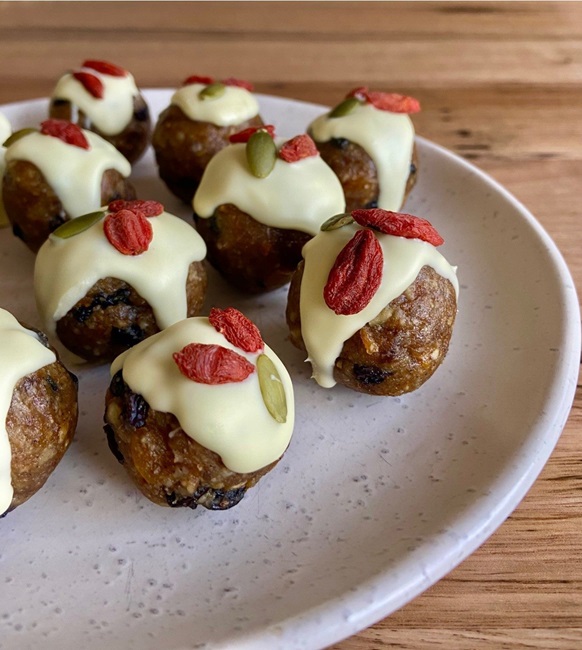 Nutrition content (per ball)*
132 cal | protein: 2g | total fat: 8g |sat fat: 1g | carbs: 14g | sugar: 11g | added sugar: 1g | fibre: 2g
*Approximate values from Xyris Food Works

Ingredients
1 tsp mixed spice
½ tsp dried ginger
½ tsp cinnamon
1 cup pecans
1/3 cup almond meal
1 cup pitted Medjool dates (approx. 150g)
1 tsp vanilla
¼ cup currants
Zest of one orange
1-2 tbsp orange juice

(Makes approx. 14 balls)
To decorate
White chocolate
Goji berries
Pumpkin seeds

Method
Put dates in a bowl and cover with boiling water for one minute. When soft, remove from water and set aside (this first step is optional to help soften the dates for blending).
Put pecans in a high-speed blender or food processor and blend to a fine crumb.
Add almond meal, dates, spices, vanilla, orange zest and juice. Blend on high speed until well combined. You may have stop to scrape down the sides of the bowl 1-2 times to get mixture blended properly.
Transfer mixture to a bowl, then add currants and apricot pieces. Mix with a spoon to fold fruit evenly through mixture and roll into balls.
Melt white chocolate in microwave or in a double boiler over the stove until runny.
Add a drizzle on top of each bliss ball then add a pepita and two goji berries to resemble holly.
Repeat until all bliss balls are covered.
Refrigerate for one hour to set and enjoy.

Why it's good for you
These bliss balls are not only cute; they are a balanced afternoon snack to get you into the swing of the festive season without worrying about excess calories normally found in desserts. Packed with protein and fibre to help keep you full, they are also low in refined sugar and saturated fat. These bliss balls contain antioxidants from the dates and currants to assist with reducing cell damage.

All information contained in this article is intended for general information purposes only. The information provided should not be relied upon as medical advice and does not supersede or replace a consultation with a suitably qualified healthcare professional.

Health and wellbeing
programs & support
You Belong to More with CBHS Hospital cover:
Greater choice over your health options including who treats you
Get care at home with Hospital Substitute Treatment program
Free health and wellbeing programs to support your health challenges
Live your healthiest, happiest life with CBHS Extras cover:
Benefits for proactive health checks e.g. bone density tests, eye screenings
Keep up your care with telehealth and digital options
Save on dental and optical with CBHS Choice Network providers