At CBHS we help you manage your health challenges. We believe in offering you the services, support and tools you need to live your best life.
Our Better Living Programs are available to support eligible members towards a healthier lifestyle. Each Better Living Program is subject to its own eligibility criteria.
Contact us for more information and to confirm your eligibility for a program.
Five yummy recipes for a healthier Christmas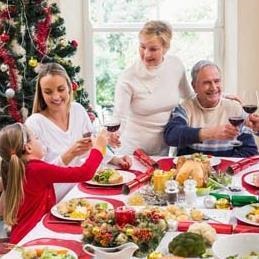 Who doesn't love Christmas? It's a time of giving and sharing, of carols and candlelight, of twinkling fairy lights and decked out trees, of retail therapy and beautifully wrapped presents. It's a time when loved ones get together, when the office lets its hair down, when bygones become bygones and when warmth, happiness and laughter fills the air. And the best part? It's a time of non-stop yummy food!
From little sausages wrapped in bacon to big slabs of pavlova, from mince pies and roasted meats to rich Christmas pudding, there's lots to enjoy when it comes to food at Christmas. But let's face it, lots of the food we love isn't exactly kind on the waistline.
Christmas food traditionally tends to be a little on the naughty side, and for some this is okay - it's only a few weeks after all. But for others, the Christmas period can undo a year of healthy eating and hard work that's hard to pull back from. So how do you eat well while still getting the taste of Christmas?
The trick is to not let indulgence take hold, while still remaining realistic. You don't want to be too strict on your diet, but you don't want to be too lax either. Limit the binges, be selective when facing options, avoid too much alcohol, keep moving, and refrain from eating your way through two big meals come Christmas Day. Or better yet, try some of these delicious yet healthy recipes!
---
Wild Rice Salad with Cranberries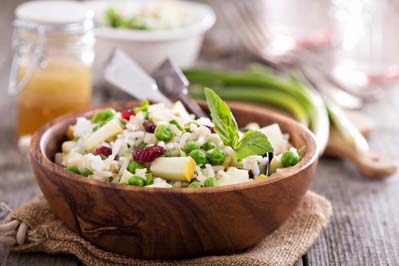 Wild rice has a deliciously nutty flavour and contains twice as much protein as brown rice. It's rich in antioxidants, and offers a high fibre content that keeps your digestion smooth and your cholesterol low. It's also lower in calories than other rice varieties. As for cranberries, not only do they scream Christmas, one cup equates to just 25 calories!
Ingredients
100g wild rice, cooked and cooled
100g white rice, cooked and cooled
1 large green apple, diced
1 stalk celery, chopped
½ dried cranberries
½ red onion, finely chopped
¼ cup chopped parsley
50g toasted walnuts
Dressing
2 tbsp balsamic vinegar
2 tbsp olive oil
1 tsp wholegrain mustard
½ tsp sugar
Method
Combine all salad ingredients together in a large bowl.
Combine dressing ingredients, and drizzle over salad just before serving.
---
Festive Roast Veggies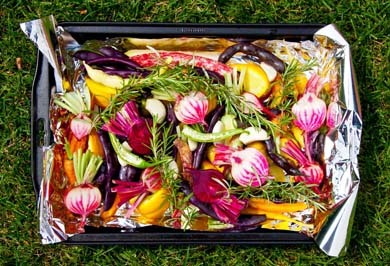 Roasted vegetables make the perfect accompaniment to any Christmas meat, and can even be a meal in itself. The addition of herbs and olives mean these veggies are more than flavourful, and the balsamic vinegar provides a splash of antioxidants that can protect the body from heart disease and cancer.
Ingredients
700g new potatoes, halved
350g sweet potato, peeled and cut into chunks
300g baby beetroot, trimmed
1 large red onion, cut into wedges
1 large garlic head, broken into cloves
4 sprigs rosemary
3-4 bay leaves
Cooking oil spray
2 tbs balsamic vinegar
½ cup pitted olives
¼ cup mixed herbs, chopped
Method
Preheat oven to 190°C (170°C fan-forced). Meanwhile, boil potatoes for 5 minutes and in a separate saucepan, boil baby beets.
Drain veggies and arrange on a large baking tray with onion and garlic.
Spray with oil and scatter with herb sprigs and bay leaves.
Drizzle with balsamic vinegar and roast in oven for one hour, adding olives after 40 minutes.
Transfer to a serving dish and garnish with chopped herbs.
---
Healthy Fruit Cake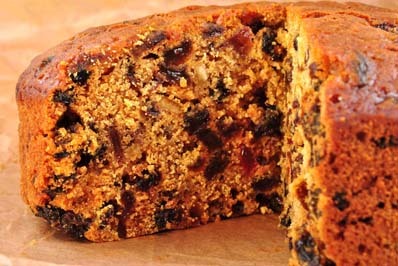 Fruit cake is one of the staples of Christmas, so thankfully there are some great healthy recipes out there like this one. Packed with heaps of dried fruit, delicious orange marmalade and made on wholemeal flour, it's indulging without the guilt!
Ingredients
500g sultanas
375g raisins, coarsely chopped
300g currants
250g figs, coarsely chopped
½ cup brandy
½ cup apple juice
¼ cup brown sugar
2 eggs, at room temperature
2 egg whites, at room temperature
200g low-fat margarine
115g orange marmalade
½ cup wholemeal self-raising flour
2 cups wholemeal plain flour
1 tsp mixed spice
blanched almonds to decorate
melted butter, to grease
⅓ cup brandy, extra

Method

Combine fruit, apple juice and brandy in a large glass bowl. Cover with plastic wrap and set aside, stirring occasionally for 6 hours.
Preheat oven to 150°C and brush a round 22cm cake pan with melted butter. Line the base and sides with baking paper.
Whisk margarine and butter in a bowl using an electric beater. Add eggs one at a time, beating well to combine. Whisk in marmalade then fold through flour and mixed spice until just combined.
Stir in fruit mix and then spoon into prepared pan. Tap the pan on the benchtop to settle the mixture and smooth the surface. Arrange almonds as desired.
Wrap the outside of the pan with three layers of newspaper, making sure it rises higher than the pan and baking paper. Secure with kitchen string.
Bake for three hours.
Remove from oven and pour over the extra brandy. Wrap in a clean tea towel and set aside to cool completely before serving.
---
Crunchy Green Veggies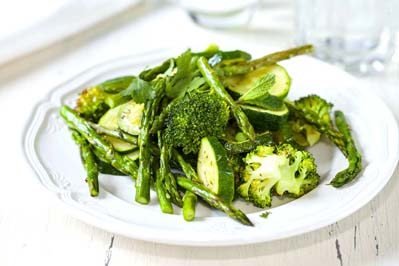 We all know the importance of eating your greens, and when they taste this good, even the fussiest of eaters will love them! Eating your greens lowers your risk of stroke, type 2 diabetes, high blood pressure, certain cancers, Alzheimer's and heart disease. Throw some crunchy seeds on top and your green veggies become even more nutritiously powerful.
Ingredients
4 trees broccoli, trimmed and halved
200g green beans
200g asparagus
1 zucchini, sliced
2 tbs sunflower seeds
2 tbs pepitas
½ tsp cumin seeds
½ tsp paprika
olive oil cooking spray
1 cup flat-leaf parsley
250g mixed salad greens
Dressing
2 tbs olive oil
juice of ½ lemon
3 tsp wholegrain mustard
3 tsp Dijon mustard
Method
Preheat oven to 200°C (180°C fan-forced) and line a baking tray with baking paper.
Scatter seeds on prepared tray, add paprika, spray with oil and toss to coat. Bake for 5-7 minutes.
Meanwhile, bring a large saucepan of water to the boil. Add green beans and broccoli, and cook until just tender. (Roughly 2-3 minutes.) Refresh in icy cold water, drain, and set aside.
In a frying pan, grill asparagus over a medium-high heat until just browned.
Combine dressing ingredients in a large bowl.
Add salad ingredients to the bowl, and toss to combine.
---
Maqui Berry Balls with Goji Berry Dust
Image and original recipe courtesy of The Holistic Ingredient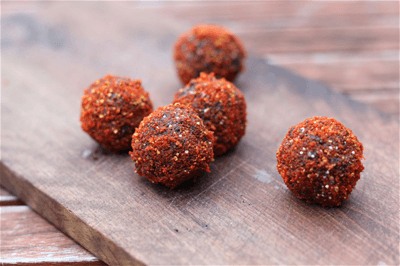 If you can't quite bear the thought of Christmas without some little bites of heaven, then this recipe is a must to try. These balls of bliss are filled to the brim with good stuff, making them the perfect snack between meals. Much healthier than the mince pie option!
Ingredients
1 cup raw cashews
1 cup unsweetened coconut flakes
½ cup puffed amaranth (an ancient grain)
½ goji berries, plus extra for rolling
⅓ cup sunflower seeds
6 medjool dates
4 tbsp maqui berry powder
3 tbsp coconut oil
2 tbsp coconut nectar
1 tbsp maca powder
½ tsp vanilla powder
Method
Place all ingredients in a high-powered food processor. Combine until the oils start to release.
Roll mixture into bite-size balls.
Whizz extra goji berries in food processor to create a dust.
Roll balls in the goji berry dust to finish.
Note: These maqui berry balls will store in an airtight container in the fridge for up to two weeks.
Health and wellbeing
programs & support
You Belong to More with CBHS Hospital cover:
Greater choice over your health options including who treats you
Get care at home with Hospital Substitute Treatment program
Free health and wellbeing programs to support your health challenges
Live your healthiest, happiest life with CBHS Extras cover:
Benefits for proactive health checks e.g. bone density tests, eye screenings
Keep up your care with telehealth and digital options
Save on dental and optical with CBHS Choice Network providers