At CBHS we help you manage your health challenges. We believe in offering you the services, support and tools you need to live your best life.
Our Better Living Programs are available to support eligible members towards a healthier lifestyle. Each Better Living Program is subject to its own eligibility criteria.
Contact us for more information and to confirm your eligibility for a program.
Fresh spring rice paper rolls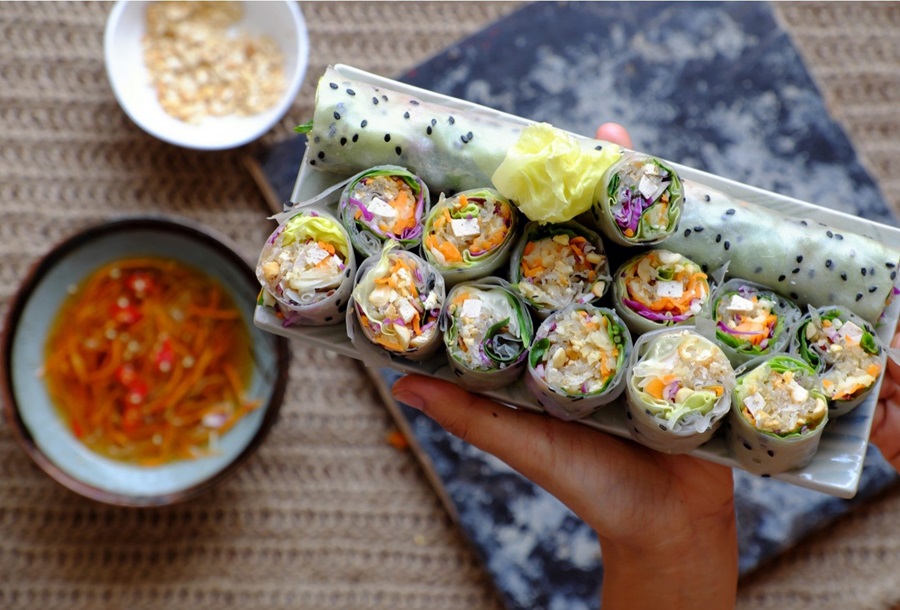 Nutrition content (per serve)*
467 cal | Protein: 25g | Total fat: 19g | Saturated fat: 3g | Carbs: 45g | Dietary fibre: 7g | Serves 4
* Approximate values from Xyris Foodworks software

Ingredients
200g rice paper sheets
1.5 cups vermicelli noodles
Roll fillings
1 cup red cabbage
1 medium carrot
1 medium cucumber
1/3 cup spring onion
1/3 cup mint
1/3 cup coriander
2 tbsp sesame seeds
3 tbsp roasted peanuts
1 cooked chicken breast
Peanut Sauce
¼ cup peanut butter
2 tbsp soy sauce
2 tbsp maple syrup
¼ cup lemon juice
2 garlic cloves, minced
3 tbsp water
1/3 cup almonds

Method
Time saver tip: chop your rice paper roll fillings: cabbage, carrot, cucumber, spring onion, coriander, mint, peanuts and add shredded chicken to a large bowl and combine.
In a separate bowl add your noodles and cover with hot water. Cover bowl with a flat plate until noodles are soft before draining excess water.
Fill a flat, slightly shallow plate with warm water and submerge your rice paper sheet into the water for 2 seconds and rotate sheet on plate if needed. Ensure you don't leave the sheet in the water for too long as this will cause the sheet to become too sticky and break apart.
On a separate plate, lay your softened rice paper sheet down then add noodles and filling. Fold the left and right sides in, then starting rolling firmly from the bottom to the top until the rice paper is fully sealed.
To make the peanut sauce, combine all sauce ingredients in a food processor or nutribullet until smooth. If too thick, add an extra tablespoon of water until it reaches desired consistency.
Serve rice paper rolls immediately with peanut sauce and enjoy!
The key players of this recipe are:
The easy, colourful blend of veggies: a vibrant mix of different antioxidants, purple cabbage, carrot, and green herbs. A low-calorie serving while also meeting your veggie target.
Peanuts: A fantastic source of monounsaturated fats, protein and fibre. Roasting peanuts can increase their antioxidant content by up to 22%!
All information contained in this article is intended for general information purposes only. The information provided should not be relied upon as medical advice and does not supersede or replace a consultation with a suitably qualified healthcare professional.
Health and wellbeing
programs & support
You Belong to More with CBHS Hospital cover:
Greater choice over your health options including who treats you
Get care at home with Hospital Substitute Treatment program
Free health and wellbeing programs to support your health challenges
Live your healthiest, happiest life with CBHS Extras cover:
Benefits for proactive health checks e.g. bone density tests, eye screenings
Keep up your care with telehealth and digital options
Save on dental and optical with CBHS Choice Network providers