At CBHS we help you manage your health challenges. We believe in offering you the services, support and tools you need to live your best life.
Our Better Living Programs are available to support eligible members towards a healthier lifestyle. Each Better Living Program is subject to its own eligibility criteria.
Contact us for more information and to confirm your eligibility for a program.
Gingerbread cookies with a healthy twist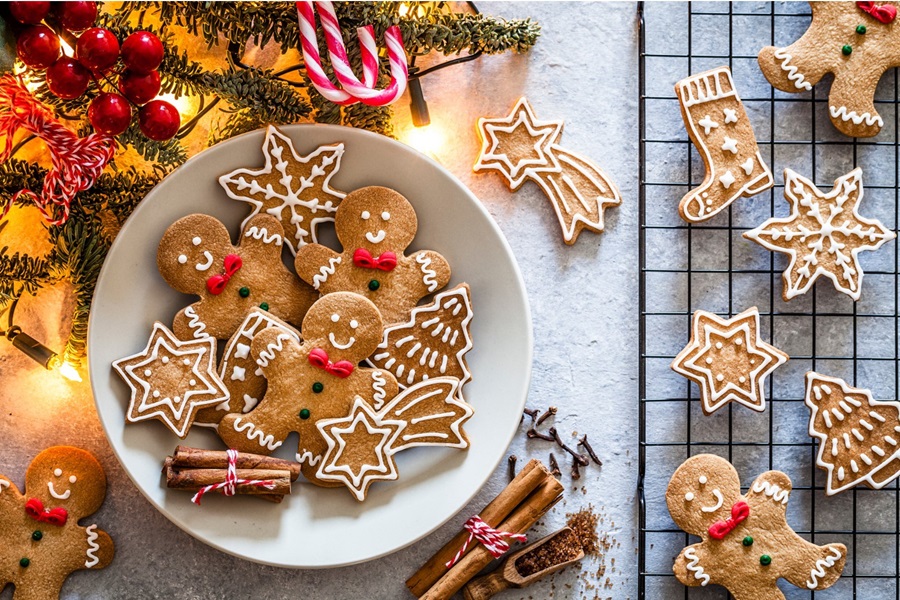 Nutrition content per cookie:*
96 cal | protein: 2g | total fat: 3g | sat fat: 1g | carbs: 14g | sugar: 5g | fibre: 2g
*Approximate values from Xyris Food Works
Ingredients
3 ½ cups wholemeal flour
2 tbsp spice mix (see below recipe)
¾ tsp baking soda
¼ tsp baking powder
½ tsp salt
½ cup extra virgin olive oil
½ cup maple syrup
½ cup molasses
1 tsp vanilla essence
1 large egg
Zest from 1 orange
(Makes approx. 40 cookies)

Festive spice mix
3 tbsp cinnamon
2 tbsp ground ginger
1 tbsp mixed spice
1 tsp nutmeg
1 tsp cardamom
1 tsp cloves
¼ tsp turmeric
Dash black pepper
To decorate (optional)
Dark chocolate drops
Goji berries
Pumpkin seeds
Almonds
Method
Sift dry ingredients into a bowl. Stir to combine.
Blend olive oil and maple syrup in a food processor until it has a creamy texture. Add in molasses, vanilla essence, egg and orange zest and blend until combined.
Slowly add in dry ingredients and stir until a dough-like consistency has formed.
Put extra flour on a flat surface and separate the dough into two large balls. Flatten each ball into a disc-like shape then wrap each ball in cling wrap and put in the fridge for at least an hour. Note: Ideally keep dough in fridge overnight if you have the time (our mixture that was in the fridge overnight was smoother and less sticky to roll, however the mixture in the fridge for an hour still turned out well!).
Heat oven to 175°C.
Place flour on a flat surface and roll out each ball of chilled dough with a rolling pin until it is about 3-5mm thick. Use a cookie cutter to make whatever shapes you like and place on a baking tray lined with baking paper.
Cook for 8-10 minutes until the edges of the cookies are a nice golden colour and the middle should be soft to touch. Check at the five minute mark as they can burn easily.
Eat fresh or decorate with icing and your choice of toppings.

Why it's good for you
We made these gingerbread cookies with extra virgin olive oil instead of butter, so not only are you getting an excellent source of unsaturated fats which has proven heart health benefits, you're also getting a dose of antioxidants from the olive fruit. We have used wholemeal flour for the added protein, fibre and energy-producing B-vitamins when compared with white flour, and have reduced the sugar content when compared with traditional gingerbread cookies. This is still a treat food so enjoy in moderation! 😊

All information contained in this article is intended for general information purposes only. The information provided should not be relied upon as medical advice and does not supersede or replace a consultation with a suitably qualified healthcare professional.
Health and wellbeing
programs & support
You Belong to More with CBHS Hospital cover:
Greater choice over your health options including who treats you
Get care at home with Hospital Substitute Treatment program
Free health and wellbeing programs to support your health challenges
Live your healthiest, happiest life with CBHS Extras cover:
Benefits for proactive health checks e.g. bone density tests, eye screenings
Keep up your care with telehealth and digital options
Save on dental and optical with CBHS Choice Network providers