At CBHS we help you manage your health challenges. We believe in offering you the services, support and tools you need to live your best life.
Our Better Living Programs are available to support eligible members towards a healthier lifestyle. Each Better Living Program is subject to its own eligibility criteria.
Contact us for more information and to confirm your eligibility for a program.
How 10 fruit and veg can save your life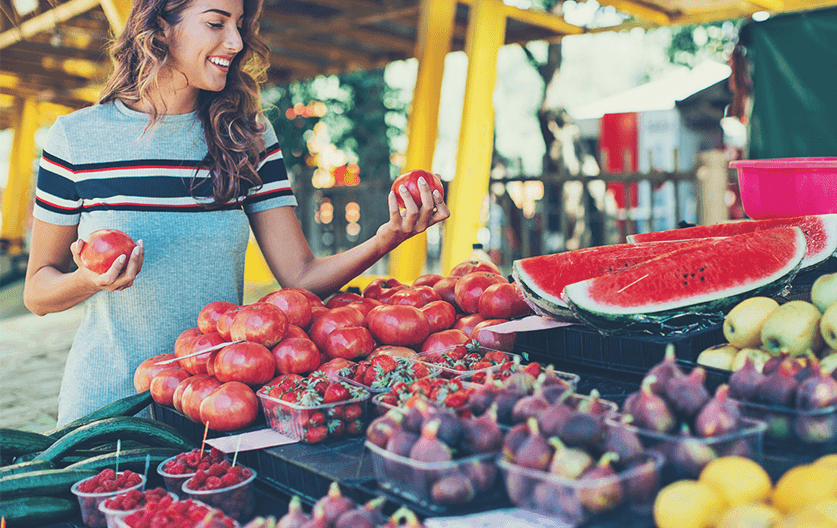 Eat your fruits and veggies.
It's a message that has been drilled into us since we were children, and one that many Australians fail to take to heart. However, the science is out, and it turns out that increasing our intake of fruits and vegetables could potentially prevent 7.8 million premature deaths worldwide.
What we've learnt
The study
Fruit and vegetable intake and the risk of cardiovascular disease, total cancer and all-cause mortality – a systematic review and dose-response meta-analysis of prospective studies
A team of scientists from the Imperial College London, led by Dagfinn Aune, performed an analysis on 95 studies over 142 publications to determine the affect on fruit and vegetable intake with regards to cardiovascular disease, cancer and all-cause mortality rates.

What they found
That fruit and vegetables are basically magical substances that grow from the ground.
Higher intakes of fruit and vegetables reduces risk of heart disease, cancer and all-cause mortality, and they estimate that somewhere between 5.6 to 7.8 million premature deaths worldwide could be attributed to people consuming less than 500 to 800 grams of fruit and veg a day.
In turn, they have justified every nag from your long-suffering parents.
Making changes
You should feel free to mix and match your fruits and veges as you like, and you don't have to settle for them raw or without accompaniment. Fruits can always be turned into smoothies, and veges can be the main focus of a stir-fry, or eaten crisp and fresh with some hummus, baba ganoush or guacamole.
Is it expensive?
While prices vary depending on the produce and season, vegetables are usually fairly inexpensive, usually ranging between less than a dollar to five or six dollars a kilo.
Check out this handy guide to see what produce is available each season.
Doesn't fruit contain a lot of sugar?
Yes, but it's not bad sugar.
Strap in, because there's a lot of disambiguation to get through.
Sugar is made up of fructose and glucose, the former being digested in the liver and the latter in the stomach.
The sugar you find in soft drinks/candy/ice cream are free sugars. They hit your body like a steam train and get absorbed extremely quickly.
The sugar you find in fruits is encased in fibre, meaning it takes longer for your body to break it down.
If you're still concerned, the World Health Organisation has seen no reported adverse effects of consuming sugars from fruit, so leave guilt behind and tuck into a mango the size of a small child.
What if I don't like fruits and vegetables?
Strangely, this is a big enough problem for Heart&Stroke Canada to have commented on. They make great suggestions like:
Pairing with foods you already like
Investigating texture
Eating more vegetable soups
Exploring different flavours
I think I'm too busy to prepare these foods
Life can get extremely busy, but there are a lot of options that'll allow you to get more fruit and veg into your diet. Getting salads at your regular takeaway place, or altering your usual grocery list can have a lasting effect on your health.
All information contained in this article is intended for general information purposes only. The information provided should not be relied upon as medical advice and does not supersede or replace a consultation with a suitably qualified healthcare professional.
Health and wellbeing
programs & support
You Belong to More with CBHS Hospital cover:
Greater choice over your health options including who treats you
Get care at home with Hospital Substitute Treatment program
Free health and wellbeing programs to support your health challenges
Live your healthiest, happiest life with CBHS Extras cover:
Benefits for proactive health checks e.g. bone density tests, eye screenings
Keep up your care with telehealth and digital options
Save on dental and optical with CBHS Choice Network providers