At CBHS we help you manage your health challenges. We believe in offering you the services, support and tools you need to live your best life.
Our Better Living Programs are available to support eligible members towards a healthier lifestyle. Each Better Living Program is subject to its own eligibility criteria.
Contact us for more information and to confirm your eligibility for a program.
How art can help your mental health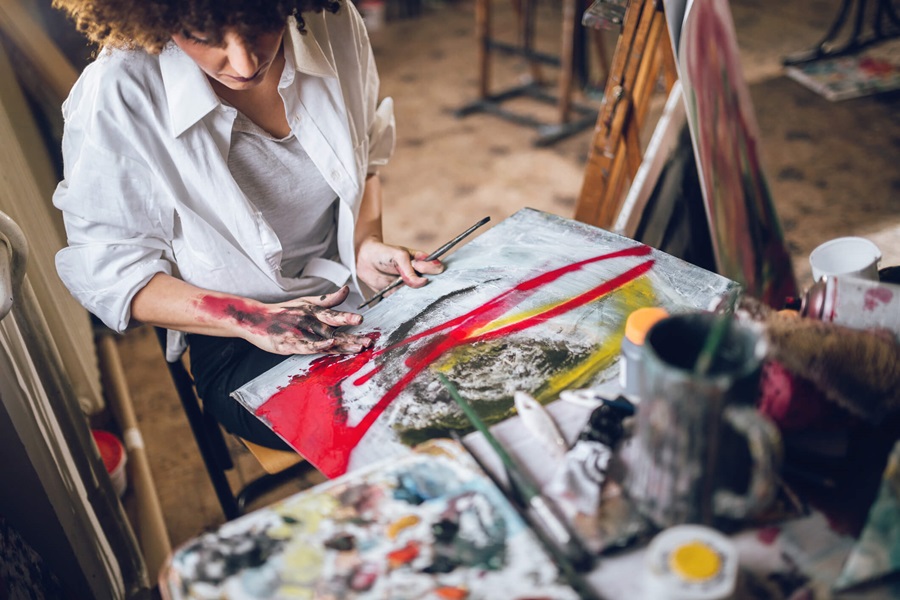 It's not easy to put your feelings into words when you're feeling anxious or depressed. Art can help. Drawing pictures, making art, or taking photographs instead of using words can help you express how you feel. What's more, the simple act of taking part in a creative endeavour may also help to reduce your feelings of anxiety or depression.
"It's the process of making art, rather than the outcome, that matters."
We spoke to art therapist and CBHS Wellness Consultant Megan Lorrayne to find out more.
How can art help your mental health?
Studies have shown that taking part in creative arts activities can benefit your mental health and wellbeing. Spending time on creative pursuits, whether that's knitting, writing a song, drawing a picture, or making music, can help boost positive moods.
Craft-based activities like knitting, needlework, woodwork, crochet, and pottery demand the sort of focus and repetition that encourage a state of 'flow'. Meditation and mindfulness work in a similar way.
'A simple activity like drawing can slow down time and help you filter out the 'noise' in your head,' says Megan.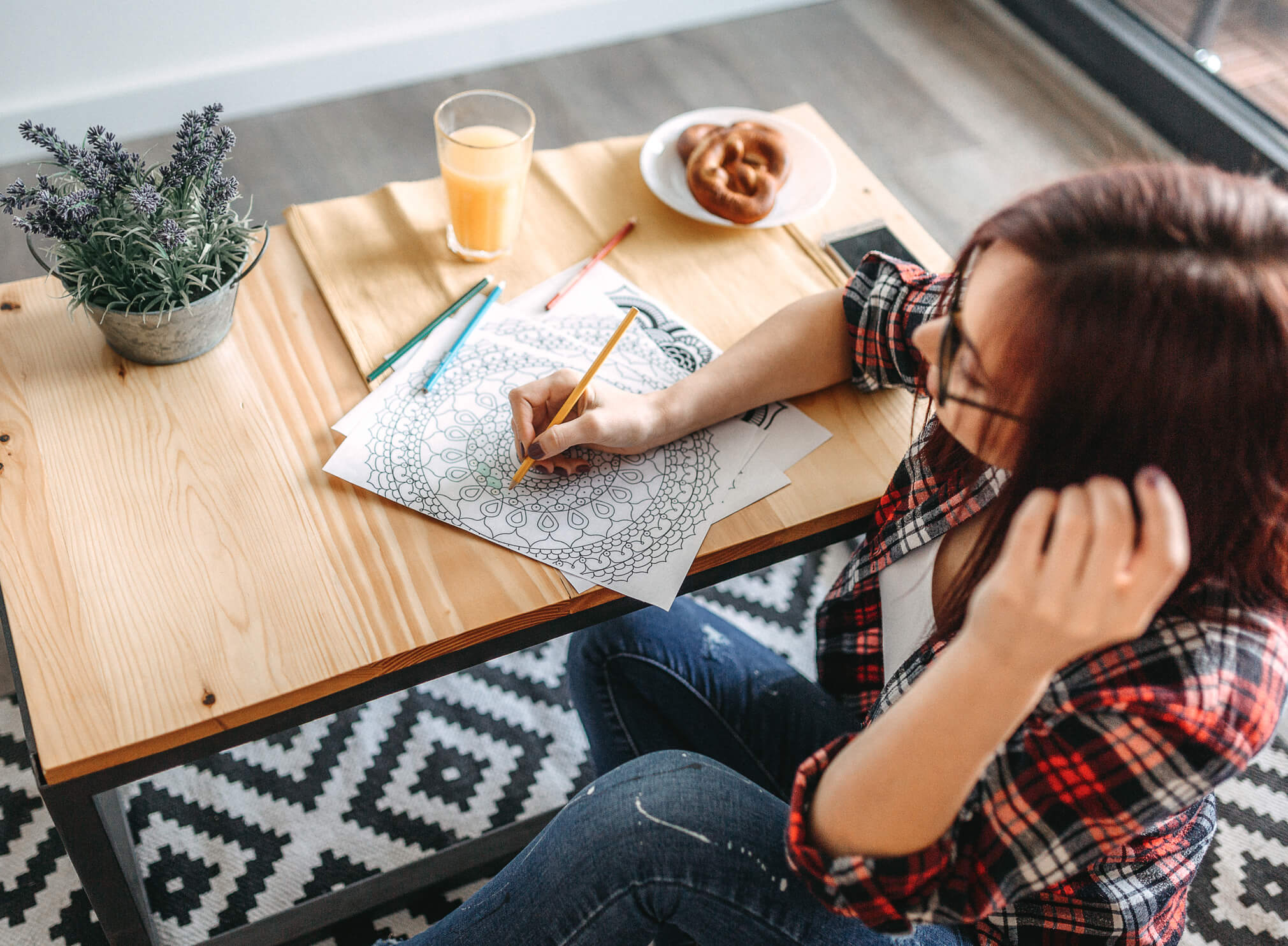 Connecting through art
The latest data from the ABC's Australia Talks National Survey shows young people are struggling more than any other age group when it comes to mental health.
"There is no judgement in art therapy."
Art can help. Even something as simple as taking a picture on a mobile phone can give young people the tools they need to express powerful emotions, as this exhibition of photographs taken by young people in the UK demonstrates.
Recognising the importance of the arts in mental health, Australia's Black Dog Institute has teamed up with the Art Gallery of NSW to produce a series of webinars designed to connect people with art.
The Photography Movement encourages people of all ages to discuss mental wellbeing through the medium of photography. Their Calm exhibition, mounted in a London gallery but cleverly designed to allow anyone in the world to 'visit' the gallery, explores themes of mental health through photographic imagery.
Dean Mitchell's self-portrait is one of many photographs that line the walls of the gallery.
'Just over a year ago anxiety and depression contributed to me considering suicide. I got help, I talked, I survived,' Dean wrote in the caption below his photograph.
What is art therapy?
Art therapy is not about becoming a great artist, or producing great works of art. It's about using the process of creating art to acknowledge and recognise feelings that you may not have been able to put into words. Sessions of art therapy are normally overseen by a qualified therapist.
What can art therapy do?
Art therapy is a powerful tool that can help you express yourself when you may not be able to find the words to articulate your thoughts and emotions. It can also help to:
improve self-esteem
release emotion
reduce stress
increase mental focus
The whole point about art therapy is that you don't have to try too hard. You're not trying to create something perfect, or right, or better than anyone else, you're simply exploring what happens when you use the creative part of your brain.
'There is no judgement in art therapy,' Megan explains. 'That scribble you put on paper, or that splash of coloured paint you throw at a canvas, is your unique creative expression.'
The power of art therapy
'You don't have to be an artist or 'good at art' for art therapy to work its magic,' says Megan. 'It's the process of making art, rather than the outcome, that matters.'
That process can also be a lot of fun.
'Unleashing your feelings onto paper can help relieve stress that might otherwise be trapped in your body. Something as simple as doodling can interrupt negative thinking and help re-set your brain.'
Art therapy works for people of all ages, and it can be especially helpful for children.

'Children and young people can often find it difficult to verbalise their feelings. Drawing a picture, then talking about it later, is a useful way to access and understand those feelings,' Megan explains.
You can attend individual or group art therapy sessions with a trained counsellor if you want to use art therapy as a treatment, or you can use art at home to explore your creativity, increase your focus and improve your wellbeing.
Zentangles and stick figure
Try this simple step-by-step tutorial on drawing 'zentangles' to help you relax, find focus and enter a peaceful state of flow. Slow, measured breathing at the same time may also help to reduce anxiety.
Another exercise you can try at home is to draw yourself and try to capture how you feel as a stick figure, or simple outline.
'Don't plan how you'll draw yourself, just put pen to paper and see what comes out. You may be surprised at the results,' says Megan.
'Over the course of several weeks, you can then try to draw yourself feeling better, adding in what you think you need to improve the way you feel'.
If you need help now
If you need immediate access to mental health support, contact 000 in an emergency or reach out to one of these services:
For crisis support:
For general mental health support:
All information contained in this article is intended for general information purposes only. The information provided should not be relied upon as medical advice and does not supersede or replace a consultation with a suitably qualified healthcare professional.

Culture dose: Joy in everyday life :: Art Gallery NSW
Arts Therapy - Allied Health Professions Australia (ahpa.com.au)
Art therapy for mental health recovery (healthywa.wa.gov.au)
Research: how arts can help | Mental Health Foundation
Mental Health – The Facts - The Photography Movement
Young people are struggling the most with their mental health. Here's what they've learned from asking for help - ABC News
Health and wellbeing
programs & support
You Belong to More with CBHS Hospital cover:
Greater choice over your health options including who treats you
Get care at home with Hospital Substitute Treatment program
Free health and wellbeing programs to support your health challenges
Live your healthiest, happiest life with CBHS Extras cover:
Benefits for proactive health checks e.g. bone density tests, eye screenings
Keep up your care with telehealth and digital options
Save on dental and optical with CBHS Choice Network providers