At CBHS we help you manage your health challenges. We believe in offering you the services, support and tools you need to live your best life.
Our Better Living Programs are available to support eligible members towards a healthier lifestyle. Each Better Living Program is subject to its own eligibility criteria.
Contact us for more information and to confirm your eligibility for a program.
How is your food safety IQ?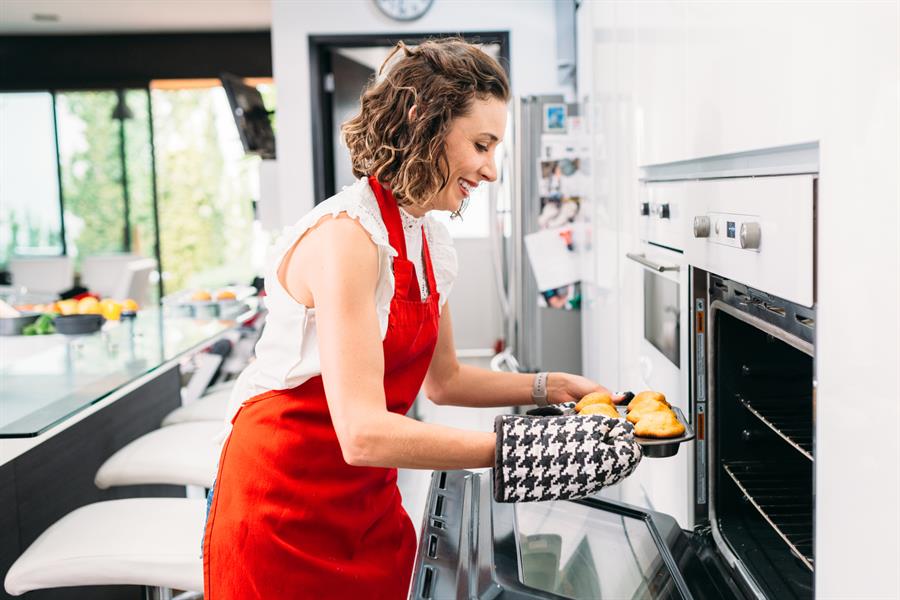 When some foods, like milk, are past their peak, there's an unmistakable smell that says, "Don't eat or drink me". You know the one – it's pretty tough to ignore! But, bacteria and germs that can make you sick can be lurking in food that looks and smells perfectly fine too. Foodborne illness, better known as 'food poisoning', can be caused by harmful bacteria, viruses or toxins that you can't detect. In fact, most food poisoning bacteria actually do not cause food to look, smell or taste 'bad'.
When storing, prepping and making food for yourself, your family and your friends, it's important to follow the safety steps at each stage of the 'food safety lifecycle' – from shops to plate. That way, you're limiting the opportunities to infect food or for bacteria and toxins present in food being able to multiply to reach harmful levels. And, you can't be blamed for giving everyone the dreaded "runs" or something a lot more serious! While most people will have an unpleasant time if they contract food poisoning, it can be very dangerous for people with low immune systems, pregnant women and people aged over 65.
For the best chance of avoiding illness, you need to consider food safety across all these stages:
Shopping
Storage
Preparation
Defrosting
Cooking
Serving
Leftovers
Refreezing
First, what are the symptoms of food poisoning?
Most people will unfortunately experience foodborne illness at some point in their lifetime. The NSW Food Authority say it affects more than 4.1 million Australians each year. Be aware of the most common symptoms of severe food poisoning and see your GP if you experience symptoms such as:
High fever (temperature over 39°C when measured orally)
Blood in your stools (poo)
Diarrhea that lasts more than three days
Repeated vomiting that prevents you keeping liquids down, which can result in dehydration
Dehydration, which causes symptoms such as dry mouth and throat, feeling dizzy when standing up, and little or no urination.
If the person is at risk of dehydration e.g. babies and the elderly, consult a healthcare professional as early as possible.
A common misconception is that food poisoning symptoms will start shortly after eating the 'bad' food. However, you may not get sick for as many as three days after eating it. It can take that long for the microbes to multiply to harmful levels inside your intestines.
Uh oh, I do have food poisoning
It's important to rest and get well, and also not to spread the bugs to anyone else now. Stay at home and keep well hydrated. Try taking small sips of water often. You can also try to eat when if you feel up to it, but stick to small amounts of bland food, like crackers, rice, toast or a banana. You will probably wonder what helps with food poisoning and how you can feel better faster. Aside from staying hydrated and resting, there's not much you can do aside from wait it out. Of course, if your symptoms don't resolve within three days or you begin to become dehydrated, you will need to seek medical attention.
Follow good hand hygiene practices, especially after using the toilet. And don't share cutlery, plates, drink bottles etc. You'll need to take a break from preparing any food for others while you're sick and for two days afterwards.
Generally, food poisoning symptoms resolve anywhere from a few hours to a few days. It depends on what microbes are responsible. If you've had food poisoning, you need to wait for 48 hours after your symptoms have passed before returning to work or school.
Safety from shop to plate: what to look out for at each stage of the food safety lifecycle
By following these simple steps, you can be sure that your cooking is remembered for all the right reasons! Especially during those summertime months when we're typically doing more entertaining and the days are warmer.
Shopping
Choose your refrigerated or frozen goods after selecting your non-perishables. If you select them at the start of grocery shop, they are out of their chilled environment for your whole shopping trip plus the journey home.
Never choose meat, fish or poultry in packaging that is torn or leaking
Do not purchase food after "sell-by" "use-by" or other expiration dates
Storage
Perishable foods are foods that spoil quickly and need to be stored properly to keep them fresh and to slow the growth of bacteria. Some examples of perishable foods include: meat, poultry, seafood, eggs, dairy products, fruits and vegetables. The freezer is the safest place to store meat (fish, chicken, pork, beef, lamb) for a long time. You can safely freeze meats indefinitely.
To increase safety, reduce food waste and maximise the shelf life of your food, follow the storage tips below:
Check the temperature of your refrigerator and freezer with a digital thermometer. The refrigerator should be at 5°C or below and the freezer at -15°C or below.
After shopping, always refrigerate perishable food within two hours. However, if the day's temperature is above 32°C, pop the food in the fridge or freezer within one hour of purchasing it.
Make sure to freeze or cook poultry or fish within two days of purchase. For beef, veal, lamb or pork make sure to freeze or cook within 3-5 days.
Perishable food like poultry and meat should be securely covered to prevent meat juices from contaminating other food stored within the fridge and to maintain quality. It's also best to keep meat on the bottom shelf in case of accidental leakage.
Write the 'use by' date on any food that is not stored in its original packaging, so you don't forget.
Canned foods should not be exposed to freezing temperatures or temperatures above 32°C. Always check to make sure that the cans look okay and are safe to use. Dispose of cans that are rusted, dented or swollen. Low acid canned food (vegetables, meats) will maintain their best quality for 2-5 years and high acid canned food (tomatoes, fruits) for 12-18 months.
Preparation
Always wash hands with warm water and soap for 20 seconds before and after handling food.
When using gloves, exchange them for a new pair or dispose of them at any time when you would usually wash your hands; for example, after coughing, sneezing, handling raw food, or using the toilet.
Separate, don't cross-contaminate. Keep raw meat, poultry, fish and their juices away from other food. You may like to have a dedicated chopping board for raw meats.
To sanitise chopping boards, countertops and utensils, use a solution of 15ml of unscented, liquid chlorine bleach in 3.8L of water.
Defrosting
Use the fridge to defrost food slowly and safely. Keep meat, fish and poultry on the bottom shelf to ensure juices do not drip onto other food whilst defrosting.
To decrease defrosting time, place food in a plastic bag or leak-proof container and submerge in cold tap water. Change water every 30 minutes. Cook immediately after defrosting.
You must immediately cook any meat, poultry and fish which has been defrosted using the microwave.
Cooking
Lamb, pork, beef, roast, chops and veal steaks: Cook to an internal minimum temperature of 63°C (as measured with a food thermometer), before removing meat from the heat source. Without a thermometer, be sure that your meat is cooked thoroughly. Allow meat to rest for at least three minutes before cutting or consuming for quality and safety. If you prefer, you can cook meat at higher temperatures.
Ground meats: Cook all ground (mince) beef, lamb, veal, pork to an internal temperature of 75°C measured using a food thermometer. If you don't have a thermometer, ensure that it is cooked all the way through with no pink.
Poultry: Cook all poultry to an internal temperature of 75◦C measured using a food thermometer. Chicken must be cooked through thoroughly − white all the way to the centre.
Serving
Perishable food should not be left out for more than two hours at room temperature. If the room temperature is above 32°C, it should not be out for longer than one hour.
When serving food at a buffet, keep food hot on warming trays, in slow cookers, and chafing dishes (buffet food warmer). Keep food cold by placing dishes in bowls of ice or use small serving trays and refill them frequently.
Hot food must be kept at 60°C or higher.
Ensure cold foods are kept at 5°C or below.
Dealing with leftovers
Dispose of any food left out at room temperature for more than two hours.
For rapid cooling, place food into a shallow container and promptly put in the refrigerator or freezer.
Use cooked leftovers within four days.
Reheat leftovers to above 75°C for at least two minutes, or until steaming hot to kill any bacteria which may have grown on the food in the fridge.
Refreezing
You can refreeze poultry and meat that has been defrosted in the refrigerator at 5°C or below for no longer than 24 hours either before or after cooking. If defrosted outside of the fridge (microwave, cold water etc.), cook before refreezing.
The freezing process does not kill harmful bacteria, however it does slow or inactivate their growth. Once thawed, these bacteria, microbes etc. will continue to grow, which can lead to foodborne illness if the food isn't handled or cooked correctly.
How much did you learn? Take our quick food safety quiz!
How long should you wash your hands for?
What is the safest way to defrost food?
What should the refrigerator and freezer temperature be?
How long can food be left out at room temperature before it must be thrown away?
What do you do if you find meat or fish with packaging that is torn or leaking but it's on sale for $5 or $10 cheaper?
Answers
20 seconds.
In the fridge, but be careful that the defrosting meat, fish and poultry juices do not drip onto other food.
The refrigerator should be at 5°C or below and the freezer at -15°C or below.
Food can be left out for up to two hours generally, or up to one hour if the room temperature is above 32°C.
Do not buy it. Report the leaking packaging to staff.
Did you get them all right?
References
https://www.foodstandards.gov.au/publications/documents/3_2_2.pdf
https://www1.health.gov.au/internet/main/publishing.nsf/content/5FFB6A30ECEE9321CA257BF0001DAB17/$File/Food%20Safety%20Fact%20Sheet.pdf
https://www.betterhealth.vic.gov.au/health/HealthyLiving/food-safety-and-storage
https://www.foodsafety.gov/keep-food-safe/4-steps-to-food-safety#clean
https://www.qld.gov.au/health/staying-healthy/food-pantry/poisoning/foodborne-illness
https://www.fsis.usda.gov/wps/wcm/connect/d8151061-bb50-46db-b87e-a3b9022c0c56/Kitchen_Thermometers.pdf?MOD=AJPERES
https://www.foodauthority.nsw.gov.au/consumer/food-poisoning
All information contained in this article is intended for general information purposes only. The information provided should not be relied upon as medical advice and does not supersede or replace a consultation with a suitably qualified healthcare professional.
Health and wellbeing
programs & support
You Belong to More with CBHS Hospital cover:
Greater choice over your health options including who treats you
Get care at home with Hospital Substitute Treatment program
Free health and wellbeing programs to support your health challenges
Live your healthiest, happiest life with CBHS Extras cover:
Benefits for proactive health checks e.g. bone density tests, eye screenings
Keep up your care with telehealth and digital options
Save on dental and optical with CBHS Choice Network providers