At CBHS we help you manage your health challenges. We believe in offering you the services, support and tools you need to live your best life.
Our Better Living Programs are available to support eligible members towards a healthier lifestyle. Each Better Living Program is subject to its own eligibility criteria.
Contact us for more information and to confirm your eligibility for a program.
How much water do we need?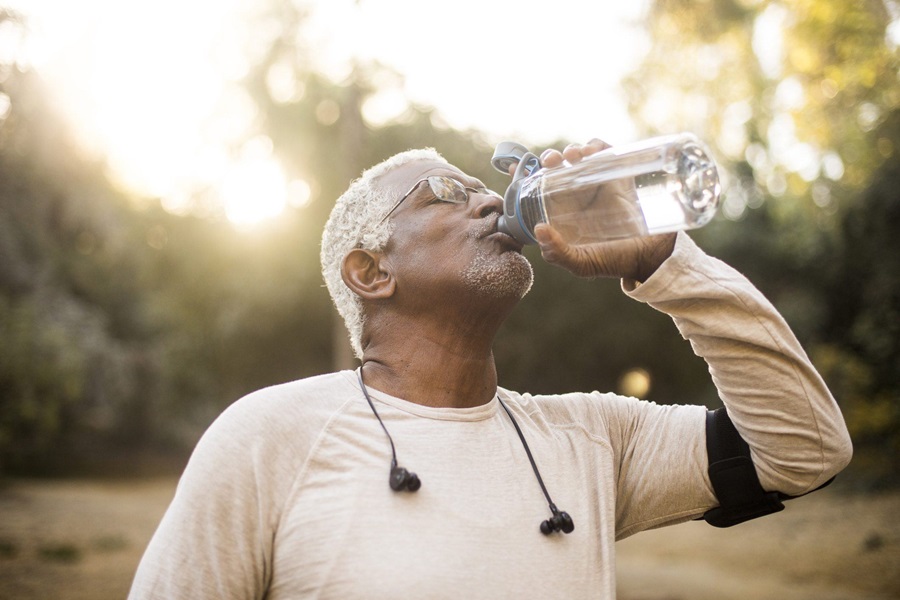 The Australian Dietary Guidelines recommends water as the best drink to quench a thirst. It has no sugar, no carbohydrates and most tap water contains fluoride which can help to prevent tooth decay. It's also cheap and readily available.
Why we need to drink water?
Drinking water is essential for our health as our bodies need it to function properly. Tap water is the best choice for hydration, and in most parts of Australia, fluoride is added to the water which helps to protect your teeth from decay.
If you don't drink enough water, you might experience some of the signs of dehydration including:
dark urine
thirst or a dry mouth
headache
confusion
difficulty concentrating
tiredness
muscle cramps
loss of appetite
In extreme cases, dehydration can even lead to fainting.
How much water should we drink?
The amount of water we need varies depending on our age, weight, sex and other factors such as individual metabolism, the temperature and how much we're exercising.
Generally, the average intake recommended for adult men is 10 cups of fluid each day and eight cups for women. Pregnant or breastfeeding woman need nine cups. One cup is equivalent to 250ml. You can check out the recommended water intake for all ages on eatforhealth.gov.au.
A good indication of your hydration level is the colour of your urine. You can check the urine colour chart at Healthdirect Australia to see if you're dehydrated.
Is bottled water better than tap water?
In Australia, tap water is just as effective at hydrating the body as bottled water. It's also just as safe as bottled water unless there has been an incident in the area that affects the water supply. The fluoride in tap water also helps to keep your teeth healthy.
According to Healthdirect Australia, bottled water can contain less minerals than tap water and can also contain higher levels of harmful substances like nitrate, chlorine, and chemicals released from plastic – besides, plastic bottles are not good for the environment.
When do we need to drink more water?
Exercise
Staying hydrated is particularly important when exercising, especially because we lose water as sweat. It also helps you get the most out of your workout and fight fatigue. To ensure you're getting enough, drink water before, during and immediately after working out.
Hot weather
On very hot days, your body can lose water quickly through sweat. Sweat is needed to maintain an even body temperature, but if you don't drink enough water, it's harder for your body to keep cool and comfortable. If you find yourself sweating, be sure to increase your intake of water. Heated indoor air during winter can also cause your skin to lose moisture.
Illness or health conditions

If you're unwell, you can lose water through symptoms like diarrhoea, vomiting or a fever, so it's important to drink more water. Staying well hydrated also helps to thin mucous, helping to ease and clear congestion. People with chronic kidney disease, heart failure or liver disease, who can't get rid of water from their bodies as easily, should talk with their doctor about how much water to drink.
Tips for drinking more water
1. Add flavour to your water
If you don't like the taste of plain old water, you can add flavour with a few drops of lemon or lime juice, a slice of orange or even some fresh herbs. For hot days some frozen berries will also add extra taste and cool your water.
2. Carry a water bottle with you
Taking a water bottle with you to work or on a trip to the shops makes staying hydrated easy. Stainless steel bottles keep your water cool and refreshing and are sturdy for transporting. Having a water bottle close to hand will see you sipping throughout the day, and before you know it you'll reach your recommended intake.
3. Get in a routine
Drinking at regular intervals will keep you hydrated throughout the day. Start your morning with a big glass, have another at morning tea, then lunch, afternoon tea, dinner and bedtime. If you're not good at keeping a routine, try setting a water reminder on your phone or smartwatch.
All information contained in this article is intended for general information purposes only. The information provided should not be relied upon as medical advice and does not supersede or replace a consultation with a suitably qualified healthcare professional.
Sources
https://www.healthdirect.gov.au/drinking-water-and-your-health
https://www.abc.net.au/news/health/2017-10-18/how-much-water-do-we-need-to-drink-a-day/8996668
https://www.eatforhealth.gov.au/guidelines/australian-guide-healthy-eating
https://www.eatforhealth.gov.au/nutrient-reference-values/nutrients/water
https://www.eatforhealth.gov.au/nutrient-reference-values/nutrients/fluoride-updated-2017
Health and wellbeing
programs & support
You Belong to More with CBHS Hospital cover:
Greater choice over your health options including who treats you
Get care at home with Hospital Substitute Treatment program
Free health and wellbeing programs to support your health challenges
Live your healthiest, happiest life with CBHS Extras cover:
Benefits for proactive health checks e.g. bone density tests, eye screenings
Keep up your care with telehealth and digital options
Save on dental and optical with CBHS Choice Network providers