At CBHS we help you manage your health challenges. We believe in offering you the services, support and tools you need to live your best life.
Our Better Living Programs are available to support eligible members towards a healthier lifestyle. Each Better Living Program is subject to its own eligibility criteria.
Contact us for more information and to confirm your eligibility for a program.
How to look after your teeth  and gums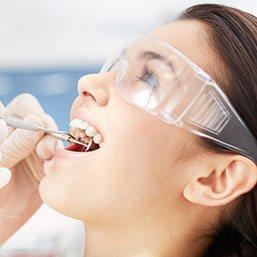 Brushing your teeth
For many of us, brushing our teeth is second nature and we often don't spend much time analysing our technique. As your dentist has probably told you, the way you brush your teeth is very important.
When should you brush your teeth?
The Australian Dental Association (ADA) recommends brushing your teeth for two minutes morning and night.
What toothbrush should you use?
ADA recommend using a soft-bristled toothbrush with a small head and a flexible neck. You can also use an electric toothbrush if you find that easier. Some of the electric toothbrushes come with a two-minute timer which makes it easier to brush for the right amount of time. There's a lot of electric toothbrushes on the market and if you need help choosing one, read the Choice guide on how to buy the best electric toothbrush.
What toothpaste should you use?
While the choice of toothpastes available in a supermarket can be overwhelming, the ADA recommends choosing a toothpaste that contains fluoride. You only need a pea-sized amount of toothpaste.
Your brushing technique
The ADA recommend not pressing too hard on your teeth as your brush. If you press hard, you increase your risk of wearing away the enamel on your teeth and damaging your gums. A good sign that you're pressing too hard is if your bristles start to wear out well before the three-month mark.
It's a good idea to start brushing your teeth from the gumline at a 45-degree angle, and brush in a circulation motion. If you have an electric toothbrush, it's a good idea to slowly move the brush along your teeth, following the curve of your gums.
Many of us are in the habit of rinsing our mouths after we finish brushing our teeth, but ADA recommend we finish with just a spit.
When should you replace your brush?
You'll need to replace your toothbrush when the bristles start to spread and get wider than the width of the base of the brush or every three months, whichever comes first. You should also replace your brush after you've been sick.
Flossing your teeth
Flossing should also be a part of your dental hygiene routine. You should floss once each day, either morning or night, and you should floss for two minutes. The ADA recommends the following steps:
1. Wind about 45 cm of floss around your middle fingers and rest it across your thumbs and index fingers
2. Insert the floss gently between your teeth and clean between them using an up and down motion
3. Slide the floss under the little collar of each gum and then back up the other side
You can also ask your dentist to show you the best way to floss next time you go in for a check-up.
Regular dental check-ups
It's important to see your dentist regularly as they can often spot the early signs of tooth decay. They can also advise you if your brushing or flossing technique isn't cleaning your teeth effectively. You should check with your dentist how often you should have a dental check-up. Even if you don't have any symptoms or tooth pain, it's still important to regularly see a dentist.
Lifestyle changes to protect your teeth
As well as brushing and flossing your teeth, there are also lifestyle measures you can take to improve your dental health.
Stop smoking
It probably doesn't come as a surprise, but smoking can cause staining and discolouration of your teeth. It's the nicotine and tar in the cigarettes that causes this to happen. As well as a range of other health problems, smoking can also reduce the blood flow to your teeth and gums and contribute to teeth loss. Smoking also increases your risk of developing oral cancer and decreases the production of saliva which helps to protect your teeth from decay.
Reduce your alcohol intake
Regularly drinking too much alcohol can also result in damage to your teeth. The sugar and acidity in alcohol can contribute to erosion of your teeth. If you need help with managing your alcohol intake, read our article on alcohol and your health.
Limit sugary foods and drinks
Consuming added sugar in foods and drinks is one of the main causes of tooth decay. It's not only chocolate and sweets that contain high levels of sugar, there's also a lot of sugar in highly processed carbohydrate foods such pastries and some pastas. You should also particularly avoid soft drinks, sports drinks and fruit juices as these are all high in sugar.
Sources
https://www.ada.org.au/Your-Dental-Health/Adults-31-64/brushing
https://www.ada.org.au/Your-Dental-Health/Adults-31-64/Lifestyle-Risks-(1)
https://www.choice.com.au/health-and-body/dentists-and-dental-care/dental-products/buying-guides/electric-toothbrushes
https://www.healthdirect.gov.au/teeth-cleaning
https://www.aihw.gov.au/reports-data/health-conditions-disability-deaths/dental-oral-health/reports
https://www.betterhealth.vic.gov.au/health/conditionsandtreatments/teeth-care
All information contained in this article is intended for general information purposes only. The information provided should not be relied upon as medical advice and does not supersede or replace a consultation with a suitably qualified healthcare professional.
Health and wellbeing
programs & support
You Belong to More with CBHS Hospital cover:
Greater choice over your health options including who treats you
Get care at home with Hospital Substitute Treatment program
Free health and wellbeing programs to support your health challenges
Live your healthiest, happiest life with CBHS Extras cover:
Benefits for proactive health checks e.g. bone density tests, eye screenings
Keep up your care with telehealth and digital options
Save on dental and optical with CBHS Choice Network providers