At CBHS we help you manage your health challenges. We believe in offering you the services, support and tools you need to live your best life.
Our Better Living Programs are available to support eligible members towards a healthier lifestyle. Each Better Living Program is subject to its own eligibility criteria.
Contact us for more information and to confirm your eligibility for a program.
Member interview with     Michael Hogan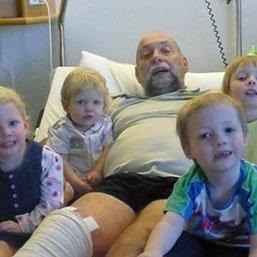 An extremely happy CBHS member Michael Hogan, underwent a Total Knee Replacement in August this year at a private hospital.
Following his five day recovery and with consent from his surgeon, he chose to continue his rehabilitation in the comfort of his own home through our Rehabilitation At Home program as an alternative to inpatient rehabilitation.
CBHS Clinical Health Manager, Samuel, recently caught up with Michael to discuss the Rehabilitation At Home program and to ask him how he found this service and if he would recommend it to other CBHS members.
The Rehabilitation At Home program is available to members who hold hospital cover or a packaged product and if the service or treatment would be covered in a private hospital under the relevant product.


Can you describe how the op went?
The operation itself went very slowly, it was probably the most painful operation I have ever had but in saying that the nurses and doctors cared for me very well.
It took some time to get over the pain….I was in hospital for 5-6 days and it took quite a few weeks to recuperate from it.


How did you gain access to the actual Rehabilitation At Home Program?
When I phoned through initially just to find out what was covered, i.e. knee replacement parts themselves, the staff at the health fund brought it to my attention that it was available.


So it was Member Care?
Yes they told me that it was available [and that] if I wish to use it they would contact the appropriate people who would touch base with me and let me know more about it.


Once you enrolled in the Rehabilitation At Home program, what was your experience with them?What were the benefits?
The Rehability program [Rehabilitation At Home program], I think, put me weeks in front of where I would have been otherwise. The lady that came out to look after me was extremely proficient and professional, she took no prisoners, she didn't take it easy on you … you had to work hard. She did her job extremely well. She set me a program to follow, exercises to complete before she came back, she gave me "homework" every day that she was there. Without her I don't think I would have recuperated from this operation as quickly as I did.
The surgeon that operated stated he was extremely impressed/ pleased at my progress and obviously been given the right exercises and guidance by the physiotherapist.
Having it in the home takes away one of the greatest pressures that you could have at that stage, as mobility is your [biggest] problem.
If you have to go out to your local physio up to two times a week, that means you have to get into a car, which means bending your knee ([putting] you in a fair bit of pain), then you've got to park and then walk, and vice versa getting home. Having it at home [means you] also get the advantage of using the day to day utilities in the house. [This means that] you're using what you use normally, not the physios equipment.


How do you feel now?
I feel great. In fact I have [just] returned from a two week trip in Vietnam.


Did you do a lot of hiking?
I actually climbed and crawled through a cave, and the streets of Hanoi and Ho Chi Minh aren't exactly what you call flat - they're quite up and down. I had no problems whatsoever. I went back to see the surgeon last week and his only comment was to say how impressed he was with the recovery and [that I don't] need to see him anymore.


What do you recommend other members do in similar conditions?
I would recommend it to anybody. It has a lot to do with the people that you're dealing with and I have no doubt that these people are screened very, very closely for their professionalism and expertise … I would recommend it to anybody, as it's an extremely difficult operation to get through. It is not easy and [it's] quite painful, and it does require a lot of exercise to get you back on your feet. [It helps if] you've got someone there helping you and pushing you.


Is there anything else you'd like to add?
I'd recommend it to anybody, it's a hard road to go through but this just made it so much easier.
I very much appreciate what you guys have done for me. If you hadn't have mentioned it to me I wouldn't have known it existed, so by all means put it out there so people can see it - it is a good service.
All information contained in this article is intended for general information purposes only. The information provided should not be relied upon as medical advice and does not supersede or replace a consultation with a suitably qualified healthcare professional.
Health and wellbeing
programs & support
You Belong to More with CBHS Hospital cover:
Greater choice over your health options including who treats you
Get care at home with Hospital Substitute Treatment program
Free health and wellbeing programs to support your health challenges
Live your healthiest, happiest life with CBHS Extras cover:
Benefits for proactive health checks e.g. bone density tests, eye screenings
Keep up your care with telehealth and digital options
Save on dental and optical with CBHS Choice Network providers