At CBHS we help you manage your health challenges. We believe in offering you the services, support and tools you need to live your best life.
Our Better Living Programs are available to support eligible members towards a healthier lifestyle. Each Better Living Program is subject to its own eligibility criteria.
Contact us for more information and to confirm your eligibility for a program.
Member of 43 years, Rob, wins first prize in our $25,000 member giveaway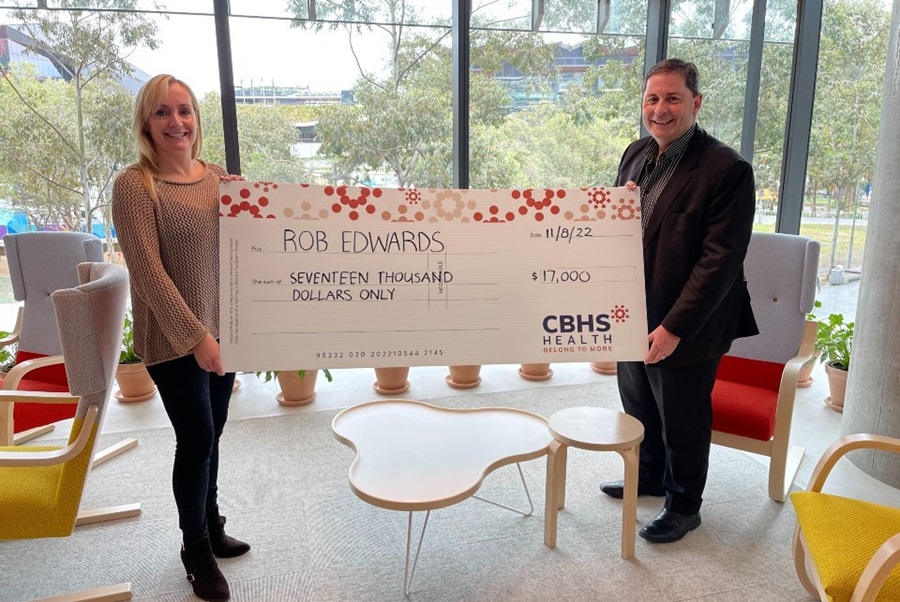 Rob, a father of three, CommBank program manager and avid tennis player, got more than he bargained for when he encouraged his eldest son, Jason, to take out health cover with CBHS. Jason went on to join CBHS on Hospital and Extras during our FY22 'Member Get Member' referral promotion. Rob thought he might get a gift card or similar out of the referral, and didn't think much more of it.
Imagine Rob's surprise when we made a call to let him know he had just been drawn as the main prize winner of the competition which offered a total prize pool of $25,000 cash!
"I just about fell off my chair!", said Rob, who was working from home that day, "I didn't even know about the competition!" Rob straight away knew what he was going to do with his first prize payment of $17,000. He has given it all to Jason, who is getting married in March 2023. Every cent! The money will help fund the couple's wedding in beautiful Shoal Bay NSW, and help them save for a European honeymoon.
Rob has been a loyal CBHS member for 43 years. That's as long as he's been in the bank! He signed up as a young teller at the Glebe branch, and the CBHS membership forms were part of the pile of induction paperwork.
"I couldn't tie a tie back in those days, so I had one of those ones with elastic around the neck and the girls would be joking around and pulling my tie so it snapped back," he said, of his early days in the branches.
Rob met his wife through the bank as well, at the Concord branch. And it's been a family affair ever since − their three sons have all spent time working in the bank.
Now in Business Lending, Rob has worked in many areas of the bank, and many different locations across Sydney too! One thing that hasn't changed, is his CBHS membership.
"Claiming has always been easy. I remember the days of paper claims and back then, everything was paper-based in the bank too. We've used our cover many times over the years."
We're delighted to have the next generation of Rob's family onboard and wish them all the best for the next exciting chapter ahead.
Health and wellbeing
programs & support
You Belong to More with CBHS Hospital cover:
Greater choice over your health options including who treats you
Get care at home with Hospital Substitute Treatment program
Free health and wellbeing programs to support your health challenges
Live your healthiest, happiest life with CBHS Extras cover:
Benefits for proactive health checks e.g. bone density tests, eye screenings
Keep up your care with telehealth and digital options
Save on dental and optical with CBHS Choice Network providers