Mindfulness and mindful eating: An activity to get started
What is mindfulness?
Mindfulness is a powerful technique that can help you to be fully aware and present in what you are doing in the moment. Practising mindfulness brings awareness to your state of mind, via your thoughts, emotions and senses, and can help you cope with everyday life as well as stressful moments. Mindfulness enables our mind to be calmer and gives us more clarity to make better decisions.
Some health professionals use mindfulness as part of treatment plans for conditions like eating disorders, depression and anxiety.
Mindfulness can be applied to regular daily activities, including eating, which is commonly known as mindful eating.
How does it apply to eating?
Mindful eating encourages us to remove all distractions when eating and allows us to take time to enjoy our meal, by being present in the moment. Too often, we eat on autopilot and don't pay attention to our meal, especially if we're watching TV or using our phone at the same time. By slowing down our eating, we get the time to use all our senses to savour the flavours and textures of the food.
Can it really help me lose weight?
Although weight loss isn't the main goal of mindful eating, it can be a by-product. Eating mindfully allows us to tune into hunger cues to help us tell the difference between emotional and true, physical hunger. This means we become less prone to eat out of boredom, stress or due to emotions, and be more mindful of our food choices which can aid in weight loss. Mental health charity headspace report that a 2013 South Australian study showed that people who used mindful eating ate smaller portions. They also cite a multi-study review which found mindful eating to be effective in overweight people trying to lose weight.
The clearer our mind is, the more content we will be, and so even on days we may slip up and eat emotionally, we put less pressure on ourselves. Ultimately, mindful eating supports a healthier relationship with food and our bodies, contributing to positive eating behaviours.
Try mindful eating for yourself, using our infographic below.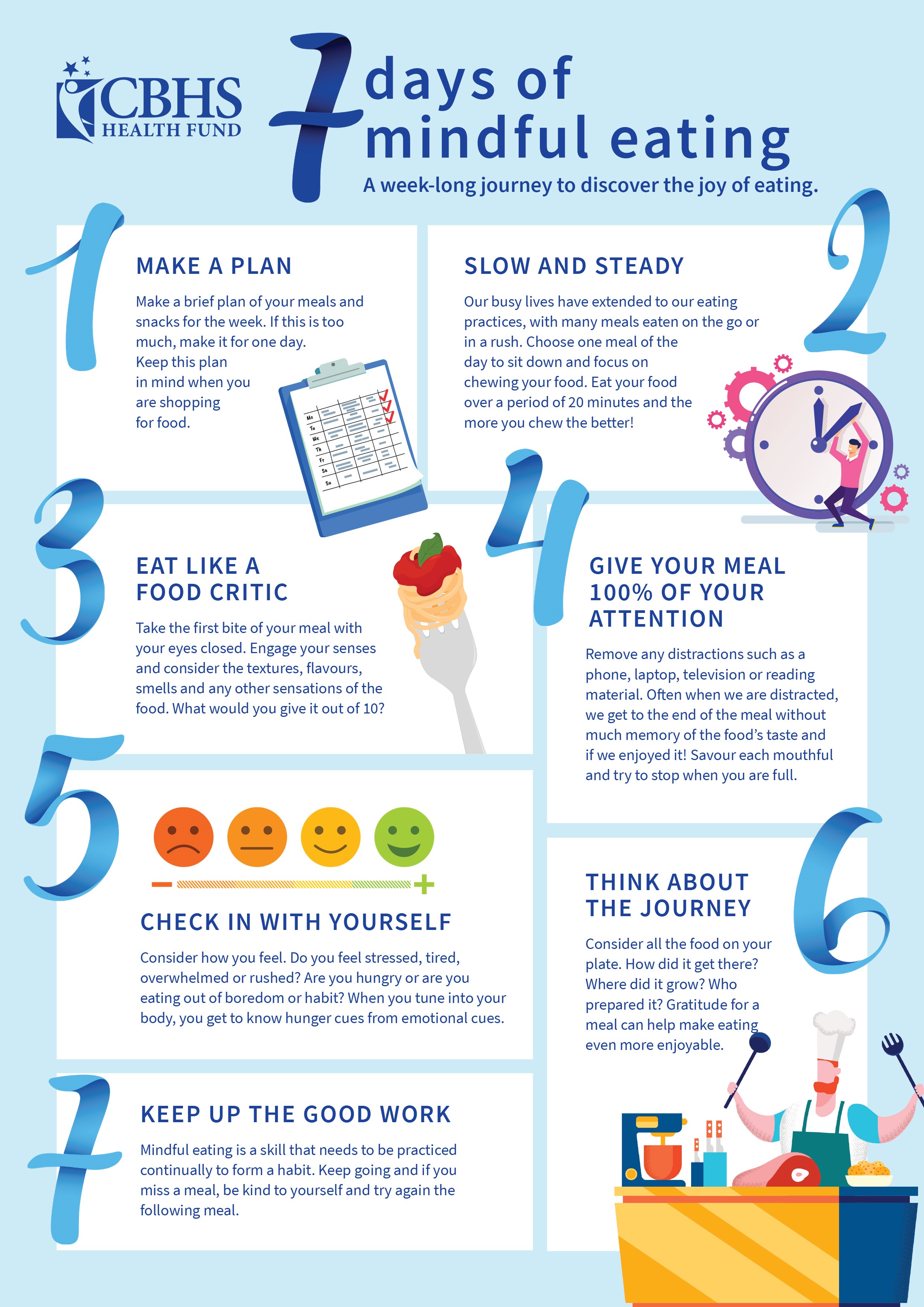 All information contained in this article is intended for general information purposes only. The information provided should not be relied upon as medical advice and does not supersede or replace a consultation with a suitably qualified Health Care Professional.
Health and wellbeing
programs & support
You Belong to More with CBHS Hospital cover:
Greater choice over your health options including who treats you
Get care at home with Hospital Substitute Treatment program
Free health and wellbeing programs to support your health challenges
Live your healthiest, happiest life with CBHS Extras:
Benefits for proactive health checks e.g. bone density tests, eye screenings
Keep up your care with telehealth and digital options
Save on dental and optical with CBHS Choice Network providers