At CBHS we help you manage your health challenges. We believe in offering you the services, support and tools you need to live your best life.
Our Better Living Programs are available to support eligible members towards a healthier lifestyle. Each Better Living Program is subject to its own eligibility criteria.
Contact us for more information and to confirm your eligibility for a program.
Food for thought: how to be mindful with every meal you enjoy
Let's start thinking about the basics: what is mindfulness?
Put simply, it is a powerful technique based on a Buddhist practice that helps you stay aware and present in the moment – whatever you're doing. You can be reading, working, even doing the dishes or taking a shower – it's all about staying 'in the now' and really savouring the moment.
Practising mindfulness brings awareness to your state of mind, via your thoughts, emotions and senses. It can help you cope with everyday life – the good, the bad and even the stressful moments by calming your mind and giving you more clarity.
Some health professionals use mindfulness as part of treatment plans for conditions like eating disorders, depression and anxiety.
The basics of mindful eating
Being aware and in the moment when you're sitting down to a meal involves the following key ideas:
Eating at a relaxed pace free of distractions
Listening to your body and its true, physical hunger cues
Eating until you're full – and not until you're bloated
Enjoying food with all of your senses
Noticing the smells, flavours, colours and textures of your food
Genuinely appreciating every bite
Eating for your health and wellbeing
Becoming more aware of the effect food has on your body and mind.
It's also based on slowly, but surely, dealing with any negative emotions you may have around food such as guilt and anxiety.
"You can practice mindfulness even when you're doing the dishes, reading and especially when you're eating."
Why is this way of eating important for your mind, body and general wellbeing?
Have you ever sat down to eat and just chewed on autopilot? We all do it. In fact, not paying attention when we eat, especially while watching TV or using our phones, is very common. Mindful eating is based on removing all these distractions when you're enjoying a meal and really staying present in the moment. You 'switch on' your awareness, chew slowly and with intention, without rushing the experience.
It really is about taking the time to use all your senses and savour the flavours and textures of the food on your plate.
Is mindful eating a way to lose weight?
Although weight loss isn't the main goal here, staying focused on your food and how you eat it, can mean some people do lose weight.
Eating mindfully will allow you to tune into hunger cues so you can tell the difference between emotional and true, physical hunger. This means you'll be less likely to eat because of:
Being more mindful of your food choices can set you on the path of weight loss. In fact, mental health charity Headspace, recently reported on a 2013 South Australian study that showed people who used mindful eating at mealtimes actually ate smaller portions. The Headspace article also referenced a multi-study review which found mindful eating to be very effective for overweight people trying to lose weight.
"Like a form of meditation, mindful eating encourages you to remove distractions and chew thoughtfully without rushing the experience."
Mindfulness can help clear your mind and bring greater clarity and peace to your life. So, even on those days when you may indulge in 'emotional eating', you're less likely to judge yourself and feel the pressure of 'slipping up'. Ultimately, mindful eating supports a healthier relationship with food and our bodies and helps to create positive eating behaviours.
Mindful eating has been shown to:
promote weight loss
discourage binge eating
increase general wellbeing.
This practice is not something you can master in one meal
To help you take the first steps towards a healthier way of eating – and savouring every mouthful – we've put together this simple guide: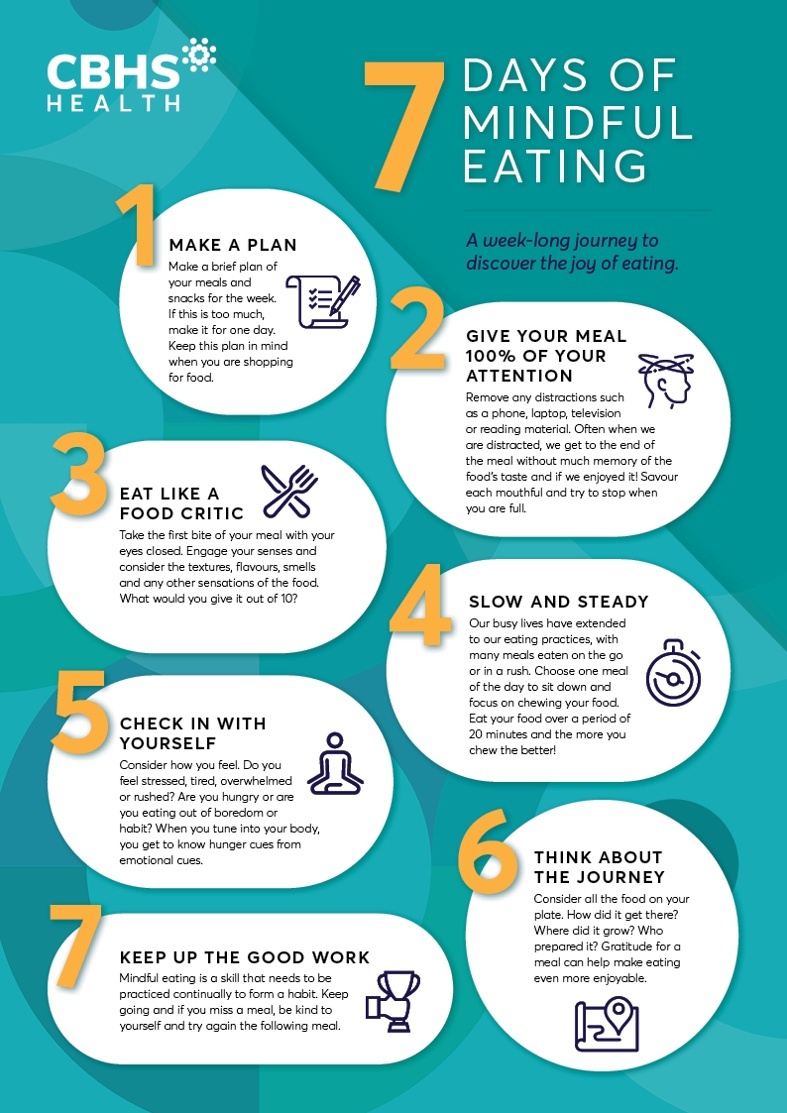 Changing the way you eat your food may be challenging at first
We're living in a fast-paced world that constantly urges us to go through our day-to-day often at breakneck speed. It's no wonder stress is eating away at our peace and mindfulness – no pun intended! Learning to slow down the pace of your day and even your eating may take a little time.
Like all things that benefit your mind and your body, eventually, and with daily practice, you'll start to reap the rewards of mindful eating.
"When you are mindful of the present moment, you will be calmer and benefit from a clearer, more peaceful mindset."
Stay in the moment, savour your food and really enjoy the experience!
Sitting down to a meal – whatever time of day – should be a pleasurable experience. Of course it's easy to give in to the demands of our rushed lifestyles. However, if you can make it a daily practice to just stop, take a moment and genuinely savour every morsel, you'll find the benefits far outweigh any time you think you may have 'wasted' on eating slowly.
A lovely form of meditation, mindful eating is about developing a deeper awareness of your experience with food. How are you feeling as you chew on that crunchy piece of sourdough? What aromas are you picking up from that freshly zapped fruit smoothie?
As the name suggests, mindful eating is based on keeping your mind full and present in the moment – whether you're crunching into a red apple or sipping hot, creamy mushroom soup on a cold day.
So, whatever your tastebuds crave and your body is 'asking for', give yourself the time to truly enjoy your food, morning, noon and night; you'll be creating a healthy habit that can last a lifetime.
All information contained in this article is intended for general information purposes only. The information provided should not be relied upon as medical advice and does not supersede or replace a consultation with a suitably qualified healthcare professional.
Sources:
How to slow down and top up your health and wellbeing (cbhs.com.au)
Health and wellbeing
programs & support
You Belong to More with CBHS Hospital cover:
Greater choice over your health options including who treats you
Get care at home with Hospital Substitute Treatment program
Free health and wellbeing programs to support your health challenges
Live your healthiest, happiest life with CBHS Extras cover:
Benefits for proactive health checks e.g. bone density tests, eye screenings
Keep up your care with telehealth and digital options
Save on dental and optical with CBHS Choice Network providers