At CBHS we help you manage your health challenges. We believe in offering you the services, support and tools you need to live your best life.
Our Better Living Programs are available to support eligible members towards a healthier lifestyle. Each Better Living Program is subject to its own eligibility criteria.
Contact us for more information and to confirm your eligibility for a program.
Our nutritionist Paula's six self-care tips to glow from the inside out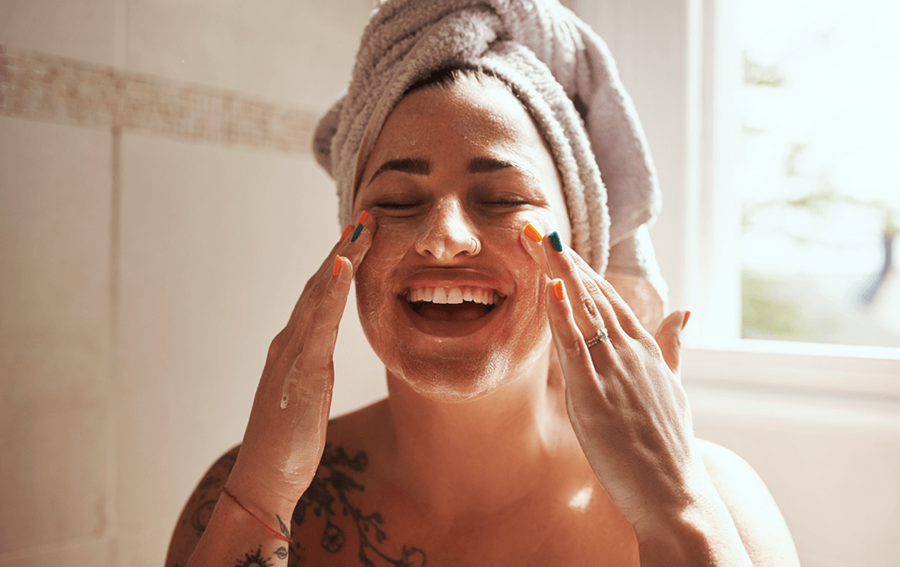 Paula is a CBHS wellness consultant, nutritionist and beautician. So, she knows her stuff when it comes to skin! Here, she provides her top five tips on a glowing exterior…
It is essential to remember that what makes us beautiful is not only external, but more importantly, internal. How we nourish our bodies from the inside is reflected outwardly.
These six tips below will help you to enhance your self-care routine for that 'glowing with health' look you've always dreamed of.
Sleep. This is one of the most important factors in achieving both internal health and an external glow. Sleep deprivation not only causes fatigue, but myriads of other health problems (from digestive issues to cardiovascular problems) all of which can impact on your outside appearance. Sleep deprivation is associated with skin ageing such as fine lines, uneven pigmentation and reduced elasticity. Also, other issues that may arise from lack of sleep include hanging eyelids, red and swollen eyes and dark circles.

Skincare. The skin is the largest organ of the body and like all organs, it responds to changes in environment, pollution, diet and stress. In order to find the right skincare product, it is important to know your skin type − a dermatologist, aesthetician or beauty therapist can aid with this. Protection, prevention, cleansing and moisturising are key components of an effective skincare routine.

Remove make up every night to allow the skin to breathe, and exfoliate at least once or twice per week to remove layers of dead skin.
Moisturise your skin daily. Many moisturisers add and hold moisture in the skin. Moisturisers also create a barrier between the skin and damaging factors.
Daily sunscreen is important as it prevents skin damage from the harmful UV rays of the sun.

Care for your body skin too. Shorten your showers and have just one per day – not only is it good for the environment, but it can protect your skin from drying out. Use lukewarm water rather than hot water, which can wash away natural oils. What else is good for the body?

Use a humidifier set to 60%, a level that replenishes the top layer of your skin.
Avoid harsh soaps. Consider using soap-free cleansers. Steer clear of perfumed soaps and alcohol products.
Be gentle with your skin. Avoid scrub brushes and loofahs, which can damage your skin. When towelling off, pat or blot your skin dry instead of rubbing.

Nutrition. While choosing the correct skincare products will be of benefit, how we treat our insides is more important. A balanced, healthy diet should include a variety of different coloured fruits and vegetables as well as various whole grains, nuts, seeds, healthy oils, fish, poultry, lean meats, legumes, eggs and spices. By eating well, we ensure the adequate intake of macronutrients, micronutrients and vitamins to ensure a radiant complexion

Protein to maximise collagen production for hair and nail health.
Vitamins C, A, and Zinc to promote skin strength, repair and healing.
Omega-3 fats to fight inflammation.
Vitamin E is an effective antioxidant to fight free radicals and improve skin texture and healing.
Ensure hydration by having plenty of water; this helps your skin to look plump.
Limit sodium intake, which causes water retention and leads to puffiness.

Exercise. It is no surprise that the more you help your body, the more you help your skin. Exercise increases the flow of oxygen in order to promote:

Healthy circulation
Collagen and nutrients production
New skin cells growth, and to keep the skin healthy

Keep skin moist during the Winter season. For cold weather, or at any time of the year you're finding your skin dry, try these:
Cleansing your face – use some organic oil such as coconut, olive or jojoba on a warm damp cotton pad or a cotton face washer and gently massage the oil into your face. For sensitive skin, you can try rose hip oil instead.
Face exfoliation – make a paste with an oil such as soybean or jojoba, which are both rich in healthy fats, and mix together with finely-crushed brown sugar. Alternatively, you can use baking soda instead of brown sugar. For sensitive skin, try 100% aloe vera gel instead of oil.
Deep moisturising – apply a thin layer of raw organic honey or Manuka honey to your face and leave it for ten minutes. Remove with damp cotton pad or a cotton face washer. For dryer skin, make a paste by mixing blended cucumber with aloe vera gel and honey. Leave for 30 minutes and wash it off with water.
Body moisturising – rub organic coconut oil on your body prior or after showering. Pat dry with a towel. Your skin will feel intensely soft and moisturised.
Important. Before you use something new on your skin, always make sure you test it first on a small patch of skin, as even natural ingredients can cause an allergic reaction. Avoid using too much oil, as this could lead to facial breakouts. Use a wooden spatula, when mixing ingredients, not a metal spoon or fingers.

All information contained in this article is intended for general information purposes only. The information provided should not be relied upon as medical advice and does not supersede or replace a consultation with a suitably qualified healthcare professional.
SOURCES
Changwei, C., Zhichao, X., Yinglong, W., Changrong. (2020). Diet and Skin Aging-From the Perspective of Food Nutrition. Nutrients, 12(870), 1-25 doi:10.3390/nu12030870
Crane, J., MacNeil, L., Lally, J., Ford, R., Bujak, A., Brar, I., Kemp, B., Raha, S., Steinberg, G., Tarnopolsky, M. (2015). Exercise-stimulated interleukin-15 controlled by AMPK and regulates skin metabolism and aging. Ageing Cell, 14, 625-634 DOI: 10.1111/acel.12341
Natural Medicines. (2020) Clinical Management of Aging Skin naturaldatabase.therapeuticresearch.com.ezproxy2.library.usyd.edu.au/ce/CECourse.aspx?cs=naturalstandard&s=ND&pm=5&pc=17-112 1/10
Schagen, S., Zampeli, V., Makrantonaki, E., Zouboulis, C. (2012). Discovering the link between nutrition and skin aging. Dermato-Endocrinology. 4(3), 298-307
https://www.webmd.com/skin-problems-and-treatments/acne/features/exercise#1
Health and wellbeing
programs & support
You Belong to More with CBHS Hospital cover:
Greater choice over your health options including who treats you
Get care at home with Hospital Substitute Treatment program
Free health and wellbeing programs to support your health challenges
Live your healthiest, happiest life with CBHS Extras cover:
Benefits for proactive health checks e.g. bone density tests, eye screenings
Keep up your care with telehealth and digital options
Save on dental and optical with CBHS Choice Network providers