At CBHS we help you manage your health challenges. We believe in offering you the services, support and tools you need to live your best life.
Our Better Living Programs are available to support eligible members towards a healthier lifestyle. Each Better Living Program is subject to its own eligibility criteria.
Contact us for more information and to confirm your eligibility for a program.
Period pain? Could it be endometriosis?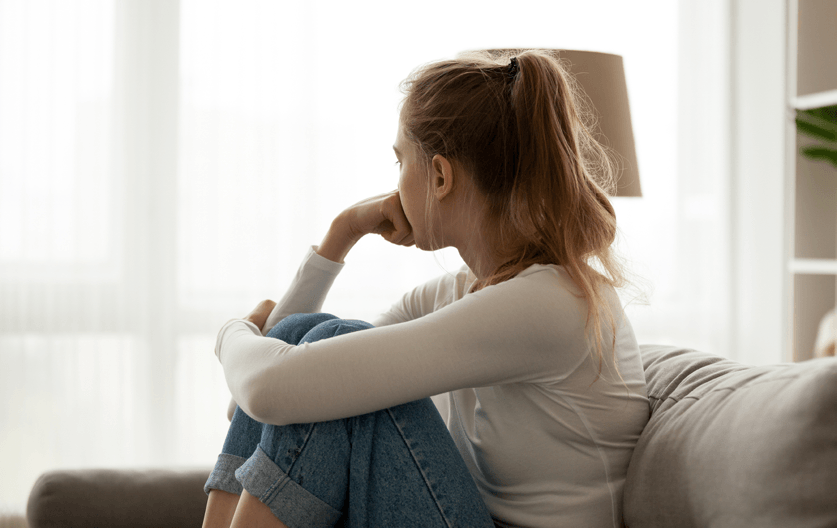 Are you one of the many women to grin and bear debilitating pain because you think it's a normal part of your period? Don't delay seeing your doctor. It may be a sign of endometriosis and early detection can reduce your suffering, with the right treatment.
What is endometriosis?
Too often dismissed as 'bad period pain', endometriosis is a chronic condition in which endometrium, the cells that line the inside of the uterus, grow in other parts of the body. It can affect the ovaries, fallopian tubes, bowel, pelvic lining, and may even spread beyond pelvic organs, often causing severe pain.
As part of a woman's natural menstrual cycle, endometrium cells respond to hormones released by the ovaries and cause the lining of the uterus to thicken in preparation for pregnancy. When pregnancy does not occur, the cells bleed and shed in what we know as 'a period'. Any cells that are outside of the uterus still bleed but because there is no path for this to leave the body, it pools in the abdomen, triggering irritation and inflammation.
Left untreated, this can lead to scar tissue called adhesions forming, and cause debilitating pain around the time of each period. What's more, 30-40% of women affected also experience difficulty conceiving.
In most cases symptoms subside after menopause.
What are some of the signs to watch for?
Many women live with painful symptoms for years without a diagnosis. Knowing what to look for may spare you unnecessary suffering. Consult your doctor if you experience any of the following:
painful periods
heavy bleeding
pelvic pain
pain during or after sex
pain when using your bowels and bladder
nausea
lethargy
difficulty falling pregnant
While there is no cure for endometriosis, effective management can reduce its severity and improve your quality of life.
Am I at risk?
Endometriosis affects one in nine women in Australia and 176 million women worldwide.
While the cause is not yet fully understood, we know that women who have close relatives with endometriosis are ten times more likely to develop the condition. Other possible risk factors include having your first period at an early age, short menstrual cycles or heavy periods.
Around 7% of Australian women aged 25-29 and 11% of women aged 40-44 are likely to have endometriosis. There were 34,200 endometriosis related hospitalisations in 2016-2017 in Australia. Most (79%) were females of reproductive age, from 15-44.
Counting the cost
The symptoms associated with endometriosis can impact every aspect of your life, from productivity at work or school to your enjoyment of precious family time, social activities or sporting participation.
Don't put up with pain so debilitating it affects your ability to function.
On average, it costs Australian society $9.7 billion annually, with two thirds of these costs attributed to a loss in productivity and $2.5 billion being direct healthcare costs. Healthcare costs may include medications, doctors' visits, hospital trips, surgery, assisted reproductive technology such as IVF and transport costs to and from appointments. More than 80% of the cost is attributed to taking time off work or not being as productive while unwell.
Women with endometriosis often use up all of their sick leave then need to continue working while in severe pain.
The hidden nature of this condition makes it tricky to detect. The only way doctors can diagnose it is through laparoscopic keyhole surgery. Unfortunately, this procedure currently ranks as the lowest priority elective surgery in Australia (category 3) so you may need to wait up to a year in the public system. You may also need an overnight hospital stay or longer, depending on your surgeon's findings.
If you choose to have a laparoscopy in a public hospital, your surgery and hospital stay are completely funded by Medicare. However, you may have to wait in pain for a long time. Most women in Australia choose to be treated for endometriosis in a private hospital. Endometriosis treatment is covered under all Bronze tier Hospital products which makes it relatively affordable to be covered. Having the right cover can help make treatment as stress-free as possible when you need it, giving you your choice of doctor and more control over when you have surgery.
Most endometriosis related hospitalisations (57%) are partly or fully funded by private health insurance. One in 13 are self-funded
Talking treatment
There is no cure for endometriosis. Treatment plans focus on managing the condition to minimise its impact on a woman's wellbeing and quality of life.
Depending on the severity of symptoms, treatment varies and may include:
pain relief drugs such as paracetamol or non-steroidal anti-inflammatories
surgery to remove or burn as much of the endometrioses as possible – either a laparoscopy through a series of small incisions in the belly button, or laparotomy which requires a single larger incision along the bikini line
hormone-based medication in the form of tablets, injections or implants that suppress ovulation and menstruation
fertility treatments
in severe cases, a hysterectomy to remove the uterus may be an option
What about complementary treatments?
While complementary treatments won't cure endometriosis, some women find these can improve their overall quality of life.
You might like to try:
a physiotherapist to identify any underlying muscular problems contributing to symptoms
a psychologist to help you process the emotions you experience and develop coping strategies
a dietitian to support you with dietary education that may assist in reducing risk and managing systems
CBHS dietitian and physiologist Nicole Pritchard says, "Exercise can assist with managing symptoms by reducing oestrogen levels and we know that hip and spine movement can improve reported pain and tension. Stretches can help to lengthen and release anterior muscles (abdominals, chest and hip flexors) which tend to tighten as the body braces in response to pain."
Following a healthy diet that's low in processed foods and refined carbohydrates, with plenty of fresh fruit and vegetables, omega 3-rich oily fish and fibre, will help to reduce inflammatory markers in the blood, according to Nicole.
Always discuss any complementary therapies you would like to try, with your doctor first as some may not be suited to your individual diagnosis or existing treatment. Holding Extras or packaged cover can mean that you're less out-of-pocket when you access allied health treatments like physiotherapy or dietetics. This can help ease some of the financial burden that can come along with this disease.
Be informed - get involved
There's no need to suffer in silence. Endometriosis is a common women's health issue and support is available.
The Australian government has released a national action plan for endometriosis to chart a path to a cure for the 700,000 or so Australian women affected.
The Worldwide Endomarch raises money and awareness of endometriosis through events held all over the world. It's run by volunteers who are passionate about creating change for women and girls everywhere by raising funds for research while increasing education and awareness.
You can host a high tea, volunteer, or take part in a variety of events to connect with other women and understand more about the condition and how it affects people's lives.
Ask your GP if you are concerned that you may have endometriosis or just want more information. They may refer you to a gynaecologist for further assessment and support.

Endometriosis Australia offers a comprehensive website with links to reputable sources of information and details on how to access support groups.
Jean Hailes for Women's Health is a national not-for-profit women's health organisation in Australia which provides a number of helpful resources on endometriosis.
Not sure what you're covered for?

Get in touch with us to discuss the best options for your needs. If you are going to hospital, find out what you can do to keep your costs down, from choosing an agreement hospital to finding a specialist who will treat you under Access Gap Cover.
All information contained in this article is intended for general information purposes only. The information provided should not be relied upon as medical advice and does not supersede or replace a consultation with a suitably qualified healthcare professional.
Sources:

National Action Plan for Endometriosis (health.gov.au)

https://www.jeanhailes.org.au/health-a-z/endometriosis

Diagnostic delay for endometriosis in Austria and Germany: causes and possible consequences | Human Reproduction | Oxford Academic (oup.com)

First national report shows 1 in 9 Australian women aged 40–44 have endometriosis - Australian Institute of Health and Welfare (aihw.gov.au)

https://pubmed.ncbi.nlm.nih.gov/21718982/

Endometriosis in Australia: prevalence and hospitalisations, Summary - Australian Institute of Health and Welfare (aihw.gov.au)

https://journals.plos.org/plosone/article?id=10.1371/journal.pone.0223316#:~:text=For%20endometriosis%2C%20average%20per%20person,23%2C213)%20for%20all%20ages%20combined.

Laparoscopy and endometriosis | The Royal Women's Hospital (thewomens.org.au)

Elective surgery - Australian Institute of Health and Welfare (aihw.gov.au)

Endometriosis in Australia: prevalence and hospitalisations (full publication;1Aug2019Edition)(AIHW)
Treating endometriosis | The Royal Women's Hospital (thewomens.org.au)
National Action Plan for Endometriosis | Australian Government Department of Health
Health and wellbeing
programs & support
You Belong to More with CBHS Hospital cover:
Greater choice over your health options including who treats you
Get care at home with Hospital Substitute Treatment program
Free health and wellbeing programs to support your health challenges
Live your healthiest, happiest life with CBHS Extras cover:
Benefits for proactive health checks e.g. bone density tests, eye screenings
Keep up your care with telehealth and digital options
Save on dental and optical with CBHS Choice Network providers