At CBHS we help you manage your health challenges. We believe in offering you the services, support and tools you need to live your best life.
Our Better Living Programs are available to support eligible members towards a healthier lifestyle. Each Better Living Program is subject to its own eligibility criteria.
Contact us for more information and to confirm your eligibility for a program.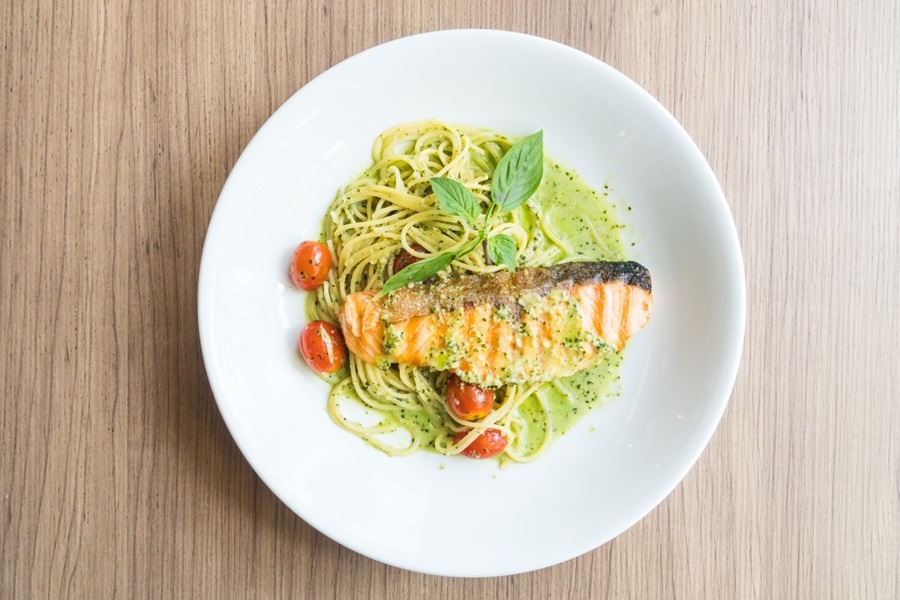 Nutritional content per serve
Energy: 518 calories | Protein: 28g | Total fat: 24 g | Carbohydrate: 40 g | Sugar: 3g | Sodium: 345 mg | Serves: 2 | Total time: 30-45 mins
*Approx. values using Xyris Foodworks software per serve
Ingredients:

Pesto
2 cups fresh basil (can substitute half the basil with baby spinach)
½ cup grated parmesan
½ cup extra virgin olive oil
1/3 cup pine nuts
3 cloves garlic, minced
Salt and pepper, to taste


Salmon Pasta
1 cup San Remo pulse pasta*
1 ½ lemons, divided
½ cup homemade pesto*
1 tbsp olive oil
2 salmon fillets, skin removed
¼ cup fresh grated parmesan cheese
Salt and pepper, to taste
Fresh basil to garnish
Red chilli flakes, optional
Directions:
Pesto:
Place the basil leaves and pine nuts into the food processor bowl and pulse several times.
Add the garlic and parmesan cheese and pulse several times more. Scrape down the sides of the food processor with a rubber spatula.
While the food processor is running, slowly add the olive oil in a steady small stream (this helps emulsify and keep the olive oil from separating). Occasionally, stop to scrape down the sides of the food processor.
Add salt and freshly ground pepper to taste.


Salmon Pasta:
Bring a large pot of heavily salted water to boil. Cook pasta until al dente according to package direction. Reserve 1 cup pasta water and drain.
Soak wooden skewers for at least 1 hour*. Pre-heat a grill or grill pan on a medium to high heat. Clean and oil the grates with olive oil, if necessary.
Trim the ends of 2 lemons and thinly slice. Add the salmon cubes and lemon slices folded in half, alternating onto skewers.
Brush both sides of skewered salmon with half the pesto.
Carefully place salmon skewers onto the grill. Grill until salmon is cooked through and opaque - 4 minutes per side.
Return drained pasta to the same pot over low heat and add parmesan, remaining pesto and juice of remaining lemon. Season to taste with salt and black pepper. Add in reserved pasta water gradually until sauce is glossy.

Notes:
If limited time, you can also purchase store-bought pesto.
Pulse pasta is made out of legumes (beans, chickpeas, lentils) and can provide you with additional protein and fibre. However, you can still use wholewheat pasta as an alternative option.
Soaking skewers for an hour before cooking prevents them from burning on the grill.
All information contained in this article has been prepared by CBHS health professionals and is intended for general information purposes only. The information provided should not be relied upon as medical advice and does not supersede or replace a consultation with a suitably qualified healthcare professional.
Health and wellbeing
programs & support
You Belong to More with CBHS Hospital cover:
Greater choice over your health options including who treats you
Get care at home with Hospital Substitute Treatment program
Free health and wellbeing programs to support your health challenges
Live your healthiest, happiest life with CBHS Extras cover:
Benefits for proactive health checks e.g. bone density tests, eye screenings
Keep up your care with telehealth and digital options
Save on dental and optical with CBHS Choice Network providers