At CBHS we help you manage your health challenges. We believe in offering you the services, support and tools you need to live your best life.
Our Better Living Programs are available to support eligible members towards a healthier lifestyle. Each Better Living Program is subject to its own eligibility criteria.
Contact us for more information and to confirm your eligibility for a program.
Protect your eyes this Macula Month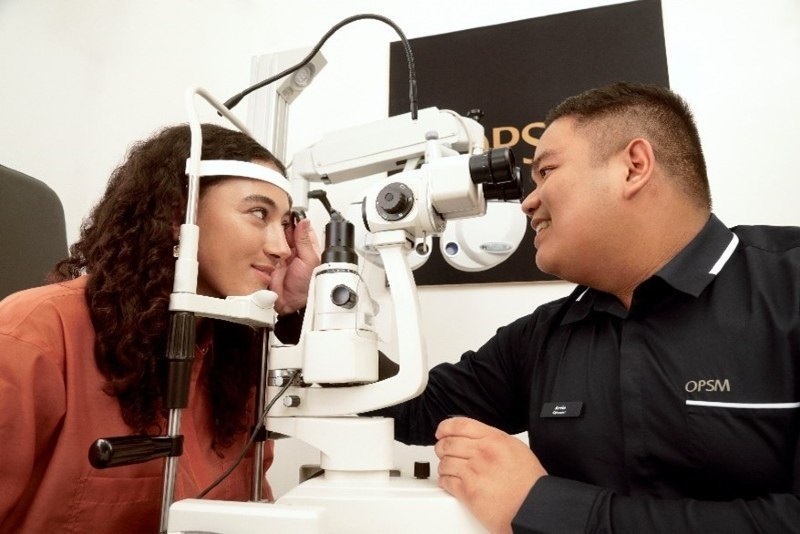 Macular disease is the leading cause of severe vision loss and blindness in Australia1. The most common forms include age-related macular degeneration (AMD) and diabetic retinopathy (DR)1. Although macula disease may not appear until later in life, adopting preventative measures early may help lead to better outcomes2.
The macula is an area at the back of your eye responsible for detailed central vision. We use it for activities like reading, driving and recognising faces. It also helps us see in colour. Macular diseases are conditions which affect this particular part of the eye.
This Macula Month, CBHS Choice Network provider, OPSM, shares with us their top tips for macular disease care and prevention.
Have regular eye tests
Visit an optometrist at least once every two years, or as advised by your eyecare professional.
OPSM optometrist, Elizabeth Kodari says, "Regular eye tests are essential in detecting problems early. The early detection of any form of macular disease has a higher chance of slowing disease progression and maintaining vision."
OPSM has some of latest scanning technology, including Ultra-Wide Digital Retinal Scans which aids in the detection and monitoring of AMD, diabetic eye disease and other eye conditions.

For a limited time, all CBHS members can visit any OPSM store between 9-22 May and receive a Free Ultra-Wide Digital Retinal Scan with eye test (valued at $60) and 20% off lenses and selected frames. T&Cs apply, see OPSM website for details.
Healthy diet for healthy eyes
Research suggests having a healthy well-balanced diet can help reduce your risk of developing macular disease2. Dark green leafy vegetables, nuts, eating fish two to three times a week and eating low glycemic index carbohydrates can all help2.
Eating foods high in zeaxanthin and lutein nutrients has been suggested to help reduce the risks of developing macular degeneration2. These carotenoid pigments are found in common foods like pasta, corn, carrots, orange/yellow peppers, fish, salmon and eggs.
Don't smoke
Smoking can damage the cells in your retina and increase the risk of developing age-related macular degeneration3.
Know your family history
It is important to let your optometrist know if you have a family history of macular degeneration. Having a first degree relative such as a parent or sibling can increase your risk of developing age-related macular degeneration by 50%3.
Be self-aware
Monitor for changes in your vision between your visits to the optometrist. Macular degeneration symptoms to look out for include4:
Difficulty with reading or activities that requires fine vision
Distortion in the form of straight lines appearing wavy or bent
Dark patches or empty spaces appearing in the centre of your vision
Difficulty distinguishing faces.
"As AMD is more prevalent in those over 50, some people confuse symptoms of the disease as a normal sign of ageing. That is why we recommend regular eye exams. Of course, come in for an immediate eye exam if you have any visual symptoms" Kodari says.
To make an appointment or locate your nearest OPSM optometrist visit opsm.com.au.
Source
Are you at risk of macular disease. Good Vision For Life (2018).
Prevention of the onset of Age-Related Macular Degeneration. J. Clin. Med 10(15) (2021)
Risk factors for AMD. Macular Disease Foundation Australia.
About Macular Disease. Macular Disease Foundation Australia.
All information contained in this article is intended for general information purposes only. The information provided should not be relied upon as medical advice and does not supersede or replace a consultation with a suitably qualified healthcare professional.
Health and wellbeing
programs & support
You Belong to More with CBHS Hospital cover:
Greater choice over your health options including who treats you
Get care at home with Hospital Substitute Treatment program
Free health and wellbeing programs to support your health challenges
Live your healthiest, happiest life with CBHS Extras cover:
Benefits for proactive health checks e.g. bone density tests, eye screenings
Keep up your care with telehealth and digital options
Save on dental and optical with CBHS Choice Network providers