At CBHS we help you manage your health challenges. We believe in offering you the services, support and tools you need to live your best life.
Our Better Living Programs are available to support eligible members towards a healthier lifestyle. Each Better Living Program is subject to its own eligibility criteria.
Contact us for more information and to confirm your eligibility for a program.
Pumpkin, thyme and feta muffins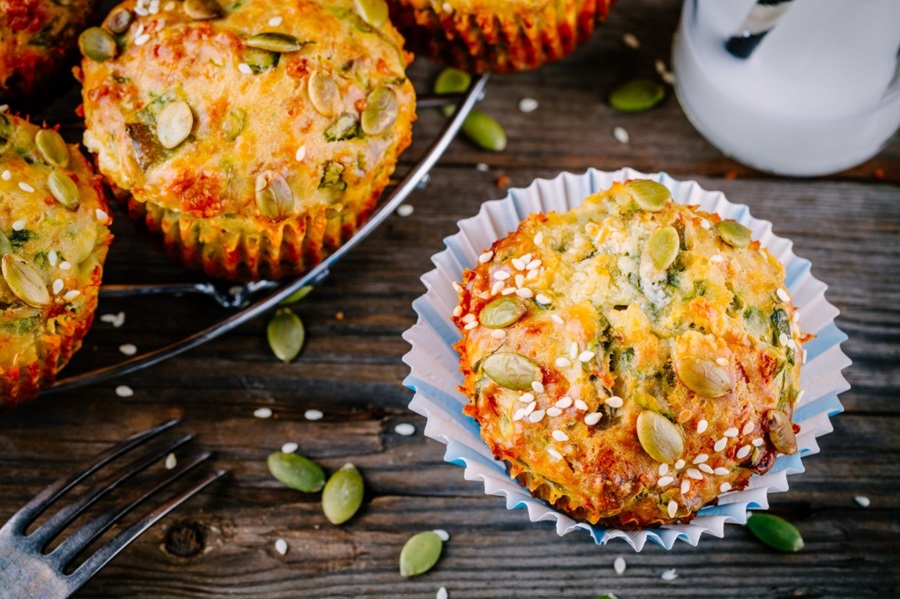 Nutritional content per serve
225 calories | Protein: 13.6g | Carbs: 17g | Sugar: 2.8g | Total fats: 9g | Sat fat: 3.9g | Fibre: 3.2g |
*Approximate values from Xyris Foodworks software
Ingredients
200g pumpkin, peeled and chopped into small cubes
1 tbs olive oil
⅓ cup parmesan, grated
1 tbs thyme leaves
3 large eggs
⅓ cup milk
1 cup spelt flour
2 tsp baking powder
½ tsp salt
½ tsp pepper
30g baby spinach
50g feta cheese
2 tbs pumpkin seeds (optional)
Method:
Preheat oven to 200oC and bake pumpkin in 1 tbs olive oil for 25 minutes until softened and slightly golden. Let it cool slightly.
Place parmesan, thyme, eggs, milk, flour, baking powder, salt and pepper in a food processor or a large bowl.
Beat for 10 seconds until well combined and frothy.
Fold in the flour until almost combined (make sure you don't 'over mix' or the mixture may become tough).
Add the spinach, feta, roasted pumpkin, and pumpkin seeds, gently folding them into the batter.
Divide between six non-stick muffin cases, decorate with extra seeds and bake for 20 minutes (until a skewer inserted into the middle comes out clean).
Let the muffins cool slightly, then remove them from the tray.
Enjoy now or store in the fridge for up to three days.
NB: You can also freeze them and thaw them in the fridge overnight to defrost.
Why it's good for you:
Including parmesan, feta and milk helps you reach your recommended 2-4 serves of dairy for the day. Dairy is a great source of protein, calcium, vitamins A, B and D, potassium, iodine and phosphorus for energy, thyroid, nerve and immune function, and muscle and bone health.
Eggs are widely considered to be a perfect protein source. They are also a great source of vital nutrients for your health and wellbeing, including omega-3 fatty acids, iron, iodine, phosphorus, selenium, B vitamins, and vitamins A, D and E.

All information contained in this article has been prepared by CBHS health professionals and is intended for general information purposes only. The information provided should not be relied upon as medical advice and does not supersede or replace a consultation with a suitably qualified healthcare professional.
Health and wellbeing
programs & support
You Belong to More with CBHS Hospital cover:
Greater choice over your health options including who treats you
Get care at home with Hospital Substitute Treatment program
Free health and wellbeing programs to support your health challenges
Live your healthiest, happiest life with CBHS Extras cover:
Benefits for proactive health checks e.g. bone density tests, eye screenings
Keep up your care with telehealth and digital options
Save on dental and optical with CBHS Choice Network providers