At CBHS we help you manage your health challenges. We believe in offering you the services, support and tools you need to live your best life.
Our Better Living Programs are available to support eligible members towards a healthier lifestyle. Each Better Living Program is subject to its own eligibility criteria.
Contact us for more information and to confirm your eligibility for a program.
Salad ideas to help keep you healthy in the colder months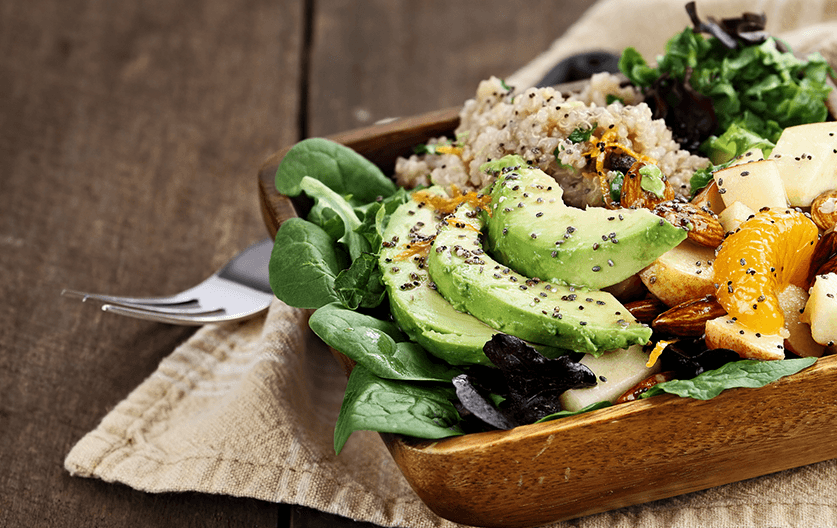 A salad of mixed greens and the usual chopped carrot, onion, and tomato is the last thing you want to eat during a freezing cold winter's day. However a big salad is one of the easiest ways to get your recommended daily intake or five or more servings of vegetables; and when done right, could be the most delicious meal you'll have all week!
Here, we look at how you can dress up your winter salads and make use of in-season vegetables to create healthy, flavoursome meals.
Vegetable ingredients
One easy way to make your winter salads tasty, interesting, and hearty enough for the winter months, is to mix cooked ingredients in with raw salad items. Add grilled, roasted, steamed, or sautéed vegetables to a raw salad base for extra flavour and heartiness. These cooked vegetables can be served warm if you're not in the mood for a cold salad, but avoid overcooking as this can result in nutrient loss.
Vegetables that are in season and are great for cooked winter salads include root vegetables like sweet potato or beetroot, Brussel sprouts, fennel, radicchio, rapa, snow peas, sugar snaps, chicory, and chard. Pumpkin, squash and zucchini are also wonderful in salads.
You can use any vegetable for the raw salad base. Try chopping these in different ways to create new textures in your salad. For example, dicing, shaving, shredding, crushing, or even massaging different ingredients can expand the realm of textures and flavours, while also making your salad easier to chew and digest.
Explore the different salad recipes available online; the variety is astounding! If you find yourself getting bored with standard salads, get creative in the kitchen and be surprised by how much switching up ingredients and using contrasting flavours can change and enhance the taste of vegetables.
The more colourful your salad, the more nutrient-dense it is. You should aim to have five types of vegetables (along with two types of fruit) every day. For a nutritious, delicious winter salad, consider incorporating some of the following vegetables:
Green vegetables – spinach, broccoli, cos lettuce, bok choy, pak choy, tatsoi, kale, chard, zucchini, Brussels sprouts, cabbage, lettuce, and other mixed greens.
Other vegetables – pumpkin, sweet potato, asparagus, yam, eggplant, carrot, cauliflower, tomatoes, onion, celery, capsicum, radishes, mushrooms, mung bean sprouts, sprouts, corn, and avocado.
Add a protein
You can easily transform a light salad into a hearty main course by adding a protein. Chop up some roast chicken breast, turkey, lamb or beef to top off your salad for a filling lunch or dinner. Bacon, sausage, ham and other processed meats can be added, but these should be eaten in moderation.
Other proteins to add to your winter salads include boiled eggs, tuna, sardines, smoked salmon, other fish, and roasted or raw nuts (chopped or whole). If you eat dairy products, crumbed bocconcini, some shaved parmesan, a small handful of feta, or half a cup of your favourite hard cheese can enhance the taste and texture of your salad. Tofu and tempeh are other proteins that could also be added if you enjoy soy products.
Raw or roasted seeds such as pumpkin, sesame and sunflower, are all flavoursome and healthful seeds that can be added. Legumes are another healthful protein to add to your salad, and you can use them straight from the can or precook your own. Chickpeas, lentils, adzuki beans, kidney beans, black beans, and cannellini beans are some popular options. Fresh legumes include beans, peas, butter beans, broad beans and snow peas.
Add grains
Adding grains is another way to make your salad more hearty and filling. Brown rice, black rice, farro, and quinoa are all popular and healthful ingredients. Barley, freekeh millet, bulgur wheat and spelt are other grains to add to your winter salads. Some salads also feature bread or croutons - there is practically no limit to what you can add in terms of grains!
Brighten up your salad with fruit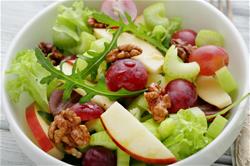 Some of the tastiest and most vibrant salads feature fruit and/or fruit-based (such as citrus) dressings. Whether it is slivers of apple in a Waldorf salad, brilliant red pomegranate seeds in a green salad, or raisins to complement savoury salad ingredients, fruit can be used in a variety of ways to improve the taste of your salad.
Additionally, adding some fruit could make your salad more digestible. Like vegetables, getting enough fruit in your diet helps you get enough essential vitamins and minerals, and minimises your risk of contracting diseases or conditions such as Type 2 diabetes, heart disease, cancer, and high blood pressure. From common salad fruits such as tomatoes and avocados, to superfoods such as berries, and citrus favourites such as oranges and grapefruits, incorporating fruit is another way to add more variety to your salads.
Herbs
Herbs are health-promoting ingredients that can be added to your dressing in chopped form or featured in your salads as a main ingredient. For delicious Asian-style coleslaws you could add deseeded red chillies, basil, shallots, spring onions and coriander. Dill, parsley, chives, watercress, fennel, mint, and thyme are some of the other herbs to add to your salads for extra flavour and nutrition.
Superfoods and super ingredients
If you are in a hurry and want to make sure you are using the best ingredients in your salad, the top vegetables to incorporate are broccoli, mushrooms, red onions, spinach, beetroot, celery, red capsicum, and carrots. Each of these offer outstanding benefits for your health and disease prevention, so use as many of these as you can in your salads.
Winter-friendly salad dressings
You can use the same salad dressings you use in summer, whether these are light vinaigrettes or a simple lemon and olive oil mix. However, if you are in the mood for something richer or heavier, why not add rich and flavoursome ingredients such as goat's cheese, yoghurt, cashew cream and anchovies to your usual dressing base? When used in moderation, these dressing additions can bring an extra level of flavour to your favourite winter salad, without making it too heavy.
All information contained in this article is intended for general information purposes only. The information provided should not be relied upon as medical advice and does not supersede or replace a consultation with a suitably qualified healthcare professional.
Health and wellbeing
programs & support
You Belong to More with CBHS Hospital cover:
Greater choice over your health options including who treats you
Get care at home with Hospital Substitute Treatment program
Free health and wellbeing programs to support your health challenges
Live your healthiest, happiest life with CBHS Extras cover:
Benefits for proactive health checks e.g. bone density tests, eye screenings
Keep up your care with telehealth and digital options
Save on dental and optical with CBHS Choice Network providers