At CBHS we help you manage your health challenges. We believe in offering you the services, support and tools you need to live your best life.
Our Better Living Programs are available to support eligible members towards a healthier lifestyle. Each Better Living Program is subject to its own eligibility criteria.
Contact us for more information and to confirm your eligibility for a program.
Simple chapati and chickpea chana masala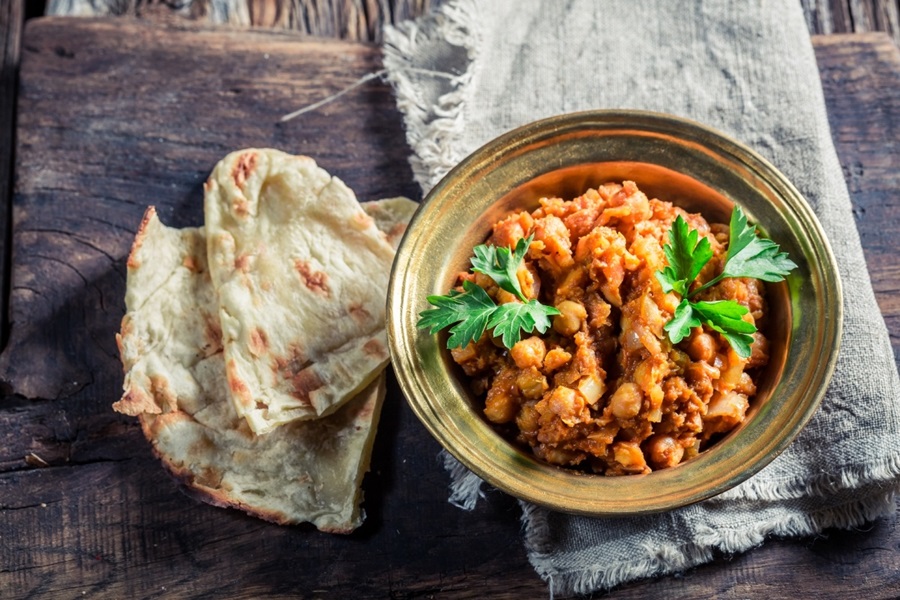 Nutritional content per serve
Energy: 138 calories | Protein: 4g | Total fat: 4 g | Carbohydrate: 22 g | Sugar: 0g | Sodium: 166 mg | Serves: 4 | Time: 20-25mins
*Approx. values from Xyris Foodworks software per serve
Ingredients:
1 cup wheat flour
¼ tsp mineral salt
1 tbsp ghee* (plus more for cooking)
1 cup water (the amount depends on the grind of your flour and humidity in the environment)
Directions:
Mix flour, mineral salt, and ghee together. Add a little water at a time and combine well until the flour is consistently mixed and just slightly sticky.
Make 4 pieces and roll them into balls in the palm of your hands. Warm a pan over medium heat with a little ghee in it while you begin rolling the chapati Place a nice layer of flour on a clean counter top.
Place the first ball in the middle of the flour and flatten the ball evenly with your palm. Generously sprinkle flour on top, turn it over and press with your palm again.
With a rolling pin, or side of a jar, roll each ball into a thick pancake, turning the dough clockwise after each roll. ** Place the first chapati in the pan to cook while you're rolling the others. Cook for 1-3 minutes on each side until golden bubbles appear.


*Ghee is a clarified butter used in Ayurveda cooking.
**Note: Instead of a rolling pin, you can use your fingers for a more rippled result.
Chickpea chana masala
Nutritional content per serve
"Chana" means chickpea and "masala" refers to a blend of spices used in Indian cooking. Chickpea Chana Masala is a warming tomato-based dish full of aromatic spices that promote anti-inflammatory properties.
Energy: 188 calories | Protein: 8g | Total fat: 5 g | Carbohydrate: 32 g | Sugar: 6 g | Sodium: 47 mg | Serves: 4 | Total time: 70 mins
*Approx. values from Xyris Foodworks software per serve
Ingredients:

250g dried chickpeas or canned*
½ tbsp coconut oil, extra virgin
1 onion, chopped finely
3 ripe tomatoes, cut into cubes
1 tbsp lemon juice
Salt and pepper, to taste
Fresh coriander, to serve
Spices
1 tsp cardamom powder
1 tsp turmeric
1 tsp cinnamon
1 tsp cumin seeds
1 tsp mustard seeds
2 tbsp fresh ginger, finely chopped
1 tsp hing/asafoetida or onion powder*
½ tsp mango powder* or dash of lemon juice*
1 tsp curry powder
1 tsp garam masala
½ tsp black pepper
½ tsp salt
Directions:
If using dried chickpeas, soak the chickpeas for at least 12 hours in a pan of water (overnight)
If using dried chickpeas, drain the chickpeas and cook them with the salt, turmeric, cardamom, cinnamon and 1 litre of extra water for about an hour (until tender).
Heat coconut oil in a pan and sauté the onion.
Add cardamom, turmeric, cinnamon, mustard seeds, cumin seeds, hing/asafoetida/onion powder, ginger and curry powder and fry gently Add the tomatoes
Drain the tender chickpeas and mix into the tomato sauce. Leave to simmer gently.
Finish with a touch of lemon juice, garam masala, pepper and salt. Serve with fresh coriander
Notes:
If you have limited time, using canned chickpeas can shorten duration of preparation time.
*Hing is an Ayuvedic spice used to aid digestion and gas. If you are unable to find this spice in the supermarket onion powder can be a good substitute.
*If you are unable to find mango powder, a squeeze of lemon juice will do the trick.
All information contained in this article has been prepared by CBHS health professionals and is intended for general information purposes only. The information provided should not be relied upon as medical advice and does not supersede or replace a consultation with a suitably qualified healthcare professional.
Health and wellbeing
programs & support
You Belong to More with CBHS Hospital cover:
Greater choice over your health options including who treats you
Get care at home with Hospital Substitute Treatment program
Free health and wellbeing programs to support your health challenges
Live your healthiest, happiest life with CBHS Extras cover:
Benefits for proactive health checks e.g. bone density tests, eye screenings
Keep up your care with telehealth and digital options
Save on dental and optical with CBHS Choice Network providers