At CBHS we help you manage your health challenges. We believe in offering you the services, support and tools you need to live your best life.
Our Better Living Programs are available to support eligible members towards a healthier lifestyle. Each Better Living Program is subject to its own eligibility criteria.
Contact us for more information and to confirm your eligibility for a program.
SkinVision app alerts CBHS member to skin cancer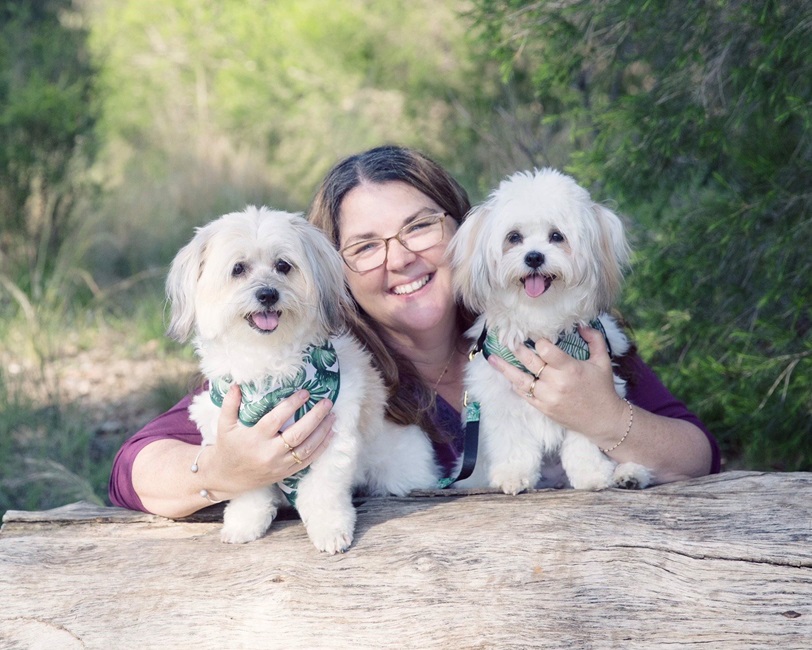 Robyn with her beloved dogs, Zoe and Daisy

Robyn M knew she was due for a skin check. Overdue, in fact. Five years previously the 49-year-old mother of two, who lives on a six-acre property one hour north of Melbourne, had gone to her GP for a skin check.
'My husband had noticed a spot on my back, and he thought I should get it checked,' Robyn says.
The spot turned out to be a basal cell carcinoma (BCC) which Robyn's GP successfully removed, and Robyn promised herself she would get regular skin checks from then on (if you've had one BCC, you have a 50% chance of developing another one).
Somehow, five years slipped by.
Instant assessment of spots and moles for common skin cancers
'I knew I was putting it off but there always seemed to be more pressing health issues to deal with,' says Robyn, who has Crohn's disease and endometriosis.
Then Robyn received an email from CBHS, offering members free access to the SkinVision app. Using photos taken on a smartphone, the SkinVision app can instantly assess spots and moles for the most common signs of skin cancer. Results are available within 30 seconds.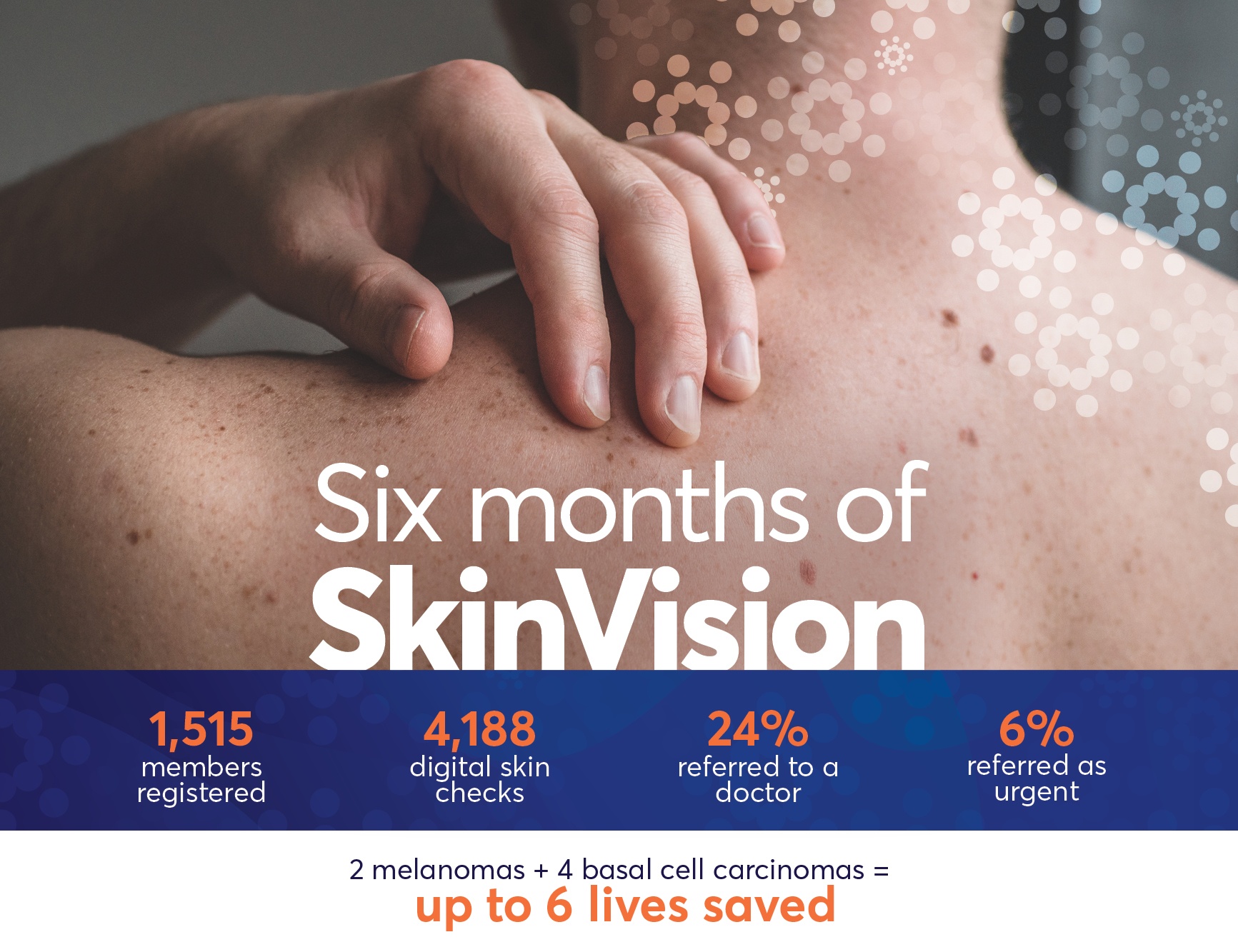 'It looked interesting, and it was free, so I thought there was nothing to lose,' says Robyn.
"I asked my daughter to take a photo of a spot on my shoulder."
She downloaded the app and took several photos of moles on the backs of her hand. Reassuringly, the app told her they were low risk.
'Then I asked my daughter to take a photo of a spot on my shoulder.'
Robyn had been aware of the spot on her shoulder for some time. It had been coming and going but she wasn't unduly concerned. SkinVision disagreed.
'The app rated it as high risk. The strong recommendation was that I get it checked within the next four weeks.'
Skin cancer confirmed with biopsy
Robyn made an appointment with her GP for the following week, and she showed him the report generated from the app.
'I could tell he was a little sceptical, but he examined the spot and took a biopsy.'
"The app gave me the push I needed to get that lesion checked and removed."
A week and a half later, the results came back, confirming Robyn had another basal cell carcinoma.
'I went back to my GP and he said, "Wow, I'm really impressed by that app." He removed the BCC in his surgery and I'm now under the care of a skin specialist.'
Robyn was one of 1,515 CBHS members who registered for the free SkinVision app in the first six months. In that time 4,188 skin checks were performed, 24% were referred to a doctor, and 4% were referred as urgent. Two melanomas and four basal cell carcinomas were found, potentially saving up to six lives.
The chance of successful treatment for skin cancers is estimated to be as high as 95%, if they're caught early enough. That's where the SkinVision app comes in.
'The app gave me the push I needed to get that lesion checked and removed,' says Robyn. 'Thank you for this wonderful resource!'
Visit the SkinVision website for answers to FAQs about how to use the app to detect skin cancers.
All information contained in this article is intended for general information purposes only. The information provided should not be relied upon as medical advice and does not supersede or replace a consultation with a suitably qualified healthcare professional.
Health and wellbeing
programs & support
You Belong to More with CBHS Hospital cover:
Greater choice over your health options including who treats you
Get care at home with Hospital Substitute Treatment program
Free health and wellbeing programs to support your health challenges
Live your healthiest, happiest life with CBHS Extras cover:
Benefits for proactive health checks e.g. bone density tests, eye screenings
Keep up your care with telehealth and digital options
Save on dental and optical with CBHS Choice Network providers