At CBHS we help you manage your health challenges. We believe in offering you the services, support and tools you need to live your best life.
Our Better Living Programs are available to support eligible members towards a healthier lifestyle. Each Better Living Program is subject to its own eligibility criteria.
Contact us for more information and to confirm your eligibility for a program.
Spicy dahl and turmeric rice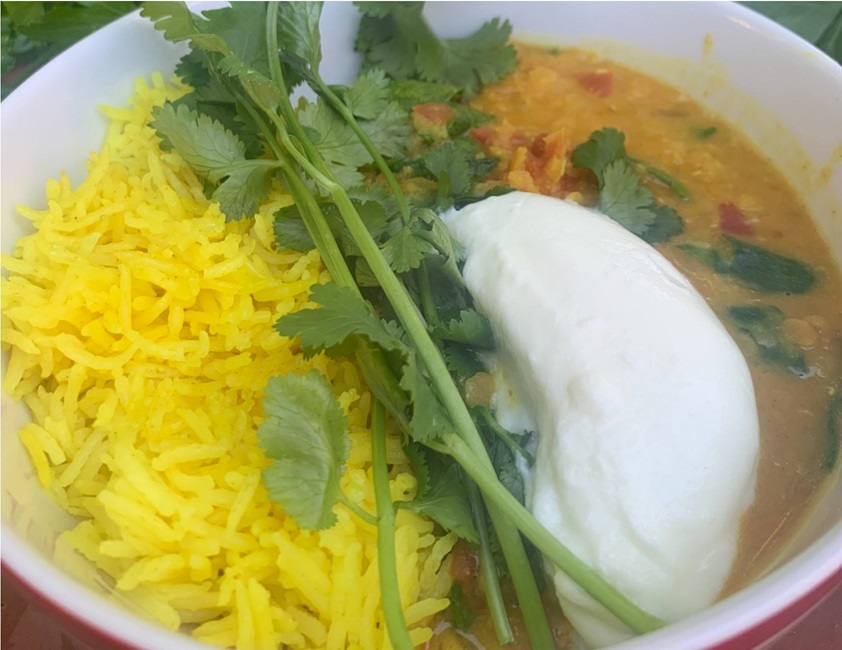 Nutrition content per serve
492 cal | Protein:16g | Total fat:25g | Saturated fat:10g | Carbs:46g | Dietary fibre:12g | Iron:7mg | serves 4
*Approximate values from Xyris Foodworks software

Ingredients:

Dahl
1/4 cup extra virgin olive oil
1 large onion
3 garlic cloves
1 tsp ginger
1 tsp chilli flakes
1/2 tsp cumin seeds
1/2 tsp coriander seed
1/2 tsp turmeric
1/2 tsp paprika
1 tsp curry powder
1x 400ml can light coconut milk
1x 400ml can crushed tomatoes
200g baby spinach
1 cup dried red lentils
1 sprinkle coriander (topping)
1 tbsp yoghurt (topping)
Tumeric rice
1 cup long grain rice
1 tsp turmeric
2 tsp coconut oil
2 tsp stock powder
Method
Cook lentils in 1.5 cup of water until soft. Cover with lid and allow to rest. In a large pan, heat olive oil on low-medium heat and add chopped onion. Saute for 10 minutes.
After onion is sautéed, add in garlic, all spices and powders and allow to cook for 3-5 minutes.
Add in cooked red lentils and stir before adding in canned tomato and coconut milk.
Turn off heat, add in spinach and allow to soften.
Melt coconut oil in a pot over low heat and add in turmeric. Allow to melt into a yellow oil.
Rinse rice until water is clear, before adding into pot and dry-frying in the turmeric oil.
Add in 1.5 cups of boiled water and put lid on to cook for 10-15 minutes (or until ready)
Enjoy with dahl and top off with chopped coriander and yoghurt!
The key players in this recipe are:
Red lentils: These are a great source of iron which helps to bind oxygen to your red blood cells, to beat the fatigue. A half cup of lentils also provides you with 1/3 of your daily fibre intake! Fibre helps to diversify the gut microbiome and keep your mood elevated on those low days.
Turmeric: research has found that curcumin, which gives turmeric the orange pigmented colour, helps to keep up memory and mood in older adults. It is anti-inflammatory, which helps to reduce feelings of pain including pain from arthritis!
Tomato: is a fantastic source of lycopene which becomes more potent when cooked. Tomatoes are a key player for antioxidant effects, helping to mediate some of the negative effects of low mood and poor diet.
All information contained in this article is intended for general information purposes only. The information provided should not be relied upon as medical advice and does not supersede or replace a consultation with a suitably qualified healthcare professional.
Health and wellbeing
programs & support
You Belong to More with CBHS Hospital cover:
Greater choice over your health options including who treats you
Get care at home with Hospital Substitute Treatment program
Free health and wellbeing programs to support your health challenges
Live your healthiest, happiest life with CBHS Extras cover:
Benefits for proactive health checks e.g. bone density tests, eye screenings
Keep up your care with telehealth and digital options
Save on dental and optical with CBHS Choice Network providers