At CBHS we help you manage your health challenges. We believe in offering you the services, support and tools you need to live your best life.
Our Better Living Programs are available to support eligible members towards a healthier lifestyle. Each Better Living Program is subject to its own eligibility criteria.
Contact us for more information and to confirm your eligibility for a program.
The ABCs of meditation for kids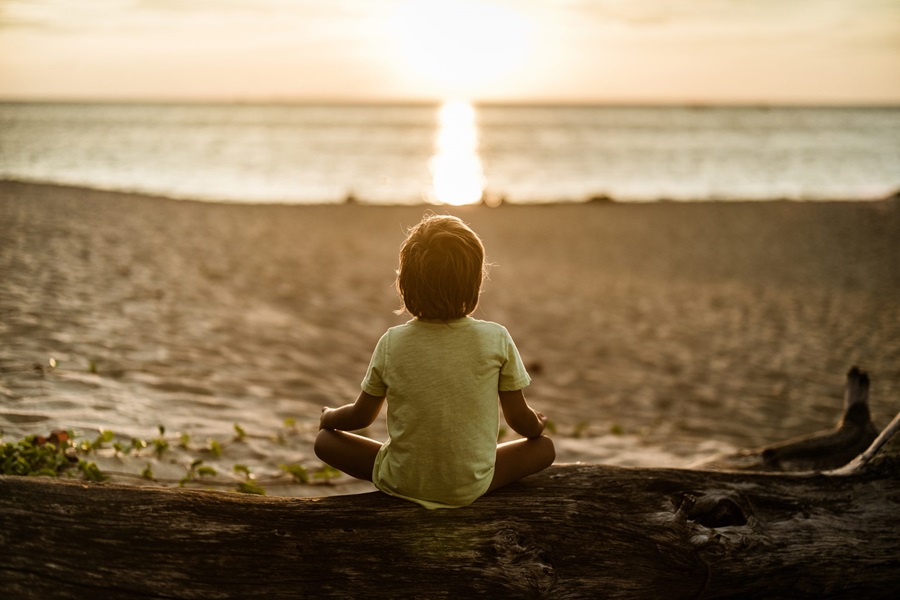 If you thought that meditation should only be reserved for adults and their soothing mantras, think again. Children can enjoy just as many benefits from this ancient practice as us grown ups! In fact, helping your child learn the practice of calming their busy minds through meditation is a valuable life skill that will serve them well as they grow into young men and women.
Bringing the calm and skill of practiced meditation to a child's life early on, together with healthy sleep habits and a minimal amount of screen time – can help establish coping techniques that will last a lifetime.
Your child knows the 'power of now'
Meditation is all about bringing the focus back to 'here' and children are already experts at staying in the present moment – often that's where they want to live permanently! If you've ever tried to hurry your child to an appointment, to bed, to the car, to breakfast, to school, to get dressed – well, you'll understand. Kids operate on their own schedule.
"Meditation is an excellent way to harness your child's natural love of living in the now."
Children of the rushed, busy 21st century are no strangers to being pulled from pillar to post. Activity to activity. Playdate to hangout. It's the norm for a lot of children and teens these days and children can thrive on this non-stop pace. But, as parents, we're forgetting that children also need to be able to flow from go-go-go to slow…
The perfect ancient antidote for the modern child
Meditation has been soothing minds – both young and old – for thousands of years. At its most basic, the practice is all about focusing on the breath and the body.
The benefits of meditation for children are far-reaching. Consistent, daily focus will help with:
sleep
focus
regulating emotions
attention
retaining information
mood
creativity.
"More and more health professionals are recognising the benefits of meditation for children."
That's why you'll find plenty of online resources dedicated specifically to guided meditation for kids. A quick internet browse will reveal more information on meditation music for kids, tips on sleep meditation and much, much more. A world of support and a wide variety of online meditation sessions are literally at your fingertips right now.
Mindfulness for kids is all about keeping meditation on their level
The thought of 'taming' a toddler or slowing down a busy tween or teen for that matter is no mean feat – in fact it's practically impossible! So if you're thinking about introducing a meditation practice to your child's daily routine, there are a few tips you can follow.
In the beginning, you should only try and teach your child to meditate for just a few minutes a day. You'll soon discover that this is all it takes to help them fall into a relaxing rhythm of peace and calm on a regular basis. If a child can gradually learn to simply sit still, breathe softly in, and out – even for two to three minutes – you'd be surprised what a positive impact this can have. You're encouraging a healthy habit a little each day.
From toddlers to teens – tips on teaching meditation without tears
It may not start off as easy as 1-2-3, but with a little patience and a lot of love, you can set up your child for daily meditation and fantastic benefits – whatever their age.
Toddlers and pre-schoolers
make it part of your family's daily routine
find a comfy spot to sit in
let them be kids (and giggle!)
keep it short and sweet
take a few slow, deep breaths to start.
"Make sure you let your children know why they're meditating. It's about feeling good, relaxed and happier!"
Primary school children
introduce it at bedtime
limit the practice to five minutes
keep breathing deep and slow for up to five minutes
create physical cues of calm like holding fingertips and thumbs together.
You can also try customised meditation apps for kids like Insight Timer for visualisation techniques.
Teenagers
Your teen is being bombarded with 'noise' all day, every day. From their phones, friends, high school and more screens, it's a loud, hectic, non-stop world.
Guided meditation works particularly well for this age group as well as:
the space to laugh during their first few attempts (it's generally a self-conscious response)
a bedtime practice to breathe and release the day's stress and rush
advice on letting go of the 'to do' list that will inevitably crop up in their thoughts
"Meditation just before your child's bedtime will activate the parts of their brain that control sleep."
Can bedtime meditation help your child sleep better than counting sheep?
In a word, yes.
Sure, fluffy lambs leaping over an imaginary fence in your child's mind might do the trick. But when they're 'too-cool teens', this warm and fuzzy technique may not be so welcome!
Teaching your child how to truly unwind once they're tucked up in bed is a skill that will impact everyone in your home at night. Not only will it help the whole family finish the day on a peaceful, relaxing note, it will also help your little one (or bigger one) process and let go of their busy thoughts for a more soothing sleep. Also, bedtime meditation isn't just based on lots of deep breathing with closed eyes (your toddler might want to sneak a look or three!). It's really all about slowing down their minds and creating a comfortable, warm setting that will completely relax your child and send them off to sleep – without too much fuss!
Toddler sleep meditation tips:
Keep it short, 2-3 minutes
Use a calm tone, speak slowly with long pauses
Encourage your child to focus on their breath
Say things like: feel your fingers, toes, arms and legs get floppy and sleepy.
Another lovely idea for younger children is guiding them to put each body part to sleep. "Good night legs, sleep well, arms…" You can touch their face, neck, mouth, head as you say these words. You might even want to say goodnight to the birds, the stars, the moon and the ocean.

For older children you can:
Guide your child to think of their favourite people, pets, wishing them goodnight one, by one
Breathe deeply with them
Tell a slow story, describing a bird gliding over a peaceful sea.
Whether you have a very active, feisty toddler or a distracted teen, the key to effective bedtime meditation is pace and patience. The fact you're even reading a blog like this means you're ready to give your child the long lasting benefits of sleep meditation – this alone, is fantastic.
And if you need a little helping hand, you can always reach out to these fun and practical apps.
Take a deep breath, meditation is a practice, not something your child should perfect
Someone wise once said, we meditate to get good at life, not to get good at meditation. So when it comes to meditation and your child, remember the goal is not to 'get better' at it. It's not like memorising a spelling list or a quadratic equation. And, as with most healthy habits, it will take time before it's a part of your child's life.
Remember, with a little patience, encouragement and a lot of love, you can help your child build a wonderful habit they will feel the effects of every day for a lifetime.
All information contained in this article is intended for general information purposes only. The information provided should not be relied upon as medical advice and does not supersede or replace a consultation with a suitably qualified healthcare professional.
Sources:
A meditation practice for children - Health & Wellbeing (abc.net.au)
Meditation for Kids - Headspace
Health and wellbeing
programs & support
You Belong to More with CBHS Hospital cover:
Greater choice over your health options including who treats you
Get care at home with Hospital Substitute Treatment program
Free health and wellbeing programs to support your health challenges
Live your healthiest, happiest life with CBHS Extras cover:
Benefits for proactive health checks e.g. bone density tests, eye screenings
Keep up your care with telehealth and digital options
Save on dental and optical with CBHS Choice Network providers