At CBHS we help you manage your health challenges. We believe in offering you the services, support and tools you need to live your best life.
Our Better Living Programs are available to support eligible members towards a healthier lifestyle. Each Better Living Program is subject to its own eligibility criteria.
Contact us for more information and to confirm your eligibility for a program.
The impact of emojis on mental wellbeing and healthcare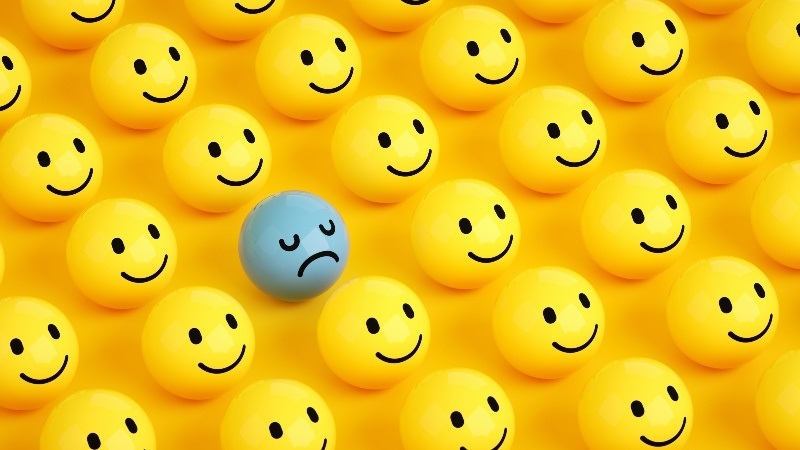 Love them or hate them, emojis have become an important part of our digital conversation. These small, expressive icons have changed the way we show emotions and connect with others. But what impact do emojis have on our wellbeing? We'll talk about some research findings on the influence of emojis in our personal and professional life, as well as the impact of emojis in healthcare.
Emojis and emotional communication
Emojis are powerful tools, helping us express our emotions and providing additional context where text alone cannot. Research suggests that emojis bridge the emotional gap that we have in online conversations, helping people to show their feelings more clearly.
Studying the impact of emojis in different situations, we can see that they not only help us communicate emotions but also foster emotions too. For example, a heart or a smiling face, that indicates affection or positive sentiment, is welcome even in professional settings. Many employees said that an email or message from their managers using emojis, impacts them in a better and more positive way than the ones with text only. These symbols create a common idea and ease emotional connection, leading to better communication.
Shuhan He's research talks about the important part emojis could play in doctor and patient conversation. He is continuing research into how they could help to express common symptoms, and help patients assess their mobility, mood, and pain levels. Co-creator of the anatomical heart and the lung emoji, he is now working with several medical specialists to develop more medical related emojis.
"It's clear that emoji have become part of the global, mainstream conversation, and that medical societies and physician committees and organisations need to take them seriously" Shuhan He, MD and director of growth for the MGH Centre for Innovation in Digital HealthCare
Emojis and healthcare
Another study highlights the potential of emojis in medical speech. Emojis, with their universal appeal and convenience, could be used to develop a universal emoji-based language system in healthcare. This would promote better connection between patients and healthcare providers, as well as among clinicians themselves. By replacing complex survey language and breaking down language barriers, emojis have the potential to help patients understand and engage in their healthcare journey. They can also drastically reduce the length of surveys too, which is likely to increase the response rate.
Another important aspect of emoji use in healthcare is creating emojis that represent medicine and science more clearly. Currently, emojis for common items like a 🥪 and 💩 exist, but there is no emoji to represent most organs of the body that are involved in the digestion process. The release of the anatomical representations of the heart 🫀 and lungs 🫁 in 2020, greatly improved the range of existing medically relevant emojis, like stethoscope 🩺, syringe 💉, and pill 💊. But there is still a need to grow the options, with icons like an anatomically accurate stomach, intestine, liver, and kidneys, and visual medical equipment, like IV bag and weight scale.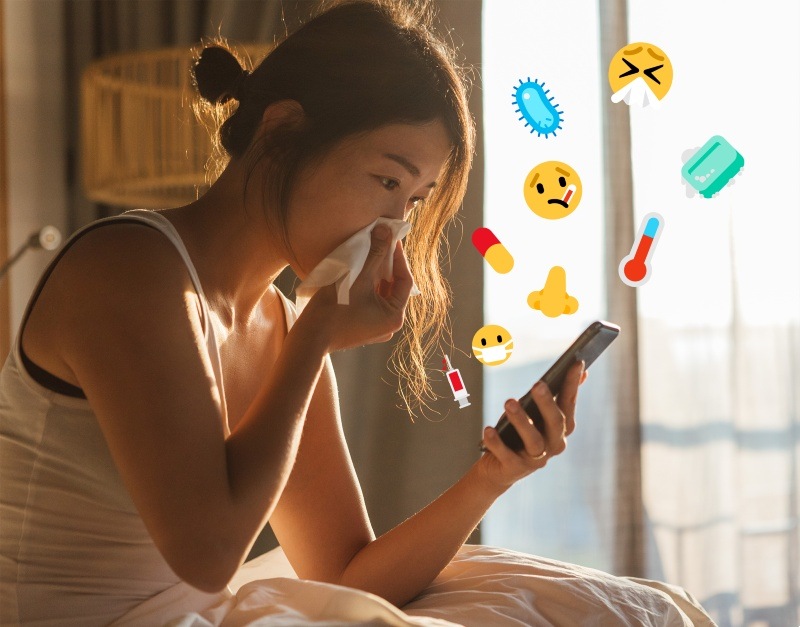 "Surveys are usually circulated to patients in a variety of different stages of their care. But many surveys are wrought with language that can introduce a barrier. This is where emoji, which are friendly and universally utilised, come into play by replacing survey language that can be hard for some patients to understand." - Kendrick A. Davis, clinical professor of psychiatry and neuroscience.
Emojis and mental wellbeing
Many studies explored the effects of emojis on emotional experiences and social support in online groups. Positive emojis can create a sense of empathy and connection, by conveying positivity and support.
Another study investigated the relationship between emojis and emotional wellbeing. The researchers found that people who frequently used positive emojis experienced higher levels of happiness and life satisfaction. Emojis help to self-express and facilitate positive emotional experiences, leading to improved mental health. Also, using emojis in digital chats reduced the perception of negative emotions, creating a more positive online environment.
The impact of emojis on mental wellbeing extends to mental health support. Emojis can be used as effective tools in therapy and counselling sessions. Including emojis into therapeutic conversations allows people to express complex emotions that may be challenging to do in words alone.
The wide availability of emojis also means they're accessible to almost anyone with a device. Tools like the traditionally paper-based Wong-Baker faces pain scale have been translated into a digital emoji-based visual scale: 😀🙂😐🙁☹️😭 which increases where and how it can be used.
There are also some promising uses for emojis in a physical wellbeing sense too. One study found that children chose more healthy food options when green smiley emojis were placed near vegetables and milk. Another important finding came from a German hospital setting, where researchers trialled a digital feedback system, using smiley and frowny emojis, to promote good hand hygiene practices. Once used, the frowny face on the dispenser changed to a smiley one. Hand hygiene, being essential in helping stop spread infection, is a key healthcare topic globally. This digital feedback system successfully increased the usage of hand-rub dispensers in patient rooms.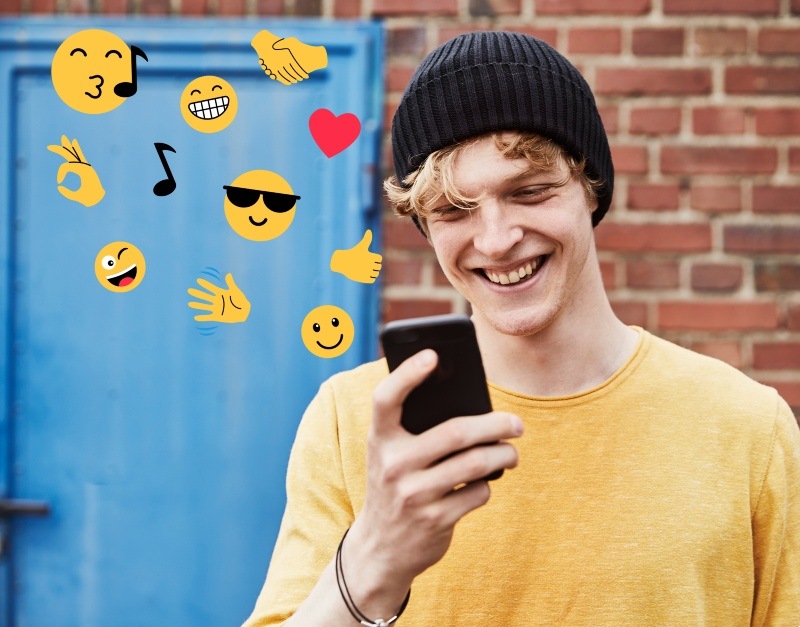 "Emoji can be helpful in such situations where patients can't speak. For example, those with a brain injury, in stroke recovery, or on ventilators. Simply pointing to an emoji on a scale can allow them to express important emotions or needs. Emojis can also be useful in countries with low literacy rates."
Emojis and social connection
Emojis play a significant role in supporting social bonds and fostering social connections. They can contribute to the perception of warmth and friendliness in digital conversations. They can also help improve social connection between people by translating intentions more clearly.
In online communities, emojis have a powerful impact on creating a sense of belonging and shared emotional experiences. Another study explored the role of emojis in supporting social connection. It seems that emojis act as social cues, helping people connect on a deeper emotional level according to their cultural background, living environment, language, and user group. By using emojis, online community members show shared emotional experiences, leading to a greater sense of belonging and community support.
Emojis have a profound influence on our lives, particularly in the realm of digital communication.
As we continue to embrace the digital world, including emojis into our messages can bring us closer together, promote empathy, and create a more positive and supportive online environment. So, let's express ourselves with emojis and enjoy the positive impact they can have on our mental and emotional health.
All information contained in this article is intended for general information purposes only. The information provided should not be relied upon as medical advice and does not supersede or replace a consultation with a suitably qualified healthcare professional.
References:
https://www.frontiersin.org/articles/10.3389/fpsyg.2019.02221/full
https://www.ncbi.nlm.nih.gov/pmc/articles/PMC10194970/
https://journals.plos.org/plosone/article?id=10.1371/journal.pone.0144296
https://www.ncbi.nlm.nih.gov/pmc/articles/PMC7011445/
https://www.mdpi.com/2076-328X/13/3/278
https://news.ucr.edu/articles/2023/06/13/using-emoji-measure-health
https://www.sciencedaily.com/releases/2021/09/210907175321.htm
https://jamanetwork.com/journals/jamanetworkopen/fullarticle/2805970
https://www.fastcompany.com/90718638/medical-emoji
https://aricjournal.biomedcentral.com/articles/10.1186/s13756-020-0692-2
https://journals.plos.org/plosone/article?id=10.1371/journal.pone.0197465
https://www.researchgate.net/publication/333823865_Amount_and_Diversity_of_Digital_Emotional_Expression_Predicts_Happiness
https://jamanetwork.com/journals/jamanetworkopen/fullarticle/2805970
Health and wellbeing
programs & support
You Belong to More with CBHS Hospital cover:
Greater choice over your health options including who treats you
Get care at home with Hospital Substitute Treatment program
Free health and wellbeing programs to support your health challenges
Live your healthiest, happiest life with CBHS Extras cover:
Benefits for proactive health checks e.g. bone density tests, eye screenings
Keep up your care with telehealth and digital options
Save on dental and optical with CBHS Choice Network providers