At CBHS we help you manage your health challenges. We believe in offering you the services, support and tools you need to live your best life.
Our Better Living Programs are available to support eligible members towards a healthier lifestyle. Each Better Living Program is subject to its own eligibility criteria.
Contact us for more information and to confirm your eligibility for a program.
Treat yourself: Christmas treats with healthy tweaks!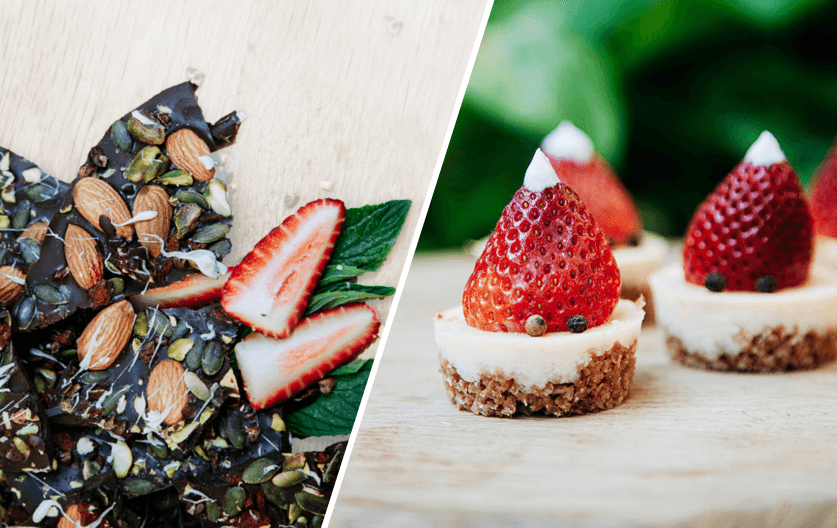 The festive season is finally here. Trees and decorations are everywhere, and your calendar is suddenly looking a bit packed. But all those social events can leave you feeling a little… bloated. When you must go to a party and need to bring a plate, we've got you covered, with some healthy tweaks to festive treats.
Or, get the kids involved and make these easy treats at home with the family. After all, it'll keep them occupied for at least a few minutes!
Here at CBHS, we believe you can enjoy all food in moderation. And, how could you resist these cute treats? We've also tested out these recipes ourselves – so we can give them the seal of approval.

Bite-sized Santa Cheesecakes
Simple, fun treats you can make with the whole family. Makes 24 mini cheesecakes.
Nutritional content (per serve)*
70 calories | protein: 2g | carb: 6g | sugar: 4g | total fat: 4g | sat fat: 3g
*Approximate values from Xyris Food Works
Why are they good for you?
This recipe is good for the soul. We have made some healthy edits to the original recipe, including reducing the sugar by more than half, using Weet-Bix instead of biscuits and light cream cheese instead of full fat, however it is still a treat food. Enjoy in moderation.
Ingredients
Base:
4 Weet-Bix, blitzed into crumbs
1.5 tbs coconut oil or copha
Filling:
250g light cream cheese
½ cup ricotta cheese
⅓ cup sugar
1 egg
1 egg yolk
2 drops vanilla essence
1.5 tbsp all-purpose flour
Santa tops:
Piped ricotta for Santa hat
1 punnet of strawberries
Chocolate drops for eyes
Method
Preheat the oven to 160C.
Prepare mini cupcake moulds with butter or spray olive oil.
Blitz up Weet-Bix in a food processor until they resemble breadcrumbs.
In a bowl, mix coconut oil (heated) and blitzed Weet-Bix together until combined.
Firmly press 1 tsp of mixture into the moulds to form the base, and bake for 5 mins, set aside to cool.
In a clean bowl, combine cream cheese, ricotta and beat until smooth.
Add sugar and vanilla and beat until smooth, scraping down edges as required.
Using a spatula, gently fold through flour until just combined.
Divide mixture evenly among cupcake moulds until full.
Bake in oven for 12-14mins or until puffed, set around edges and a little jiggly in the centre.
Turn off oven and let cool with door cracked for 5mins.
Cool in moulds and transfer to the fridge when cooled.
Top with strawberry, pipe on ricotta and use two chocolate drops for the eyes.


Festive Bark
Enjoy in moderation. Give as a gift.
Nutritional content (per serve)*
102 calories | protein: 2g | carb: 7g | sugar: 6g | total fat: 7g | sat fat: 2g | fibre: 2g |
*Approximate values from Xyris Food Works
Why it's good for you?
Not only does this bark make a lovely, customisable gift or treat, but you can pack in the superfoods too. We have added nuts and seeds, which have protein and unsaturated fats to help slow down the spike of blood glucose from the chocolate.

Ingredients
¼ cup of raw almonds*
¼ cup raw pistachios*
2 tsp goji berries*
2 tsp pepitas*
2 tsp cacao nibs*
Pinch of sea salt
1 block 70% dark chocolate (we used a supermarket own-brand)
2 squares white chocolate (we used supermarket own-brand)
Method
Line baking tray.
Melt dark chocolate in a heat proof bowl over simmering water. Stir until smooth.
Thinly spread over baking tray into a rectangle shape.
Sprinkle almonds, pistachios, goji berries, pepitas and cacao nibs evenly.
Set aside in fridge to set.
Melt white chocolate in a heat proof bowl over simmering water. Stir until smooth.
Once dark chocolate is set, drizzle white chocolate and leave until set.
Enjoy as a treat, or wrap up and give as a festive gift

All information contained in this article is intended for general information purposes only. The information provided should not be relied upon as medical advice and does not supersede or replace a consultation with a suitably qualified healthcare professional.
Health and wellbeing
programs & support
You Belong to More with CBHS Hospital cover:
Greater choice over your health options including who treats you
Get care at home with Hospital Substitute Treatment program
Free health and wellbeing programs to support your health challenges
Live your healthiest, happiest life with CBHS Extras cover:
Benefits for proactive health checks e.g. bone density tests, eye screenings
Keep up your care with telehealth and digital options
Save on dental and optical with CBHS Choice Network providers