At CBHS we help you manage your health challenges. We believe in offering you the services, support and tools you need to live your best life.
Our Better Living Programs are available to support eligible members towards a healthier lifestyle. Each Better Living Program is subject to its own eligibility criteria.
Contact us for more information and to confirm your eligibility for a program.
Understanding HIV and AIDS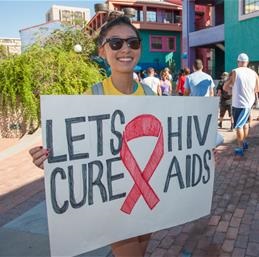 What is HIV and AIDS?
Human Immunodeficiency Virus (HIV) is a virus that attacks the body's immune system. The immune system is our body's natural defence against disease. If the immune system becomes severely damaged by HIV, a person may develop Acquired Immunodeficiency Syndrome (AIDS). When someone has AIDS, their immune system is weak and less able to fight off infections and disease.
How many Australians have HIV or AIDS?
According to the Australian Federation of Aids Organisation, in 2017 there were an estimated 27,545 people with HIV in Australia. Ninety five per cent of these people were accessing care.
Anyone can get HIV, and while 63% of new HIV diagnoses were attributed to male to male sex in 2017, the rate is decreasing. Yet rates of transmission from heterosexual sex is increasing. In 2016, 21% of new diagnoses were attributed to heterosexual sex and in 2017 it climbed to 25%.
How can you get HIV?
You can get HIV from coming into contact with the blood, semen, vaginal fluid, rectal fluid or breast milk of an infected person.
If you engage in unprotected anal or vaginal sex, you're putting yourself at risk. Unprotected means you're not using a condom.
You can also put yourself at risk of contracting the infection if you share needles when taking drugs or get tattoos or piercing with unsterile needles.
What are the symptoms of HIV?
Many people will have no symptoms at all when they become infected with HIV. Others may experience symptoms similar to a mild flu including:
tiredness
headaches
sore throat
sore muscles and joints
fever
swollen lymph glands in the neck, underarm or groin areas
rash
These mild flu symptoms usually happen around 10 to 14 days after infection.
How can you get tested?
You can see your GP to get tested for HIV or find out about other options for testing at the Australian Federation of Aids Organisations.
How can you prevent HIV?
While there's no vaccine against HIV, there are things that you can do to reduce your likelihood becoming infected.
The best ways to prevent HIV infection are to:
use condoms and a water-based lubricant for anal and vaginal sex
never share needles, syringes and other injecting equipment
make sure all tattooing, piercing and other procedures use sterilised equipment
Preventing infection through medication
There are medications that can help to prevent the likelihood of infection before and after exposure.
Before exposure, you can take HIV Pre-Exposure Prophylaxis (PrEP) which is highly effective at limiting the spread of HIV.
After exposure, you can take Post Exposure Prophylaxis (PEP). It's best to start taking these medications within 72 hours of exposure.
What is World AIDS Day?
World AIDS Day is on the 1st of December each year. It helps to raise awareness about HIV and AIDS around the world. It also helps to reduce stigma and discrimination that people with HIV and AIDS may experience.
More information
Find out more about HIV at the Australian Federation of AIDS Organisations.
Sources
https://kirby.unsw.edu.au/sites/default/files/kirby/report/supplHIV2018_content_20180920r.pdf
https://www.afao.org.au/about-hiv/hiv-prevention/
https://www.afao.org.au/our-work/world-aids-day/
https://www.afao.org.au/about-hiv/hiv-prevention/prep/
https://www.healthdirect.gov.au/hiv-infection-and-aids
http://www.worldaidsday.org.au/internet/wad/Publishing.nsf/content/home
https://www.abc.net.au/news/2018-09-24/australian-hiv-rates-declining/10297546
All information contained in this article is intended for general information purposes only. The information provided should not be relied upon as medical advice and does not supersede or replace a consultation with a suitably qualified healthcare professional.
Health and wellbeing
programs & support
You Belong to More with CBHS Hospital cover:
Greater choice over your health options including who treats you
Get care at home with Hospital Substitute Treatment program
Free health and wellbeing programs to support your health challenges
Live your healthiest, happiest life with CBHS Extras cover:
Benefits for proactive health checks e.g. bone density tests, eye screenings
Keep up your care with telehealth and digital options
Save on dental and optical with CBHS Choice Network providers