At CBHS we help you manage your health challenges. We believe in offering you the services, support and tools you need to live your best life.
Our Better Living Programs are available to support eligible members towards a healthier lifestyle. Each Better Living Program is subject to its own eligibility criteria.
Contact us for more information and to confirm your eligibility for a program.
Understanding low blood pressure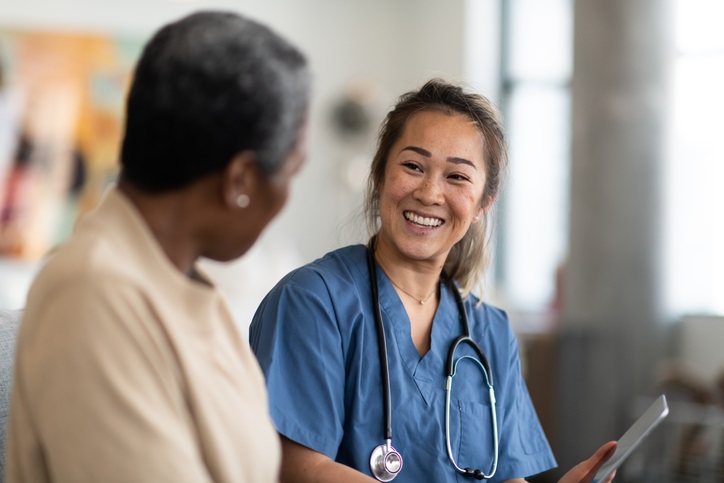 What is low blood pressure?
Your heart pumps blood full of nutrients and oxygen around your body. As the blood pumps out of the heart and into your blood vessels, it pushes against the walls of the blood vessels. Your blood pressure is the amount of force put on your blood vessel walls by your blood.
When your blood pressure is at healthy levels, it means your blood vessels aren't under unnecessary strain.
Low blood pressure, or hypotension, happens when the pressure of blood circulating around the body is lower than normal.
When your heart is contracting, or squeezing blood into your arteries, your blood pressure is higher. This is the systolic component. When the heart is relaxing, the pressure is lower, and this the diastolic component.
Your blood pressure reading has 2 figures - the highest (systolic) over the lowest (diastolic).
Normal blood pressure is 120/80 mmHg
Low blood pressure is a reading of 90/60 mmHg or lower
Is low blood pressure a problem?
Some people have low blood pressure if they're very fit. This isn't a problem
What are the symptoms of low blood pressure?
Because low blood pressure can have no symptoms at all, it's important that you're getting your blood pressure checked regularly. When symptoms do occur, they might include:
feelings of light-headedness or dizziness
blurred vision
fatigue and general weakness
fainting
When might these symptoms occur?
Symptoms can occur when you're doing nothing or going about your day as normal.
What causes low blood pressure?
If you're very fit, you might experience low blood pressure simply because your heart is very efficient at pumping blood around your body.
But there are many other causes of low blood pressure including:
overheating and dehydration
pregnancy
allergies
high intake of drugs and alcohol
some medications
illness by infection
certain heart conditions
nutritional deficiencies
emotional distress (like pain or fear)
blood loss
nervous system disorders
irregular heartbeat
prolonged bed rest
When to see your GP
It's best to see your GP if you think you have any of the above symptoms of low blood pressure. Your GP can work out what the underlying cause of the symptoms, which may be caused from conditions other than low blood pressure are and recommend any necessary treatment
Managing low blood pressure
In the meantime, some general principles to follow are:
increase the amount of water you drink
eat a varied, healthy diet with plenty of fruits and vegetables and eat small frequent meals
take your time changing body positions, such as if going from lying to standing do so gradually and not in one quick movement
control any bleeding straight away
don't sit or stand for long periods of time
don't drink too much alcohol
don't drink caffeinated drinks at night
What about high blood pressure?
High blood pressure, or hypertension, can damage your arteries and heart by putting extra pressure on them. It's also a major risk factor in cardiovascular disease and other heart and general health conditions.
You have high blood pressure if you have a reading that is greater than or equal to 140/90 mmHg. This can be either or both:
a systolic pressure that is greater or equal to 140 mmHg
a diastolic pressure greater than or equal to 90 mmHg.
For more information, check out our guide on living with high blood pressure.
More information
Sources
https://www.betterhealth.vic.gov.au/health/conditionsandtreatments/blood-pressure-low-hypotension
https://www.healthdirect.gov.au/low-blood-pressure-hypotension
https://www.heartfoundation.org.au/your-heart/know-your-risks/blood-pressure/is-my-blood-pressure-normal
https://www.mydr.com.au/heart-stroke/low-blood-pressure
https://www.nhs.uk/conditions/low-blood-pressure-hypotension/
All information contained in this article is intended for general information purposes only. The information provided should not be relied upon as medical advice and does not supersede or replace a consultation with a suitably qualified health care professional.
Health and wellbeing
programs & support
You Belong to More with CBHS Hospital cover:
Greater choice over your health options including who treats you
Get care at home with Hospital Substitute Treatment program
Free health and wellbeing programs to support your health challenges
Live your healthiest, happiest life with CBHS Extras cover:
Benefits for proactive health checks e.g. bone density tests, eye screenings
Keep up your care with telehealth and digital options
Save on dental and optical with CBHS Choice Network providers