At CBHS we help you manage your health challenges. We believe in offering you the services, support and tools you need to live your best life.
Our Better Living Programs are available to support eligible members towards a healthier lifestyle. Each Better Living Program is subject to its own eligibility criteria.
Contact us for more information and to confirm your eligibility for a program.
Vegelicious low-carb fried rice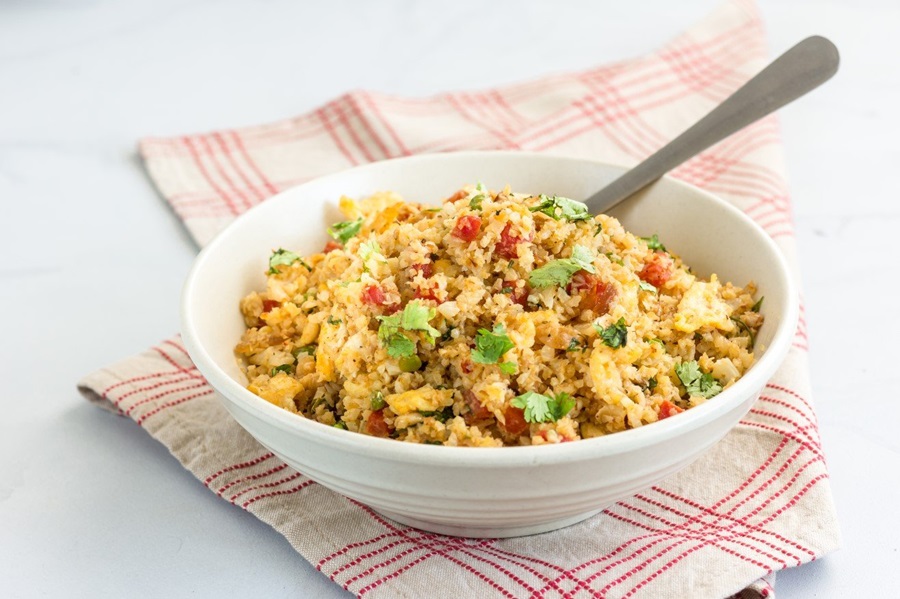 Nutritional content per serve
235 calories | Protein: 22g | Carbs: 14g | Sugar: 10g | Total fat: 11.9g | Sat. fats: 2.1g | Fibre: 8.5g |
*Approximate values from Xyris Foodworks software.
Serves 4
Ingredients

500g cauliflower
1 small zucchini
½ large capsicum
1 cup peas
½ cup corn kernels
6 spring onions
2 handfuls bean sprouts
1 tbs soy sauce (or tamari)
4 large eggs
200g teriyaki tofu
Method:
Cut up cauliflower and add florets to a food processor.
Blitz until finely chopped, resembling rice. You may have to do this in batches depending on how large your food processor is.
Finely dice zucchini and capsicum.
Heat 1 tbs olive oil over medium heat, add cauliflower, zucchini, capsicum, peas and corn.
Cook for 5 minutes (if using frozen cauliflower rice, cook this before adding the other vegetables).
Meanwhile, whisk eggs in a bowl and heat a separate pan.
Pour eggs into second pan and stir until cooked through.
To the first pan, add bean shoots, spring onions and soy sauce, and cook for one minute.
While that's cooking, remove egg from the small pan and cut into pieces.
Chop tofu into bite-size pieces.
Add egg to the main pan, continue stirring, then add tofu and cook for a further minute.
Take off the heat and divide among the bowls.
Garnish with extra spring onion and chilli flakes if you like some heat, enjoy!
NB: You can pair the dish with some grilled chicken or beef strips if you'd like to make it even more substantial!
Why it's good for you:
Tofu is a rich source of plant protein for satiety, muscle and bone health. It's also low in carbohydrates and a good source of calcium, iron and manganese.
Eggs are widely considered to be a perfect protein source. They are also a great source of vital nutrients for your health and wellbeing, including omega-3 fatty acids, iron, iodine, phosphorus, selenium, B vitamins, and vitamins A, D and E.
The inclusion of seven different vegetables makes it a great way to help you reach your five-a-day vegetable intake, as well as being a great source of fibre, phytonutrients, and several essential vitamins and minerals!
All information contained in this article has been prepared by CBHS health professionals and is intended for general information purposes only. The information provided should not be relied upon as medical advice and does not supersede or replace a consultation with a suitably qualified healthcare professional.
Health and wellbeing
programs & support
You Belong to More with CBHS Hospital cover:
Greater choice over your health options including who treats you
Get care at home with Hospital Substitute Treatment program
Free health and wellbeing programs to support your health challenges
Live your healthiest, happiest life with CBHS Extras cover:
Benefits for proactive health checks e.g. bone density tests, eye screenings
Keep up your care with telehealth and digital options
Save on dental and optical with CBHS Choice Network providers