At CBHS we help you manage your health challenges. We believe in offering you the services, support and tools you need to live your best life.
Our Better Living Programs are available to support eligible members towards a healthier lifestyle. Each Better Living Program is subject to its own eligibility criteria.
Contact us for more information and to confirm your eligibility for a program.
We've got our heads in the sand when it comes to health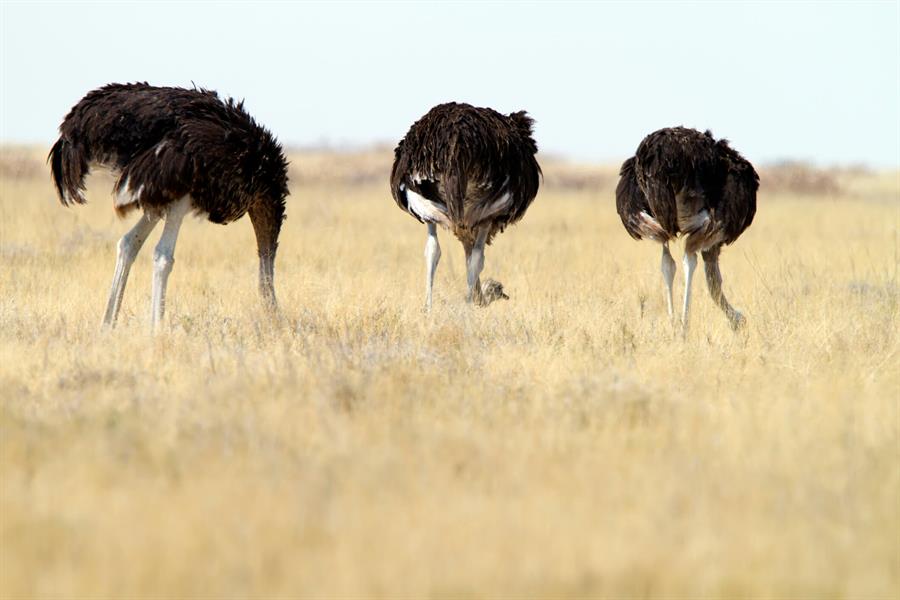 Australia is known as the lucky country, and that certainly held true for COVID. We escaped the worst of the global pandemic, and a year on from the first lockdown here in Australia, most of us like to think we're in pretty good health. But can we trust our own judgement? Apparently not, according to new research from the Members Health Fund Alliance (MHFA).
Inaugural survey
The inaugural Australian Health Indicators survey of more than 2,000 Australians was undertaken in late November/early December 2020 to provide a snapshot of our health as a nation. MHFA plan to repeat the survey every twelve months to track changes in our physical and mental health and wellbeing.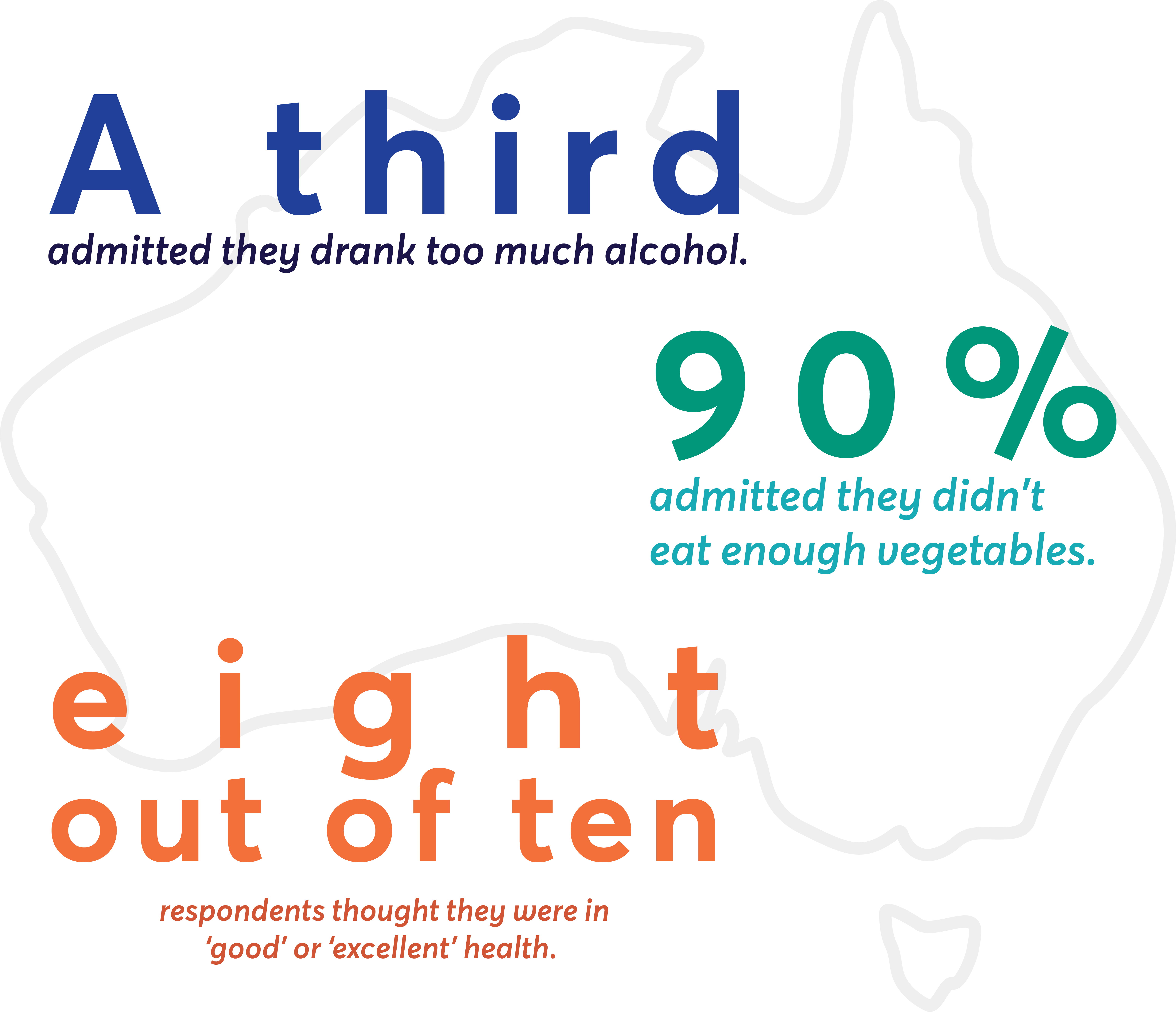 Baffling results
The findings of the first survey are fascinating.
Most respondents said they were healthy and well. In fact, eight out of ten claimed they were more than just okay, they were in 'good' or 'excellent' health.
That sounds like cause to celebrate. Hang on a minute though. Dig deeper into the report and you come up with some baffling statistics that show most of us have our heads planted firmly in the sand when it comes to our own health.
Veg out or veg in?
According to the report, around 80% of us claim we're healthy (81% of men and 77% of women) which must mean we're willing to overlook diet as a key indicator of health. Why? Because in that same survey more than 90% of respondents freely admitted they don't eat enough vegetables. We should be eating at least five serves of veg a day, but only 7% of us manage that. An unhealthy diet – high in saturated fat and lacking essential fruit and vegetables – can contribute to serious health conditions like diabetes, obesity and heart disease.
Here are the current guidelines if you want to remind yourself what constitutes a healthy diet.
Sobering stats about drinking
When it comes to alcohol intake, we all know that the less we drink, the less we risk damaging our health, yet a third of people surveyed admitted they drank too much. The adverse effects of drinking too much include poor physical and mental health, and long-term can include cancer, heart disease, stroke and dementia. How much is too much? You can check the guidelines here.
Men are more likely to exceed the guidelines than women, especially younger men.
What do the scales say?
Here's another discrepancy that came out of the survey. We believe we're healthy but less than one in three of us will register a healthy weight when we stand on the scales. The older we get, the more likely we are to be overweight (74% of Australians aged 50 and over are overweight or obese, compared with 39% of adults under 30).
Over half of the respondents who lived in a capital city were obese (58%) and for people living outside of capital cities that figure rose to 68%.
As confronting as it is, evidence clearly shows that being overweight or obese can adversely affect our health in many ways.
Mental health matters
It's often said that young people have been hardest hit by the pandemic, and the statistics on mental health bear that out.
The survey found that younger Australians were significantly more likely to have experienced anxiety or depression in the previous three months than older Australians (22% of those aged 18-29 and 23% of those aged 30-39, compared with only 6% of those aged 60 and over.)
The national average is around 15%, or one in seven Australians, who reported experiencing a mental illness such as anxiety or depression in the previous three months.
If you're one of those people, please reach out for help. Mental illness can be treated. Contact your GP or call Lifeline on 13 11 14 or Beyond Blue on 1300 22 46 36
Loneliness affects women more than men (a mean score of 18.8 compared with 16.8 for men) and younger people more than older people.
One bright spot from the survey was that the extended lockdown in Victoria didn't appear to increase the incidence of anxiety or depression. Victorians were no more likely to experience anxiety or depression than the national average.
Testing times
Before COVID hit, if you lived in Victoria, you were more likely to have had a mammogram than if you live in any other State (53% of women in Victoria have had at least one mammogram followed by 50% in NSW and 49% in WA).
But in the past 12 months, Victoria recorded the least number of mammograms, with only 12% compared to 14% in SA, 15% in QLD and NSW and 16% in WA. The extended lockdown in Victoria may have been responsible.
The lowest testing rates for bowel cancer were in WA (30% compared with between 40% and 42% in NSW, VIC, QLD and SA). If found early, bowel cancer is one of the most preventable types of cancer, and do-it-yourself testing kits can detect early signs.
Wherever you live, if you receive a bowel cancer testing kit as part of the Australian Government screening program, make sure you complete it. And if you're over 50, you should have breast screening at least once every two years, and arrange to see your doctor immediately if you notice any changes or feel anything unusual in your breasts
Here's the bad news
In releasing their survey results, MHFA pointed to an earlier June 2020 survey from the Continuity of Care Collaboration that showed almost a third of Australians had delayed or avoided visiting their GP, and 21% had missed or put off a pathology test.
The results of this more recent survey suggest we could still be ignoring the early warning signs of potential health issues. For MHFA CEO Matthew Koce, that rings alarm bells.
"Combine these findings with data and warnings from the Royal Australian College of General Practitioners and we have a picture of a population typically not in great health but pretending it is; a population that's not seeking medical health advice when it should or at least delaying accessing it."
Here's the good news
The good news is that if you belong to a health fund, you're already one step ahead.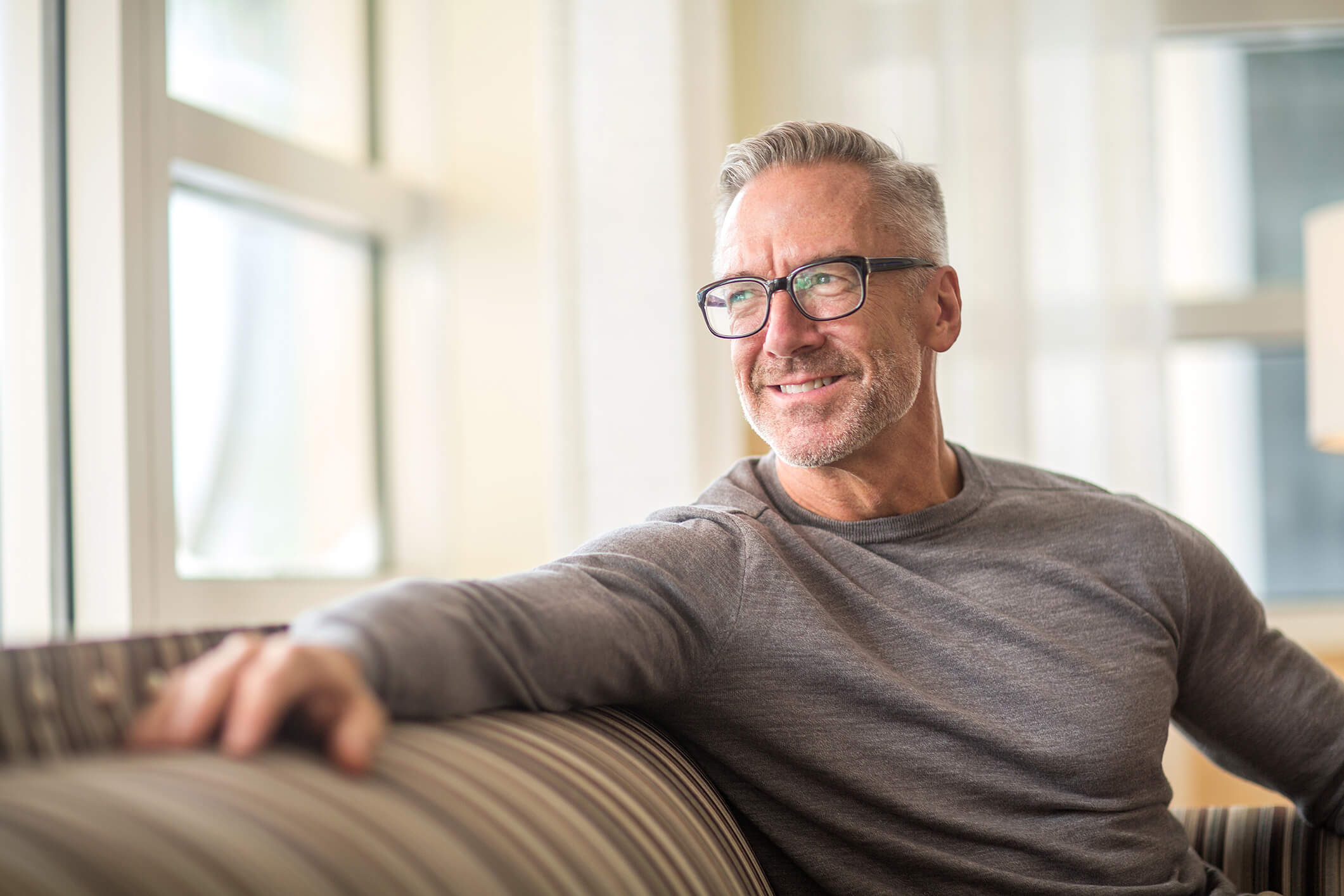 The survey found that people who belong to a health fund are less likely to be overweight and more likely to have preventative health checks. That's probably because health funds like CBHS provide multiple benefits and services to help you stay healthy and well.
Visit the Member Health section of our website to find out more, and see how you can make the most of your membership.
Seize the moment
If you've been putting off renewing your gym membership, getting a health check, or visiting your GP now might be a good time to do something about it.
All information contained in this article is intended for general information purposes only. The information provided should not be relied upon as medical advice and does not supersede or replace a consultation with a suitably qualified healthcare professional.
Sources:
Members Health Fund Alliance survey results, Australia-Health-Indicators-Survey-Final-Report.pdf (membershealth.com.au)
Survey shows Australians delayed GP appointments and pathology tests, but patients starting to return | | Know Pathology Know Healthcare
Health and wellbeing
programs & support
You Belong to More with CBHS Hospital cover:
Greater choice over your health options including who treats you
Get care at home with Hospital Substitute Treatment program
Free health and wellbeing programs to support your health challenges
Live your healthiest, happiest life with CBHS Extras cover:
Benefits for proactive health checks e.g. bone density tests, eye screenings
Keep up your care with telehealth and digital options
Save on dental and optical with CBHS Choice Network providers