At CBHS we help you manage your health challenges. We believe in offering you the services, support and tools you need to live your best life.
Our Better Living Programs are available to support eligible members towards a healthier lifestyle. Each Better Living Program is subject to its own eligibility criteria.
Contact us for more information and to confirm your eligibility for a program.
We've stepped up our efforts to fight cancer with CommBank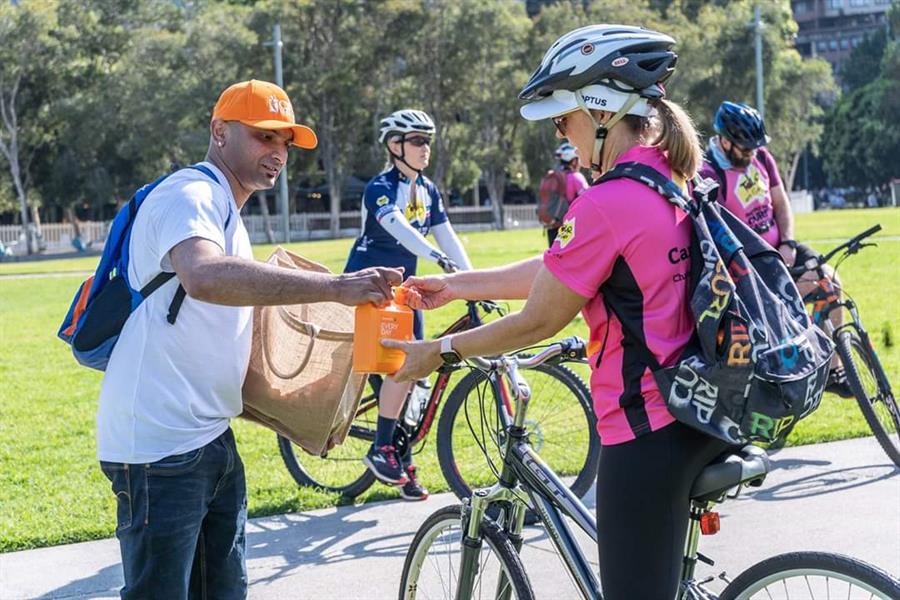 In 2021 we've gone one step further to help the Commonwealth Bank smash their Can4Cancer fundraising goal. Not only are we continuing as the exclusive Wellbeing Partner for Can4Cancer, as well as the My Can4Cancer virtual program, we are now also a supporting sponsor of an exciting new challenge – the Can4Cancer Run.
Take action to change lives and end cancer
Now in its 7th year, Can4Cancer is CommBank's employee-driven, community fundraising challenge with Tour de Cure, raising vital funds for cancer research and support for people with cancer, through a series of fun challenges across five capital cities.
You probably already know someone whose life has been turned upside down by cancer. More than 150,000 new cases will be diagnosed in Australia this year. By getting involved in a Can4Cancer walk, ride or run, Commonwealth Bank and CBHS employees are creating change for so many Australian families.
The goal this year is to exceed a fundraising target of $2million and every person who takes part will make a greatly valued contribution.
What are our staff doing to make a difference?
Our CBHS team members across Australia show their support by registering for their chosen challenge among the line-up of events taking place during April and May, including:
. The Walk – 21km in each of five capital cities
. The Ride – three days of cycling from the Hunter Valley to Sydney
. The '1 Day Melbourne Mini Tour' – one day 90km or 115km ride options
. The Run – a 50km Sydney challenge, new in 2021
. MyC4C – this offers the flexibility for employees to set their own virtual challenge.
How is CBHS getting behind this?
As the private health fund for many CommBank Group staff, we share the same cancer-smart values. We feel strongly about making a difference to the lives of people impacted by cancer and want to see Can4Cancer continue to grow and exceed its fundraising goals.
This is why we have increased our support to include a supporting sponsorship of the new Can4Cancer run in 2021, in addition to continuing our role as exclusive Wellbeing Partner for all Can4Cancer events, including MyCan4Cancer. We are excited to be on board with The Run for this inaugural, 50km challenge in Sydney.
Runners will have the choice of participating individually or in a team of four. We hope to see a strong turnout of CBHS team members running in this, as well as walking, riding and fundraising across the events too!
CBHS will be supporting all Can4Cancer walkers, runners and riders with health and wellbeing advice, webinars, exercise and nutrition consultations to ensure that they have the knowledge and support they need to take on their challenge. We do this both virtually and face-to-face through our Health Hubs.
How can you get involved?
In the lead up to each challenge, you'll have the opportunity to donate towards Team CBHS. Every dollar you give will take us closer to the total we're targeting towards breakthrough cancer research projects.
Where do the funds go?
The money we raise will change lives in many ways:
Achieving breakthroughs
Thanks to these community fundraising efforts, Tour de Cure has funded more than 500 cancer projects in research, support and prevention over the years. Forty of these have resulted in major breakthroughs.
There is still more to be done. Cancer research is a long and expensive process.
Supporting sufferers
Nobody should have to go through cancer alone. Cancer can bring a terrible physical, emotional and financial toll to families and communities. Tour de Cure fund projects that support people living with cancer by connecting them with one another, helping them to build coping strategies, providing practical and financial support through treatment and beyond, offering respite to their support networks and bringing hope.
Sources
https://www.cancer.org.au/cancer-information/what-is-cancer/facts-and-figures
Follow us on facebook to see how Team CBHS are tracking towards our fundraising goals in Can4Cancer 2021 and to make sure you don't miss any cancer-smart tips.
Health and wellbeing
programs & support
You Belong to More with CBHS Hospital cover:
Greater choice over your health options including who treats you
Get care at home with Hospital Substitute Treatment program
Free health and wellbeing programs to support your health challenges
Live your healthiest, happiest life with CBHS Extras cover:
Benefits for proactive health checks e.g. bone density tests, eye screenings
Keep up your care with telehealth and digital options
Save on dental and optical with CBHS Choice Network providers