At CBHS we help you manage your health challenges. We believe in offering you the services, support and tools you need to live your best life.
Our Better Living Programs are available to support eligible members towards a healthier lifestyle. Each Better Living Program is subject to its own eligibility criteria.
Contact us for more information and to confirm your eligibility for a program.
What is Hospital in the Home?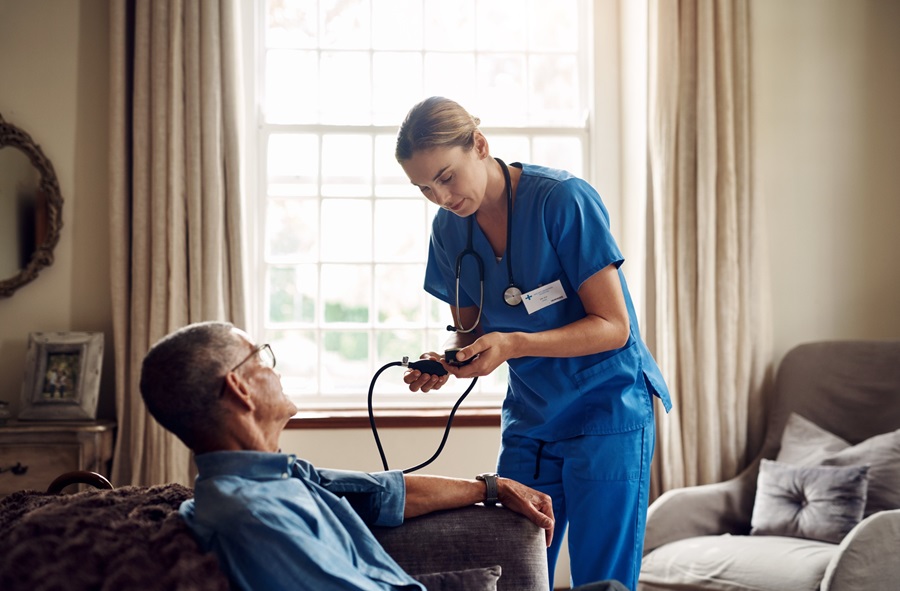 Hospital in the Home (or HITH as it's sometimes called) is a program of care that can help reduce the amount of time our members spend in hospital. Both adults and children can benefit, and, in some cases, HITH can even help people avoid a hospital admission in the first place.
"…if you could, wouldn't you rather be cared for at home, instead of in hospital?"
Being treated at home
Let's face it, none of us want to end up in hospital, no matter how good the care might be, but sometimes it can't be avoided. Accidents can happen to many of us, and most surgical procedures can only take place in hospital.
But if you could, wouldn't you rather be cared for at home, instead of in hospital?
Taking clinical care to people at home
HITH overturns the traditional notion of hospital inpatient treatment. Instead of taking you away from home and admitting you to hospital to receive certain treatments, HITH delivers hospital-level care directly into your own home.
The COVID-19 pandemic accelerated the need for more at-home treatments, but the shift towards hospital care at home, or in the community, began well before then, and there's plenty of evidence to show that it works.
Evidence shows it works
It's not for everyone, of course, but for medically stable patients (and we'll come to that later because that's important) evidence shows that HITH provides the same or better quality of care as traditional, hospital-based treatment.
In some cases, the outcomes for people receiving care at home for acute or chronic conditions are better than hospital-based care. The mortality rate is 20% lower and there's a 25% lower rate of
re-admission.
What are the benefits of Hospital in the Home?
There are many benefits:
less stress
more privacy
greater comfort and convenience
reduce the risk of hospital-acquired infections, including COVID-19
sleep in the comfort of your own bed
stay close to family and loved ones
no separation between parents and children
no travel for you or visitor limits (unless under public health orders)
no concerns over care for pets.
What do CBHS members say about HITH?
Kristine is one of thousands of CBHS members who've benefited from receiving hospital care at home.
"If I didn't have CBHS I doubt very much that I would be walking now."
Kristine's cancer journey involved multiple hospital admissions, with seven biopsies, a bone marrow/stem cell transplant and many ups and downs. Having professional support at home meant Kristine could leave hospital sooner and be reunited with her family.
"CBHS organised home help, physio, nursing, a dietitian and a mental health nurse. It was fantastic and every single person was lovely and did their job well.
"My physio, Jenkin, was fantastic. It was like we were old friends. She made a huge difference to my mobility. I am now walking with some mobility aids but getting there. If I didn't have CBHS I doubt very much that I would be walking now."
What services can you receive at home?
The answer is, more than you might think. Innovations in the way treatments are delivered have increased the range of services you can receive at home. Specialist nurses and allied health professionals can now deliver a whole range of targeted treatment, care, nursing, and support programs at home.
chemotherapy
infusions
intravenous nutrition

complex wound care
palliative care
mental health treatment
rehab following joint replacements.
Who can have HITH?
Everyone is different, so not everyone's circumstances will be suitable for treatment at home. With your ultimate health in mind, your treating doctor is the one who will make the final decision.
Bear in mind, you may not be eligible if your home or your personal circumstances aren't suitable, or if your health condition makes treatment at home impossible. You can find out more by reading our Hospital Substitute Treatment brochure.
And rest assured, there's no obligation to receive treatment at home if you'd rather be treated in hospital.
Are there any additional costs?
If you hold CBHS Hospital or packaged cover, there is no additional cost to participate in a CBHS Hospital Substitute Treatment program (that's what we call our HITH program).
The only stipulation is that the medical services you receive should be an appropriate substitute for treatment that would normally be covered by your policy if you were treated in hospital.
Putting members first
At CBHS, we work hard to make sure our members get the best level of care, wherever and however it's delivered. We know that choice is important, and our Hospital Substitute Treatment program gives suitable patients the choice of receiving treatment at home, or in hospital.
Find out more
You can find out more on our website. You can also download a brochure, call our Health and Wellness team on 1300 174 534 or email wellness@cbhs.com.au.
All information contained in this article is intended for general information purposes only. The information provided should not be relied upon as medical advice and does not supersede or replace a consultation with a suitably qualified healthcare professional.
Adult and Paediatric Hospital in the Home Guideline (nsw.gov.au)
Issues_Paper_-_Taking_Healthcare_Home_Ideas_Lab_23_Feb_2016.pdf (westernsydney.edu.au)
Health and wellbeing
programs & support
You Belong to More with CBHS Hospital cover:
Greater choice over your health options including who treats you
Get care at home with Hospital Substitute Treatment program
Free health and wellbeing programs to support your health challenges
Live your healthiest, happiest life with CBHS Extras cover:
Benefits for proactive health checks e.g. bone density tests, eye screenings
Keep up your care with telehealth and digital options
Save on dental and optical with CBHS Choice Network providers