When it comes to sunscreen, should you use an aerosol?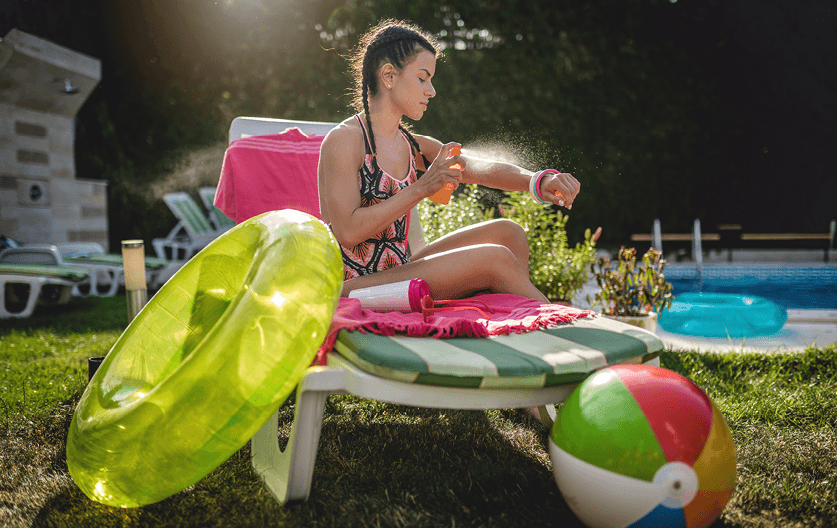 Sunscreen is an essential part of summer. Most of us know we should be using broad spectrum sunscreen with a sun protection factor (SPF) of at least 30+. What then though? Lotion or spray? With so many different brands and products to choose from it can be hard to know which one is right for you and your family.
Does it make any difference if your sunscreen comes from an aerosol, pump spray or a tube?
The answer might surprise you.
The dangers of spraying children
It might seem easier to spray a squirming child instead of holding them still long enough to rub lotion into their skin, but aerosol sprays don't always end up where you intend. If a child turns suddenly there's a danger of inhalation. Inhaling the ingredients in sunscreen could cause lung irritation or respiratory problems.
The best protection for babies under six months is to keep them covered or out of the sun.
Are you using enough?
A light mist of spray on your skin won't be enough to give you sufficient sun protection. Eighty-five percent of Australians don't apply enough sunscreen, and that's especially true when it comes to using aerosols. Did you know that you need to use up to half a can to fully protect an adult's body? You should re-apply after two hours, which means one spray can of sunscreen could disappear in half a day. If you're using it correctly.
Is the aerosol strong enough?
Aerosol sprays are mixed with propellant, so the actual amount of sunscreen contained in a can could be more dilute than an equivalent lotion. What's more, according to tests done by the TGA, the amount of sunscreen dispensed by an aerosol spray can vary depending on the brand. And according to the consumer watchdog, Choice, only 40-60% of the cans they tested were actual sunscreen. The rest was propellant and volatile chemicals.
Aerosols cost more
All that convenience comes at a price. Factor in the possibility of over-spraying and wind dispersal, and aerosol spray sunscreen can cost twice as much as an equivalent lotion.
Sprays. Lotions. They all take time to get to work.
Did you know it can take up to 20 minutes for the UV-blocking ingredients in sunscreen to become active? That means you should apply sunscreen at least 20 minutes before exposure to the sun, regardless of whether you're using lotion or spray.
Safety issues
The risk is small but there have been cases of the propellant in sunscreen catching fire. There's an obvious risk if you spray near a barbecue or open fire, but you could also be burnt if the product hasn't had time to dry and you stand too close to a naked flame.
Should I stop using aerosol sprays?
The Cancer Council no longer recommends using aerosol sunscreens, largely because people don't use them properly. In 2017, they withdrew their own-brand aerosol sunscreen from the market. However, as long as you use them correctly, aerosol sunscreen sprays can offer the same level of protection as lotions.
So, what's the verdict?
Creams and lotions, either in tubes or pump applicators, offer better value for money, potentially better application and there's no risk of inhalation. The fact that the Cancer Council has stopped manufacturing aerosol cans says it all.
Hang on, all I've got is an aerosol!
Don't panic. All aerosol sunscreens sold in Australia have to pass stringent tests. Just make sure you're applying the spray sunscreen correctly:
Spray liberally for at least 10 seconds on each part of your body
Apply out of the wind
Avoid spraying near your face
Spray into your hands before applying to children
And remember, if you and your family are planning to spend the whole day at the beach, you'll need several cans for day-long protection.
Sources:
https://www.tga.gov.au/behind-news/be-sun-smart-wear-sunscreen
https://www.consumerreports.org/sunscreens/right-way-to-use-spray-sunscreen/
https://www.tga.gov.au/blogs/tga-topics/everything-you-ever-wanted-know-about-sunscreens-were-afraid-ask
All information contained in this article is intended for general information purposes only. The information provided should not be relied upon as medical advice and does not supersede or replace a consultation with a suitably qualified Health Care Professional.
Health and wellbeing
programs & support
You Belong to More with CBHS Hospital cover:
Greater choice over your health options including who treats you
Get care at home with Hospital Substitute Treatment program
Free health and wellbeing programs to support your health challenges
Live your healthiest, happiest life with CBHS Extras:
Benefits for proactive health checks e.g. bone density tests, eye screenings
Keep up your care with telehealth and digital options
Save on dental and optical with CBHS Choice Network providers