At CBHS we help you manage your health challenges. We believe in offering you the services, support and tools you need to live your best life.
Our Better Living Programs are available to support eligible members towards a healthier lifestyle. Each Better Living Program is subject to its own eligibility criteria.
Contact us for more information and to confirm your eligibility for a program.
Why sleep meditation for kids can be a dream come true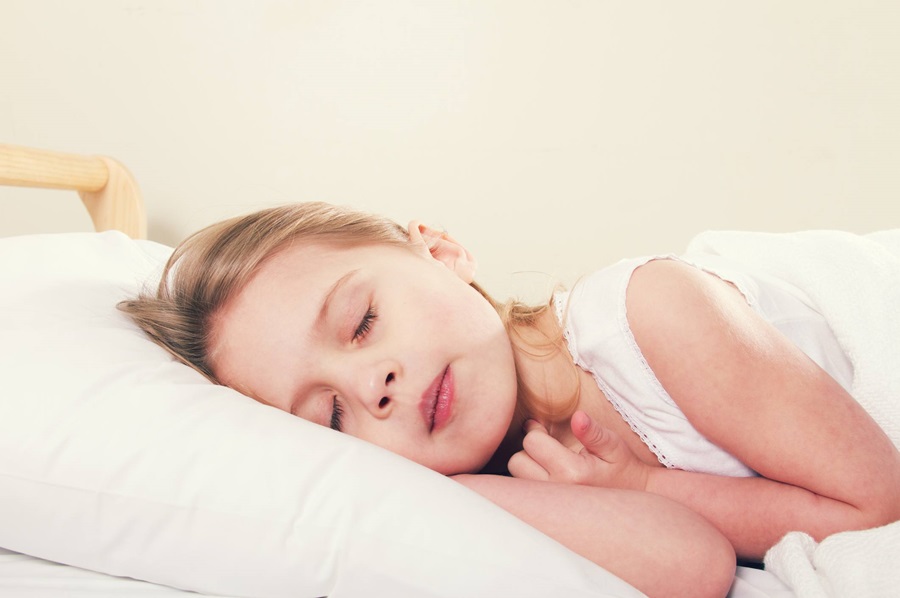 If you've ever spent a long night hoping, wishing, praying that your child finally drifts off to sleep, you'll know how exhausting it is. The next morning you'll try and bounce back with a shot of espresso or a quick jog to clear the cobwebs.
But children can't knock back a macchiato or hit a Spin class so instead, they'll tear it up in a tantrum, act up in class, morph into a screen zombie or do something else their sleep deprivation tells them to do.
"For a lot of bleary-eyed parents with young, active children, sleep is a rare and amazing thing."
But it doesn't have to be. Welcome to the page that may just revolutionise the way your child relaxes and sleeps soundly at night.
Sleep meditation for children is one of the many things you can do to restore peace in your house at night. And yes, while evidence of the Tooth Fairy and Santa Claus is still pending, a peaceful, calm child at bedtime doesn't need to be a fairytale…
Make meditation a part of your child's goodnight – and they'll reap the rewards for years.
Some children do suffer from sleep disorders that need to be investigated. But for most kids, it's actually normal to struggle falling asleep at night. Their young brains have so much to process!
So, you may find that just adding a little meditation technique to a lullaby or even bedtime story, can make a world of difference to your child's sleep habits.
Did you know that meditation – day or night – can actually change the brain? Eastern cultures have intuitively believed this, but today, with plenty of science behind it, the benefits of meditation are more widely recognised by Western medicine. These same positive outcomes have been recorded in children too.
In fact, this ancient relaxation practice may not only be a gentle and calm antidote to your evening battles, meditation also has a range of other great benefits:
greater attention span
increased creativity
calmer moods / emotional health
more focus
less stress and anxiety

deeper sleep quality

heightened empathy.
The step-by-step guide to a more peaceful night's sleep for your child – and the whole family!
One of the main reasons why children often fight with falling asleep is their over-active minds. They're brains are still developing, so there's a lot to think about, solve and understand.
"So even if your child is fighting sleep, their bedtime tears are a sure-fire sign they just need help to relax..."
And that's where you – and sleep meditation come in.
Set the game up to win – start bedtime early. Bath, brush, PJs – tick, tick, tick. You want to make sure you've set aside plenty of time to really slow everything down for your child.
Set the scene for peace. Let your little one's hectic thoughts turn into chatter. If there's anything leftover in their minds that they want to discuss with you, this is a good time to just let it all out.
Get quiet and still. For a fidgety toddler or even an older child, this is easier said than done. So, the best thing to do is make it fun. Ask them to breathe in like they're smelling a big bar of chocolate!
Tell a boring story. It's a wind-down not up! You can describe in great and measured detail the bee sipping on nectar from a pretty, pink flower.
Whisper goodnight to the world. This is such a gentle way to rest a busy little mind. Guide them to say goodnight to the trees, the grass, the flowers, the bunnies, the sun, the moon, the stars…
Keep your voice low and slow, your movements calm and deliberate. And it's okay if your child loses focus, bring them back to the present by asking them who else they'd like to wish a happy sleep to?
"If a noisy, grown-up mind can calm with the ebb and flow of breathing, imagine what a developing brain can do?"
When your child is encouraged to really hear and feel their breath, hectic thoughts can eventually melt away, making room for greater mindfulness and deeper sleep.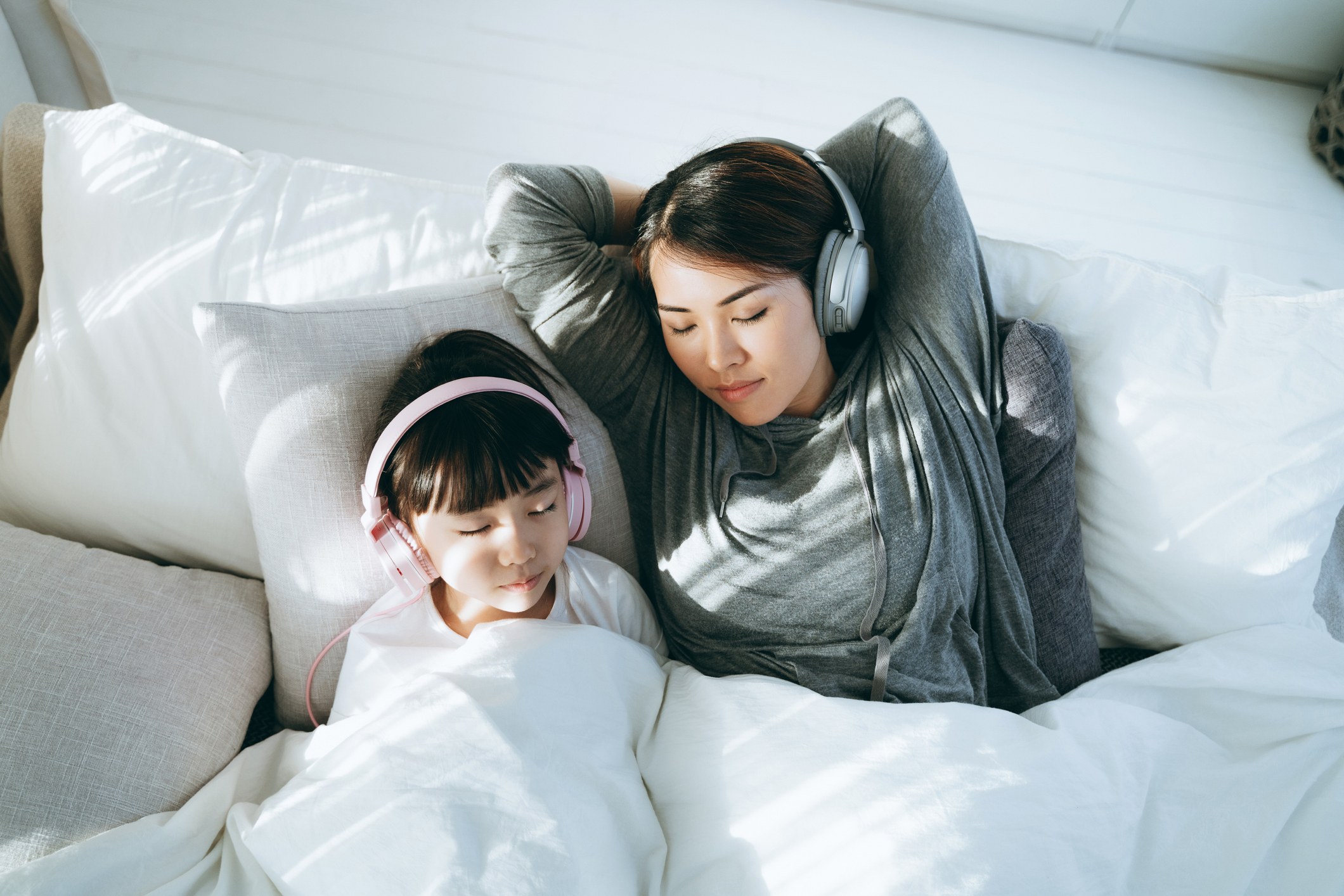 No need to huff and puff! Tips on encouraging easy, big breaths with your little one.
Breathe out using a soft animal noise – perhaps a cat's soft purr or a baby snake's hisssss
Smell a rose, nice and deep, then imagine blowing the petals away with a lovely, long exhale
Place a hand on their belly and ask them to feel the rise and fall of their abdomen.
If you're looking for more sleep meditation inspiration, the internet and apps can be your best friends. In fact, some of the world's leading sleep specialists, meditation practitioners and even Buddhist monks have come up with unique, engaging and soothing sleep meditation apps children love. It shouldn't take you too long to find the program or video that works for your child.
Some of the more popular apps include, The Smiling Mind, Headspace for Kids and the childhood favourite, Sesame Street.
Of course, if you're not a big fan of screen use, particularly at bedtime, don't worry, the simple techniques of quiet, whispers, breathing deeply and relaxing movements are quite often the best.
Remember, if you decide that sleep meditation holds the key to a more restful night for your child, make it an enjoyable, bonding experience for both of you. The last thing you want to do is make it seem like a chore or worse, some kind of punishment for not sleeping right away.
You can give your child the sleepy habit of a lifetime tonight.
Meditation has been soothing tired minds and bodies for thousands of years. So, there's every reason to believe that your child – little or big – can find greater comfort when they sleep simply by meditating for a few minutes with you each night. It'll help them be more even-tempered, have greater focus and also enjoy happier playtime with their family and friends.
"Once you develop a nightly meditation habit that soothes your child to sleep, try and stick with it."
Children thrive on routine and you may find they'll actually look forward to that last moment just before bedtime when they get to say goodnight to the clouds, the trees, the breeze, the moon, their friends, their puppy, breathing in the smell of a flower, breathing out like a purring pussycat.
Just keep in mind… as with all things that are worthy in life, sleep meditation will win a permanent place in your child's heart – and mind – with patience, practice and love. And aren't these what sweet dreams are really made of?
For more parenting hacks just like this, check out our children's health and parenting guide. You'll find lots of advice on how to be a healthier and happier family.
All information contained in this article is intended for general information purposes only. The information provided should not be relied upon as medical advice and does not supersede or replace a consultation with a suitably qualified healthcare professional.
Sources:
The Basics of Meditation for Kids of Any Age (healthline.com)
A meditation practice for children - Health & Wellbeing (abc.net.au)
Meditation for Kids - Headspace
Health and wellbeing
programs & support
You Belong to More with CBHS Hospital cover:
Greater choice over your health options including who treats you
Get care at home with Hospital Substitute Treatment program
Free health and wellbeing programs to support your health challenges
Live your healthiest, happiest life with CBHS Extras cover:
Benefits for proactive health checks e.g. bone density tests, eye screenings
Keep up your care with telehealth and digital options
Save on dental and optical with CBHS Choice Network providers